Next and last 2022 Yadkin Fall Qualifier is Oct 29th at High Rock – Southmont Hwy 8 landing!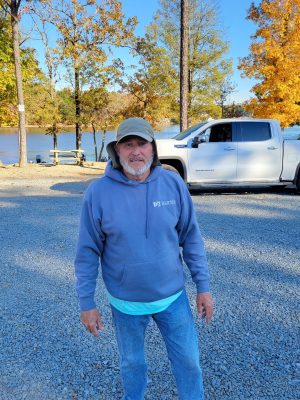 Ronnie Smith & Jackie Reilly win the Badin Lake Yadkin Qualifier with 5 bass weighing 13.84 lbs!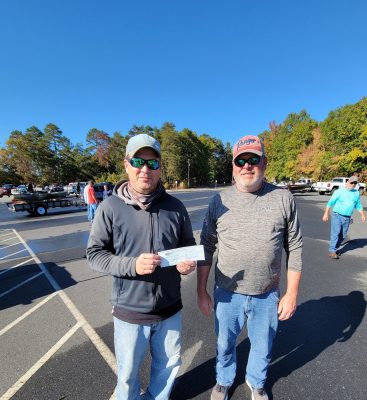 George Lambeth & Herby Young 2nd with 121.17 lbs!
Jeremy Talbert & Tod Haynes 3rd Place with 11.73 lbs!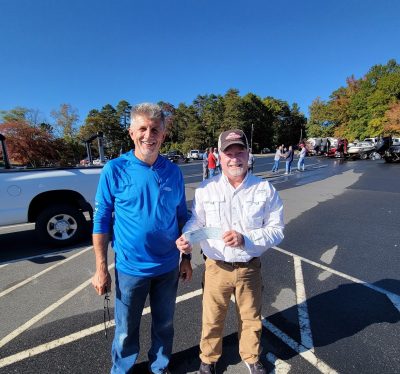 Devin Robertson & Danny Nifong 4th with 11.64 lbs!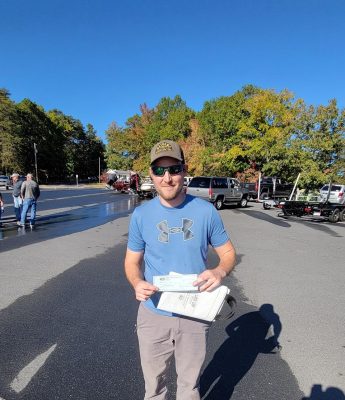 Chad Coley & Micah Speights took 5th with 11.35 lbs!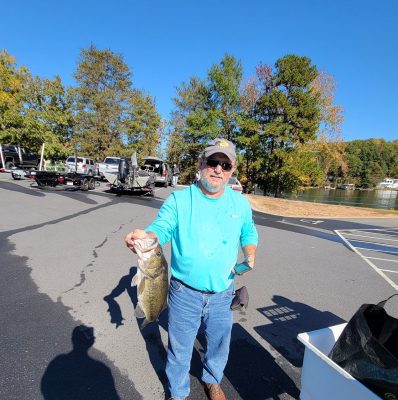 Robert Branson with the 2nd BF at 5.37 lbs!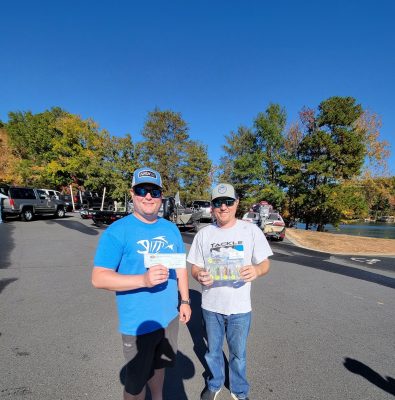 Ethan Cox & Cody Thompson weighed in the Academy BF at 5.41 lbs! They earned $203.00 PLUS a $25 Academy Gift Card!
| | | | | |
| --- | --- | --- | --- | --- |
| Team | BF | Weight | Winnings | Points |
| Ronnie Smith – Jackie Reilly | 4.29 | 13.84 | $1,037.00 | 110 |
| George Lambeth – Herby Young | 3.72 | 12.17 | $486.00 | 109 |
| Jeremy Talbert – Tod Haynes | 0.00 | 11.73 | $312.00 | 108 |
| Danny Nifong -Devin Robertson | 0.00 | 11.64 | $130.00 | 107 |
| Chad Coley – Micah Speights | 0.00 | 11.35 | $100.00 | 106 |
| Ethan Cox – Cody Thompson | 5.41 | 10.64 | $203.00 | 105 |
| John Kistler – Rusty Melton | 0.00 | 9.54 | | 104 |
| Calvin McCaskills – Jeff Proctor | 3.35 | 9.25 | | 103 |
| Brian Robbins | 0.00 | 9.12 | | 102 |
| Bud Ratliff – Hunter Ratliff | 3.08 | 8.12 | | 101 |
| Dwayne Hughes – Stan Gobbel | 2.86 | 7.34 | | 100 |
| Mark Mohler – Graham Bosch | 4.20 | 7.21 | | 99 |
| Robert Branson | 5.37 | 6.87 | $87.00 | 98 |
| Zach Scelsi – Kris Scelis | 0.00 | 6.77 | | 97 |
| Mark Laxton – Brandon Williams | 0.00 | 6.63 | | 96 |
| Hunter Harwood – Scott Harwood | 0.00 | 6.62 | | 95 |
| Marty Smith – Mitch Frederick | 2.82 | 2.82 | | 94 |
| Tanner Werth – Taylor Werth | 0.00 | 2.46 | | 93 |
| Lance Isenhower | 0.00 | 2.02 | | 92 |
| Chris Walls – Jeffrey Hucks | 0.00 | 0.00 | | 82 |
| Jeff Emmons – Robbie Moffitt | 0.00 | 0.00 | | 82 |
| Mike Allen – Thomas Furr | 0.00 | 0.00 | | 82 |
| Tyler Currick – Darrell Curt | 0.00 | 0.00 | | 82 |
| Devin Kennedy – Shane Kennedy | 0.00 | 0.00 | | 82 |
| Robin Collins – Ronnie White | 0.00 | 0.00 | | 82 |
| Ron Parker – Brandon Gibson | 0.00 | 0.00 | | 82 |
| Maurice Freeze – Chad Poteat | 0.00 | 0.00 | | 82 |
| Chris Passmore | 0.00 | 0.00 | | 82 |
| Bryant Gobbel – Scott Eggleton | 0.00 | 0.00 | | 82 |
| Total Entrys | | | $2,320.00 | |
| BONUS $ | | | $625.00 | |
| Total Paid At Ramp | | | $2,355.00 | |
| 2022 Yadkin Fall Final Fund | | | $490.00 | |
| 2022 CATT Championship Fund | | | $50.00 | |
| 2022 Yadkin Fall Final Fund Total | | | $1,815.00 | |