Next Yadkin Fall Qualifier is at High Rock Lake launching from Southmont Hwy 8!
John Kistler & Rusty Melton win at Badin with a limit weighing 14.92 lbs!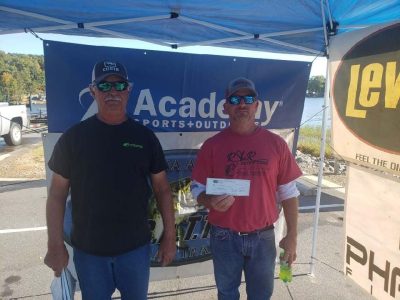 Brad & Heather Smith 2nd with 14.60 lbs!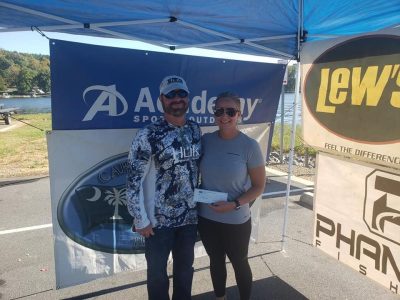 Johnny Heaton & Scott Henley finished 3rd with 13.94 lbs and weighed in the Academy BF at 5.23 lbs!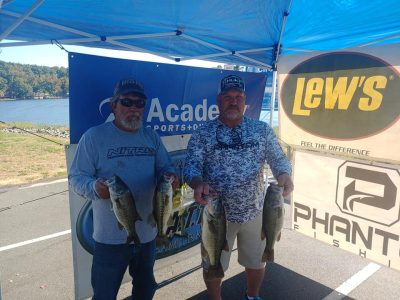 Jason Barnes & Chad Poteat 4th with 13.25 lbs!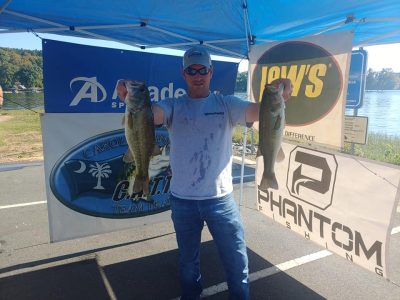 | | | | | |
| --- | --- | --- | --- | --- |
| Team | BF | Weight | Winnings | Points |
| John Kistler – Rusty Melton | 4.84 | 14.92 | $901.00 | 110 |
| Heather Smith – Brad Smith | 3.09 | 14.60 | $300.00 | 109 |
| Scott Henley – Johnny Heaton | 5.23 | 13.94 | $469.00 | 108 |
| Jason Barnes – Chad Poteat | 3.87 | 13.25 | $100.00 | 107 |
| Robin Collins – Ronnie White | 3.34 | 11.82 | | 106 |
| Hunter Harwood – Scott Harwood | 3.05 | 11.62 | | 105 |
| Alan Thompson – Mike Coley | 0.00 | 10.91 | | 104 |
| Zack Gooch – Greg Gooch | 3.34 | 10.37 | | 103 |
| Ron Wolford – Shawn Knight | 0.00 | 10.17 | | 102 |
| Derek Briles – Dustin King | 2.87 | 9.45 | $66.00 | 101 |
| Craig Gatewood | 0.00 | 9.43 | | 100 |
| Steve Sink – Chase Mabe | 0.00 | 8.96 | | 99 |
| Ethan Cox – Cody Thompson | 3.05 | 8.89 | | 98 |
| Zach Schelsi – Kris Schelsi | 0.00 | 4.85 | | 97 |
| Shane Kennedy | 0.00 | 2.27 | | 96 |
| Josh Griffin – Daniel Griffin | 0.00 | 2.12 | | 95 |
| Danny Nifong – Mathew Nifong | 0.00 | 0.00 | | 85 |
| David Hunt – Darrell Crumbley | 0.00 | 0.00 | | 85 |
| Dave Warrick | 0.00 | 0.00 | | 85 |
| Todd Gibson – Jason Dennis | 0.00 | 0.00 | | 85 |
| Frank Leonard – David Leonard | 0.00 | 0.00 | | 85 |
| Mike Lawhon – Sam Lawhon | 0.00 | 0.00 | | 85 |
| Total Entrys | | | $1,760.00 | |
| BONUS $ | | | $450.00 | |
| Total Paid At Ramp | | | $1,835.00 | |
| Yadkin FALL 2021 Final Fund | | | $340.00 | |
| 2022 CATT Championship Fund | | | $50.00 | |
| 2021 Yadkin FALL Final Fund Total | | | $1,895.00 | |
| 2022 CATT Championship Fund Total | | | $0.00 | |