We concluded the 2022 Yadkin CATT Trail this past Saturday and as always Michael Smith puts his heart and soul into making the Yadkin Trail a great trail for the Yadkin teams!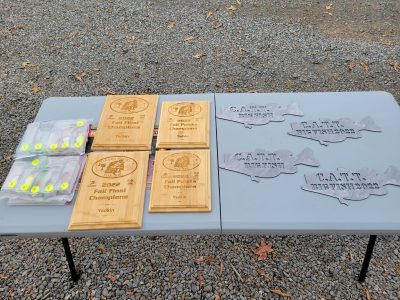 The Yadkin fall CATT Trail concluded today with the final event of 2022. The last several weeks have been tough for me mentally and physically, I hesitate to put personal things on this post, but I can't help but to in this case. Earlier in the week I decided I would serve chicken chili at the weigh in, so I got the crockpots out and let them roll. While they were doing their thing, I decided to do some yard work and I found myself in the back yard with piles of leaves, trees and the sound of the wind running through the leaves that were still hanging on to the trees a little longer. In that moment I found peace, I could feel God's presence and I was going to hang on a little while longer. A little time passes, and it was time to check on things inside and get ready to go pick up plaques for the final. As I was getting ready, I came across a hoodie that I hadn't seen in over a year, my original CATT hoodie. A little older, a little beat up, and a little faded to most…but to me, filled with character, lots of memories, and very vibrant. So, what does this post mean…what does personal have to do with these results and CATT?? CATT is a part of who I am, an organization that I pride myself in being a part of. That old, faded hoodie was like a breath of fresh air and snapped me back to reality, the final was here, and it was show time. The fog delayed us just a bit this morning, but it did not slow down the team of Tod Haynes and Jeremy Talbert. The pair of anglers brought 25.36 lbs of bass to the scales this evening to sweep the board. 1st, 1st sidepot, and 1st big fish for a total of $3,250.00. They also took home the 1st place points Champs prize of $500.00 giving them a total purse on the day of $3,750.00. Thank you to all the anglers who fished with us this fall! Ladies and gentlemen when I say I love it, when I say I appreciate you, and when I say you are the ones that make it worth it. This right here is exactly what I mean. Congrats to all who placed today, and we look forward to seeing you all next year. Shout out to Marty Smith for the hard bait prize packs given out at esch event and also Nick Bashford with Ultra-Tech Tool and Machine for the awesome big fish trophy's! Last but not least, Kari Murphy, Erik Myers, Carissa Smith thank you for all you do to help me. I truly couldn't do it without you all!
Big Shout Out to Mike and his helpers for feeding the Yadkin guys at the Final!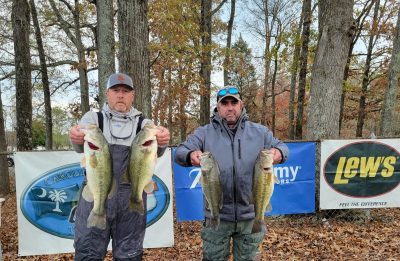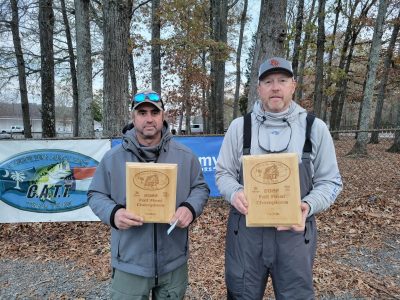 Tod Haynes & Jeremy Talbert win the 2022 Yadkin Fall Final on High Rock Lake with 5 bass weighing 25.36 lbs! They earned $3,250.00 PLUS they were our Fall Point winners and collected another $500.00 PLSU weighed in the BF at 5.78 lbs!  Total winnings $3,750.00!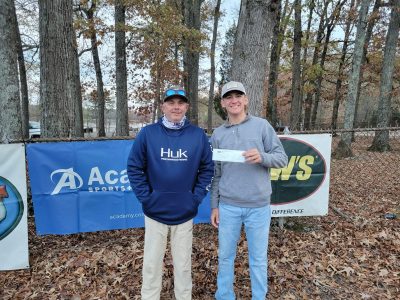 Barry & Harrison McCall finished 2nd with a limit weighing 17.95 lbs! They earned $1,600.00!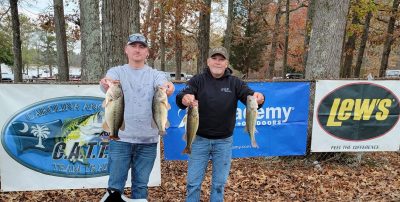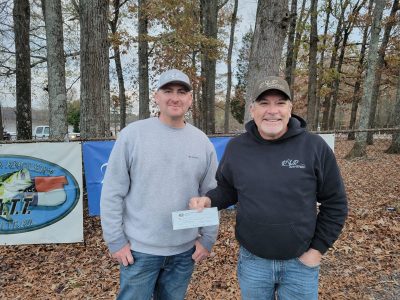 Mike Allen & Thomas Furr 3rd with 17.11 lbs worth $1,280.00!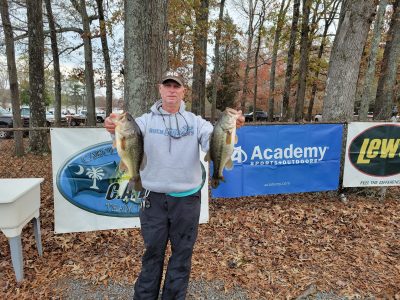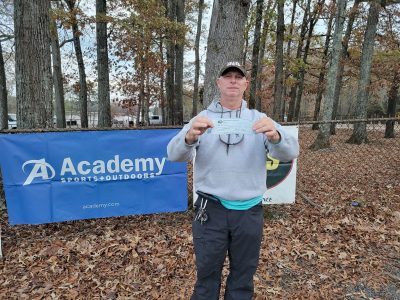 Chris Brown & Todd Harris 4th Place 15.91 lbs!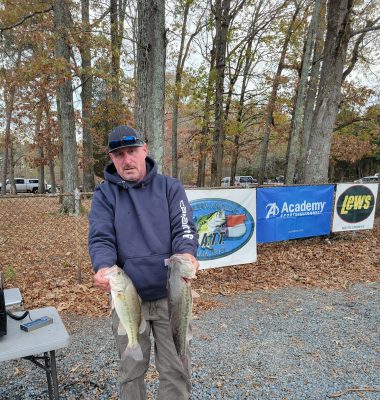 Jackie Reiley & Ronnie Smith 5th with 14.64 lbs!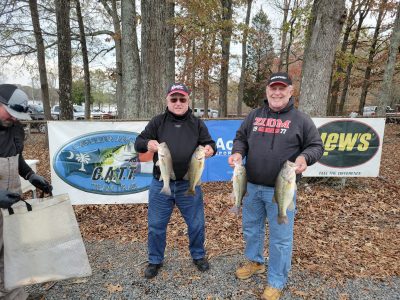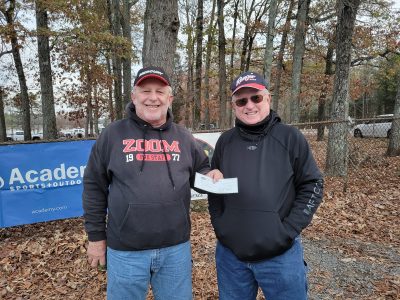 Robbie Walser & Mack Lowe took 6th Place with 14.42 lbs!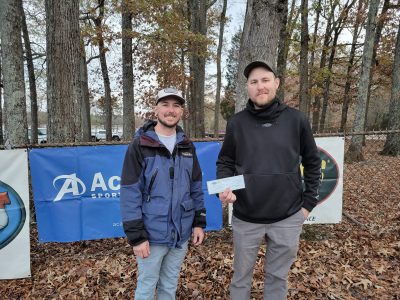 Coming in 7th were Chad Coley & Micah Speights with 13.53 lbs!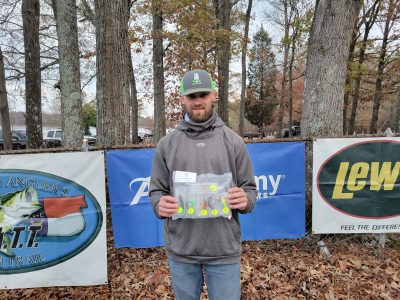 Hunter Harwood and Scott Harwood won the Smith Baits prize pack with 13.48 lbs!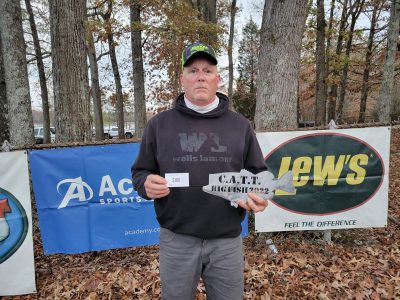 Lance Isenhour weighed in the biggest bass during the fall season with a 7.08 lbs. He was awarded a $100 Lews/Strike King gift card along with plaques from Ultra-Tech Tool and Machine. Congrats Lance on a beautiful fish.
| | | | |
| --- | --- | --- | --- |
| Team | BF | Weight | Winnings |
| Tod Haynes – Jeremy Talbert | 5.78 | 25.36 | $3,750.00 |
| Harrison McCall – Barry McCall | 5.77 | 17.95 | $1,600.00 |
| Mike Allen – Thomas Furr | 5.49 | 17.11 | $1,280.00 |
| Chris Brown – Todd Harris | 0.00 | 15.91 | $720.00 |
| Jackie Reiley – Ronnie Smith | 5.22 | 14.64 | $400.00 |
| Robbie Walser – Mack Lowe | 0.00 | 14.42 | $300.00 |
| Chad Coley – Micah Speights | 0.00 | 13.53 | $200.00 |
| Hunter Harwood – Scott Harwood | 0.00 | 13.48 | |
| Jason Friggs – Steve Sink | 0.00 | 13.20 | |
| Calvin McCaskills – Derek Crumbly | 0.00 | 13.20 | |
| Rodney Bell – Wayne Smelser | 3.82 | 12.37 | |
| Bryson Gobbel – Scott Eggleton | 5.11 | 12.10 | |
| Maurice Freeze – Chad Poteat | 4.61 | 11.77 | |
| David Hunt – Darrell Crumbley | 0.00 | 11.55 | |
| George Lambeth – Herby Young | 5.35 | 10.52 | |
| Shane Kennedy – Devin Kennedy | 0.00 | 9.52 | |
| Mark Mohler – Graham Bosch | 0.00 | 8.27 | |
| Austin Garland | 3.02 | 6.35 | |
| Chris Passmoore – Wes Woodall | 0.00 | 5.79 | |
| John Kistler – Rusty Melton | 0.00 | 0.00 | |
| Marty Smith – Mitch Fredrick | 0.00 | 0.00 | |
| Danny Nifong | 0.00 | 0.00 | |
| Tanner Werth – Taylor Werth | 0.00 | 0.00 | |
| Robin Collins – Ronnie Smith | 0.00 | 0.00 | |
| Dwayne Hughes – Stan Gobbel | 0.00 | 0.00 | |
| Mike Lawhon – Sam Lawhon | 0.00 | 0.00 | |
| Tyler Currick – Darryl Curl | 0.00 | 0.00 | |
| RM Parker – Brandon Gibson | 0.00 | 0.00 | |
| Cody Thompson – Ethan Cox | 0.00 | 0.00 | |
| Josh Stafford – Brett Lane | 0.00 | 0.00 | |
| Tom File – Thomas Ludwick | 0.00 | 0.00 | |
| Ron Wolfarth – Shawn Knight | 0.00 | 0.00 | |
| Lance Isenhower | 0.00 | 0.00 | |
| Brian Robbins | 0.00 | 0.00 | |
| | | | |
| Total Entrys | | | $4,080.00 |
| BONUS $ | | | $1,400.00 |
| Final Fund | | | $2,265.00 |
| Total Paid At Ramp | | | $8,250.00 |