Next Yadkin CATT is on High Rock this coming Saturday August 22nd! We expect another great crowd!
The 2020 Academy CATT  Championship will take place on Kerr Lake November 7-8, 2020 and we are guaranteeing $10,000.00 to 1st Place!
Nutbush Ramp Kerr Lake State Park – 115 Jack Wade Farm Road, Henderson, NC
**2018 & 2019 1st Place Winners Have Taken Home $25,000.00!
A team or solo angler must fish 2 CATT events to Qualify!
You can get in your 2 events by fishing any CATT Fall 2019 and CATT Spring/Summer/Fall 2020! Any CATT event after June 2, 2019 will count!
Must enter 2 CATT Events to be eligible! Enter 1 or more CATT event as a team – Entering solo or with a Sub also counts toward your teams Championship Qualification! The 2 events do not have to be in the same CATT Trail! If you entered the 2019 CBC Classic on Santee Cooper you are eligible to enter!  Or if you enter 2 – 2020 CBC Qualifiers!
David Wright & Jeff Coble brought in 5 bass weighing 17.60 lbs and collected $1,175.00!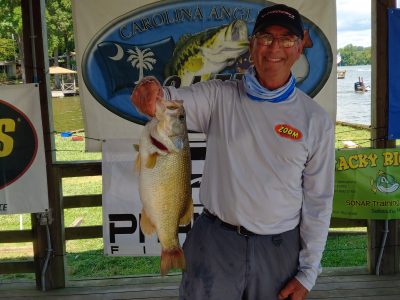 2nd went to Chad Poteat & Jason Barnes with 15.21 lbs!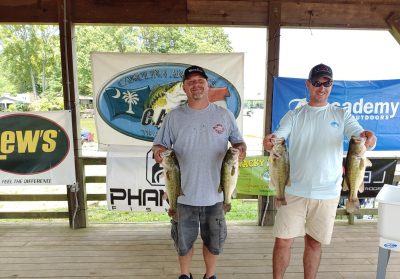 3rd Place Rodney Bell & Tommy Jones 14.50 lbs! 1st BF at 6.77 lbs!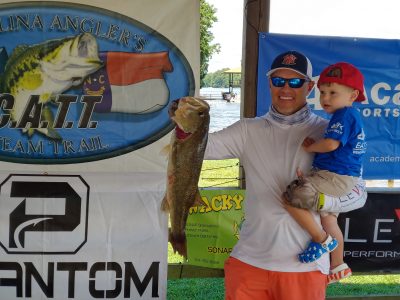 Todd Harris & Lance Isenhour 4th 13.68 lbs!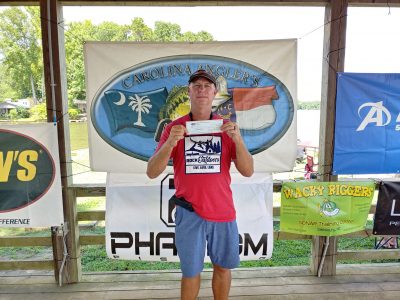 Philip & Lucas Hedrick 5th 13.48 lbs!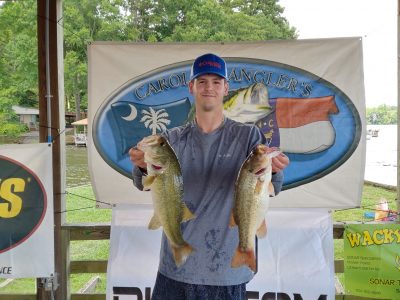 6th Mike Morgan & Steve Carlisle 13.08 lbs!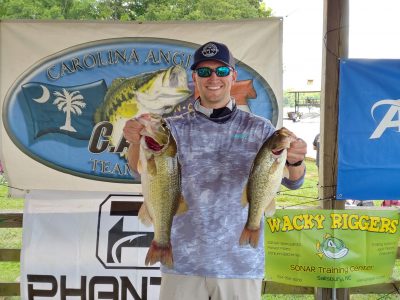 Scott & Hunter Harwood with the 2nd BF at 5.42 lbs!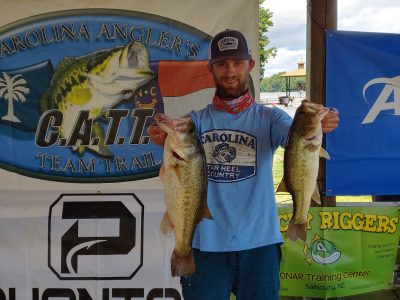 Jeremy Talbert & Todd Haynes won the $50 cash prize sponsored by wackyriggers.com!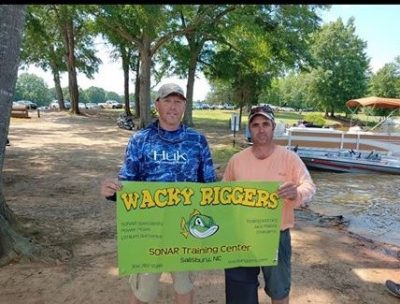 | | | | | |
| --- | --- | --- | --- | --- |
| 31 Teams | BF | Weight | Winnings | Points |
| David Wright – Jeff Coble | 5.17 | 17.60 | $1,175.00 | 110 |
| Chad Poteat – Jason Barnes | 0.00 | 15.21 | $510.00 | 109 |
| Rodney Bell – Tommy Jones | 6.77 | 14.50 | $477.00 | 108 |
| Todd Harris – Lance Isenhour | 3.52 | 13.68 | $140.00 | 107 |
| Philip Hedrick – Lucas Hedrick | 4.15 | 13.48 | $110.00 | 106 |
| Mike Morgan – Steve Carlisle | 4.50 | 13.08 | $100.00 | 105 |
| Jeremy Talbert – Todd Haynes | 3.93 | 13.08 | | 104 |
| Scott Harwood – Hunter Harwood | 5.42 | 12.91 | $93.00 | 103 |
| Robert Mixon – Rodney Lambert | 0.00 | 12.38 | | 102 |
| Brad Staley – Dave Farrington | 0.00 | 11.38 | | 101 |
| David Lloyd – Daniel Lloyd | 0.00 | 10.09 | | 100 |
| Barry McCall – Hinson McCall | 0.00 | 7.60 | | 99 |
| Austin Wike | 4.58 | 4.58 | | 98 |
| John Wagner – Bobby Bowers | 4.18 | 4.18 | | 97 |
| Brandon Shaver & Chad Cook | 0.00 | 3.67 | | 96 |
| Duke Denison – Bobby Cline | 0.00 | 3.30 | | 95 |
| Tony Vernon & Scott Quinn | 0.00 | 2.99 | | 94 |
| Chris Murphy & Vince Murphy | 0.00 | 0.00 | | 93 |
| Jerry Bono – Marty Williams | 0.00 | 0.00 | | 93 |
| Richard Quinn & john Buckner | 0.00 | 0.00 | | 93 |
| Todd Hammond – Tom File | 0.00 | 0.00 | | 93 |
| John Kistler & Rusty Melton | 0.00 | 0.00 | | 93 |
| Jason Riggs – Steve Sink | 0.00 | 0.00 | | 93 |
| Randy Bell – Harrison Bell | 0.00 | 0.00 | | 93 |
| Derrick Crumbley – Darryl Crumbley | 0.00 | 0.00 | | 93 |
| Dale Hedrick – Paul Hedrick | 0.00 | 0.00 | | 93 |
| Scott Hinsley – Nick House | 0.00 | 0.00 | | 93 |
| Dillon Simpson – Nathan Sparks | 0.00 | 0.00 | | 93 |
| Dakota Roberts – Dustin Holt | 0.00 | 0.00 | | 93 |
| Robert Walser – Mack Lowe | 0.00 | 0.00 | | 93 |
| Paul Tsiolkus – Anthony | 0.00 | 0.00 | | 93 |
| Total Entrys | | | $2,480.00 | |
| BONUS $ | | | $650.00 | |
| Total Paid At Ramp | | | $2,605.00 | |
| Yadkin Spring 2020 Final Fund | | | $425.00 | |
| 2020 CATT Championship Fund | | | $50.00 | |
| 2020 Yadkin Spring Final Fund Total | | | $965.00 | |
| 2020 CATT Championship Fund Total | | | $4,320.00 | |