Next Yadkin CATT is September 26th at Tuckertown launching from Flat Creek!
Check this out!
2021 PHANTOM OUTDOORS INVITATIONAL CLASSIC

The 2021 PHANTOM OUTDOORS Invitational Classic will take place on Lake Hartwell Nov 5-6 and we are guaranteeing $10,000.00 to 1st Place!
Green Pond Landing & Event Center – 470 Green Pond Rd, Anderson, SC 29625
A team or solo angler must fish 2 CATT events to Qualify! You may fish the Invitational solo or with your partner or alternate partner your team used in any CATT event.
You can get in your 2 events by fishing any CATT Fall 2020,  CATT Spring 2021, CATT Summer 2021 & CATT Fall 2021!
Go to the Division page and tap on 2021 Phantom Outdoor Invitational Classic!
Jason Riggs & Steve Sink weighed in 5 bass at 17.82 lbs to take 1st Place and $1,1730.00!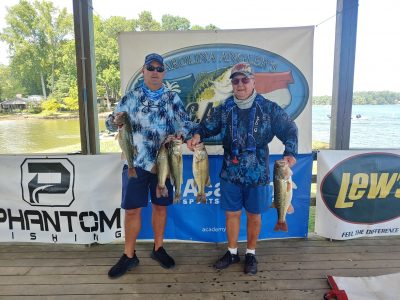 John Kistler & Rusty Melton took 2nd with 16.18 lbs!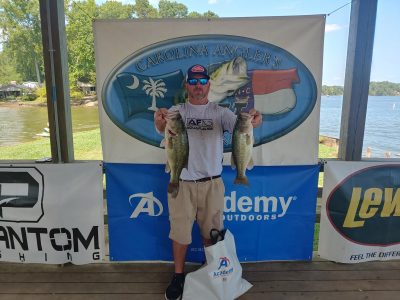 David Hunt  & Darrell Crumbley claimed 3rd with 15.15 lbs!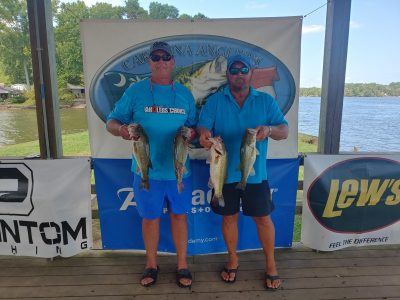 Rodney Bell & Jack Crook took 5th with 14.74 lbs!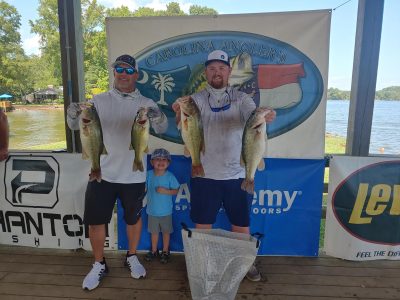 Justin Goodyear & Jerry Bono finished 6th with 14.70 lbs!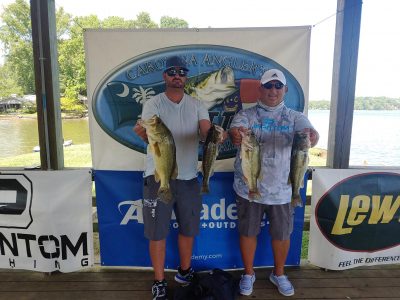 Alan Thompson – Michael Coley with the Academy BF at 5.45 lbs!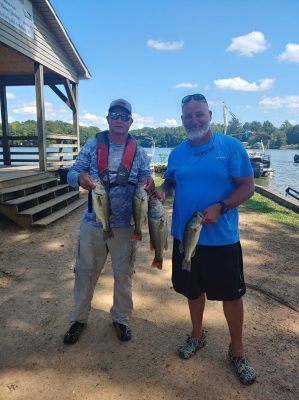 | | | | | |
| --- | --- | --- | --- | --- |
| Team | BF | Weight | Winnings | Points |
| Jason Riggs – Steve Sink | 4.88 | 17.82 | $1,173.00 | 110 |
| John Kistler – Rusty Melton | 4.30 | 16.18 | $509.00 | 109 |
| David Hunt – Darrell Crumbley | 3.42 | 15.15 | $327.00 | 108 |
| Joel Ketchum – Sam Cole | 0.00 | 14.89 | $140.00 | 107 |
| Rodney Bell – Jake Crook | 4.63 | 14.74 | $110.00 | 106 |
| Jerry Bono – Justin Goodyear | 4.22 | 14.70 | $100.00 | 105 |
| John Ritchie – Bryant Ritchie | 0.00 | 14.48 | | 104 |
| Dwayne Hughes – Chuck Hughes | 0.00 | 13.13 | | 103 |
| Chris Wagner | 3.93 | 12.74 | | 102 |
| Alan Thompson – Michael Coley | 5.45 | 12.21 | $224.00 | 101 |
| Chris Brown – Wayne Ingram | 0.00 | 11.76 | | 100 |
| Byron Brush | 5.03 | 11.76 | $96.00 | 99 |
| Hunter Harwood – Scott Harwood | 0.00 | 11.25 | | 98 |
| RM Parker – Corey Gibson | 0.00 | 10.49 | | 97 |
| Scott Henley – Johnny Hunter | 3.57 | 10.46 | | 96 |
| Mike Ray – Orlando Giles | 4.77 | 10.30 | | 95 |
| Todd Haynes – Jeremy Talbert | 0.00 | 9.83 | | 94 |
| Brandon Shaver – Brandon Gibson | 4.17 | 7.70 | | 93 |
| Robbie Walser – Mack Lowe | 4.85 | 6.42 | | 92 |
| Brad Burns – Caleb Burns | 2.01 | 4.45 | | 91 |
| Josh Griffin – Daniel Griffin | 0.00 | 4.07 | | 90 |
| Zack Scelsi | 0.00 | 0.00 | | 80 |
| Elliott White – Blake White | 0.00 | 0.00 | | 80 |
| Chad Kindley – Austin Wike | 0.00 | 0.00 | | 80 |
| Bud Radcliff – Coery Ricketts | 0.00 | 0.00 | | 80 |
| Christian Johnson | 0.00 | 0.00 | | 80 |
| Myles Stewart | 0.00 | 0.00 | | 80 |
| Derek Crumbley – Jeff Proctor | 0.00 | 0.00 | | 80 |
| Frank Leonard – David Leonard | 0.00 | 0.00 | | 80 |
| Alan Griffin – Kevin Cahndler | 0.00 | 0.00 | | 80 |
| Jacob Briggs – Brady Briggs | 0.00 | 0.00 | | 80 |
| Total Entrys | | | $2,480.00 | |
| BONUS $ | | | $675.00 | |
| Total Paid At Ramp | | | $2,680.00 | |
| Yadkin FALL 2021 Final Fund | | | $425.00 | |
| 2022 CATT Championship Fund | | | $50.00 | |
| 2021 Yadkin FALL Final Fund Total | | | $845.00 | |
| 2022 CATT Championship Fund Total | | | $0.00 | |