Next Yadkin is at Tuckertown Lake April 15 launching from Flat Creek!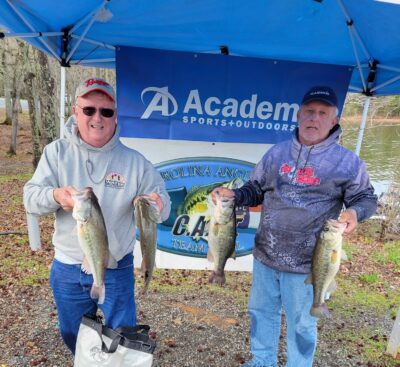 Mack Lowe & Robert Walser took 1st Place at High Rock with 5 bass weighing 21.48 lbs worth $1,610.00!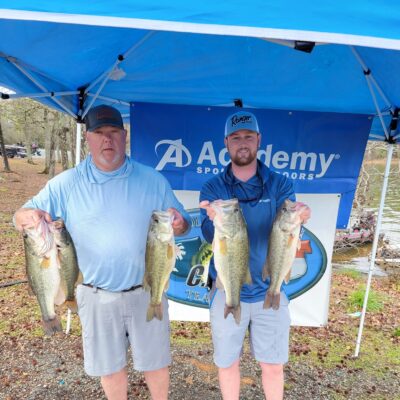 Dusty Taylor & Kolton Hawks 2nd Place with 21.02 lbs!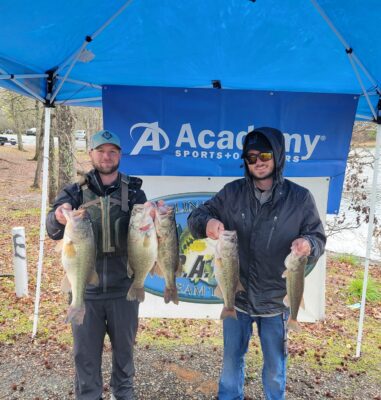 Hayden Strickland & Nick Williams 3rd with 20.62 lbs!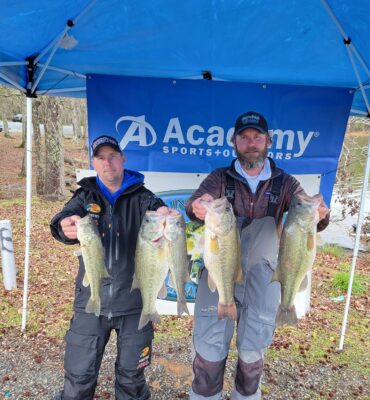 4th Place Aaron Harwood & Michael Kinard 19.07 lbs!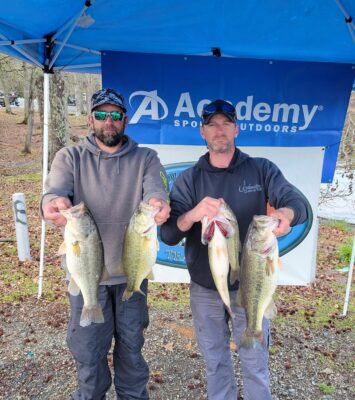 Rodney Adams & Jarrett Freeze finished in 5th Place with 18.89 lbs and the 2nd BF at 6.10 lbs!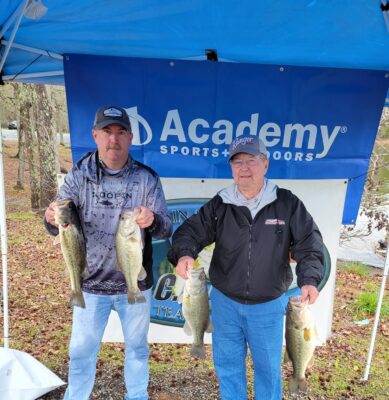 Jason Riggs & Steve Sink took th with 17.43 lbs!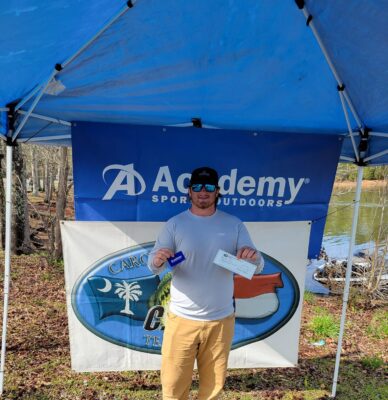 Elliott White – Blake White weighed in the Academy BF at 6.19 lbs!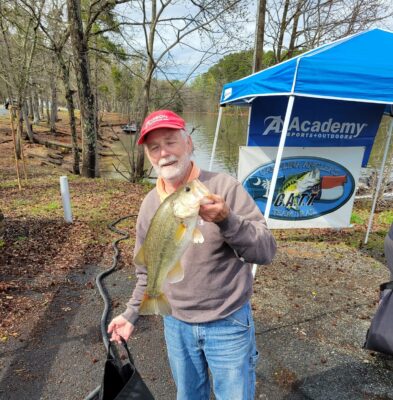 Duke Denison with a nice un!
| | | | | |
| --- | --- | --- | --- | --- |
| Team | BF | Weight | Winnings | Points |
| Mack Lowe – Robert Walser | 5.99 | 21.48 | $1,610.00 | 110 |
| Dusty Taylor – Kolton Hawks | 5.48 | 21.02 | $690.00 | 109 |
| Hayden Strickland – Nick Williams | 5.74 | 20.62 | $350.00 | 108 |
| Michael Kinard – Aaron Harwood | 5.47 | 19.07 | $355.00 | 107 |
| Rodney Adams – Jarrett Freeze | 6.10 | 18.89 | $303.00 | 106 |
| Steve Sink – Jason Riggs | 5.01 | 17.43 | $125.00 | 105 |
| Jeremy Talbert – Tod Haynes | 0.00 | 16.81 | $115.00 | 104 |
| Tom File – Thomas Ludwick | 0.00 | 16.21 | $110.00 | 103 |
| Duke Dennison | 0.00 | 15.79 | $90.00 | 102 |
| Chris Passmore | 0.00 | 15.44 | | 101 |
| Robert Mixon – Robert Lambert | 0.00 | 13.56 | | 100 |
| James Blankinship – Walker Blankinship | 0.00 | 13.16 | | 99 |
| Harrison McCall – Barry McCall | 0.00 | 12.66 | | 98 |
| Garey Ingram – Orlando Giles | 0.00 | 12.63 | | 97 |
| Dakota Roberts – Carl Myers | 0.00 | 12.42 | | 96 |
| Brayden Muller – Dustin Green | 0.00 | 11.68 | | 95 |
| Rodney Bell – Wayne Smelser | 0.00 | 10.44 | | 94 |
| Elliott White – Blake White | 6.19 | 9.35 | $322.00 | 93 |
| Bobby Peedin – Jacob Jester | 0.00 | 9.35 | | 92 |
| Jared Pressley | 5.76 | 9.06 | | 91 |
| Lance Isenhour | 0.00 | 8.08 | | 90 |
| Mark Mohler – Graeme Bosch | 5.14 | 6.97 | | 89 |
| Austin Garland | 0.00 | 6.76 | | 88 |
| Robert Branson – Andrew Wilson | 5.63 | 5.63 | | 87 |
| Curt Lare – Devin Kennedy | 0.00 | 4.88 | | 86 |
| Bradley Cooper – Duston Holt | 0.00 | 4.72 | | 85 |
| Pher Turbyfill – Billy Cobb | 0.00 | 3.42 | | 84 |
| Jeffrey Furr – George Furr | 0.00 | 0.00 | | 74 |
| Ladd Whicker – Landon Whicker | 0.00 | 0.00 | | 74 |
| Brady Weisner – Justin Wesiner | 0.00 | 0.00 | | 74 |
| Tanner Werth – Taylor Werth | 0.00 | 0.00 | | 74 |
| Skip Jobe – Robbie Moffit | 0.00 | 0.00 | | 74 |
| Greg Skerven – Kyle Joyce | 0.00 | 0.00 | | 74 |
| Scott Henley – Ray Furr | 0.00 | 0.00 | | 74 |
| Brian File – Nick Bashford | 0.00 | 0.00 | | 74 |
| Jason Land – Patrick Houpe | 0.00 | 0.00 | | 74 |
| Mike Lawhon – Sam Lawhon | 0.00 | 0.00 | | 74 |
| Hunter Harwood – Scott Harwood | 0.00 | 0.00 | | 74 |
| Paul Kisielewiski – Karson Hall | 0.00 | 0.00 | | 74 |
| Tony Brewer – Scott Faulkner | 0.00 | 0.00 | | 74 |
| Justin Goodyear – Tony Waterhouse | 0.00 | 0.00 | | 74 |
| Ron Wolfarth – Shawn Knight | 0.00 | 0.00 | | 74 |
| George Lambert – Herby Young | 0.00 | 0.00 | | 74 |
| Brain Robbins – Gavin Williams | 0.00 | 0.00 | | 74 |
| Kris Scelsi – Zach Scelsi | 0.00 | 0.00 | | 74 |
| Bud Ratliff – Dustin Horne | 0.00 | 0.00 | | 74 |
| Total Entrys | | | $3,680.00 | |
| BONUS $ | | | $940.00 | |
| Total Paid At Ramp | | | $4,070.00 | |
| CATT | | | $50.00 | |
| 2023 Yadkin Spring Final Fund | | | $450.00 | |
| 2023 CATT Championship Fund | | | $50.00 | |
| 2023 Yadkin Spring Final Fund Total | | | $870.00 | |