Next Yadkin CATT will be at Badin Lake April 3 launching from Circle Drive!

We had a record crowd for the Yadkin Division with 48 teams entering the High Rock Qualifier this past weekend! Thanks for the support guys and we hope the Yadkin Division keeps growing!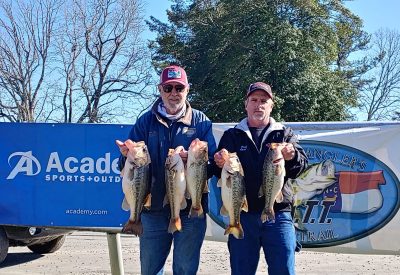 Robert Mixon & Robert Lambert topped the field with 5 bass weighing 22.88 lbs! They took home $1,700.00!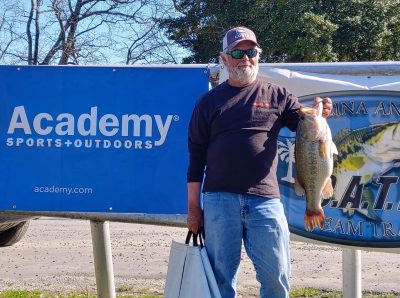 John Kistler & Rusty Melton took 2nd with 5 bass weighing 21.56 lbs! They brought in a Hawg of bass weighing 9.49 lbs to take the Academy BF honors! All total they earned $1,036.00!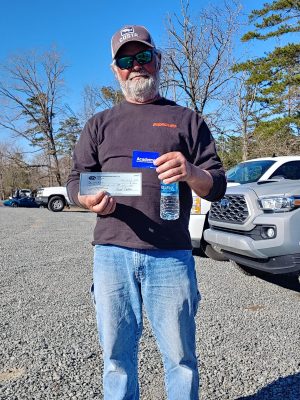 John Kistler with his $25 Academy Gift Card!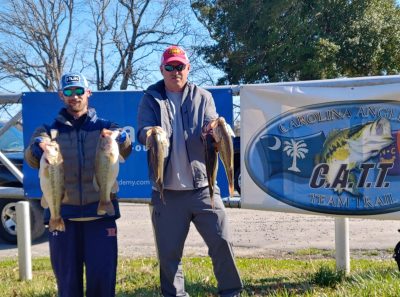 Scott & Hunter Harwood claimed 3rd with 20.89 lbs!
Thomas Ludwick & Tom File finished 4th with 20.88 lbs!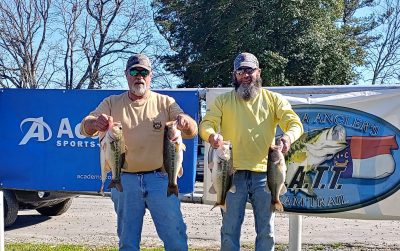 Robert Parrish & Dwayne Saunders 5th with 19.26 lbs!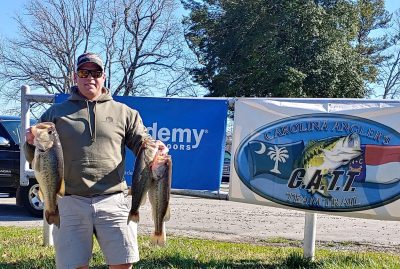 6th went to Austin Garland with 19.05 lbs!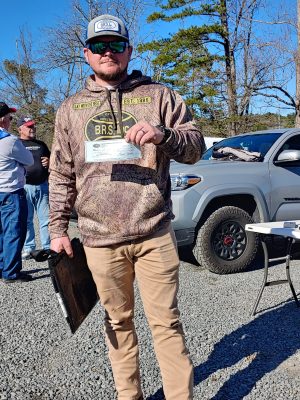 Kevin & Bradley Chandler 7th 18.51 lbs!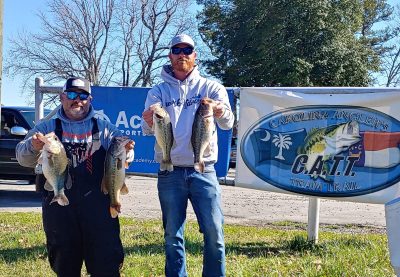 Dustin Horne & Bud Ratliff 8th 17.44 lbs!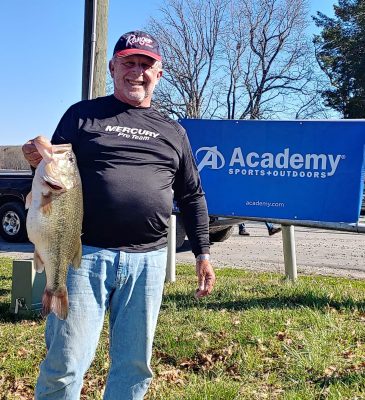 Robert Walser with the 2nd BF at 9.19 lbs!
| | | | | |
| --- | --- | --- | --- | --- |
| Team | BF | Weight | Winnings | Points |
| Robert Mixon – Robert Lambert | 7.27 | 22.88 | $1,700.00 | 110 |
| John Kistler – Rusty Melton  | 9.49 | 21.56 | $1,036.00 | 109 |
| Hunter Harwood – Scott Harwood | 0.00 | 20.89 | $500.00 | 108 |
| Thomas Ludwick – Tom File | 0.00 | 20.88 | $275.00 | 107 |
| Robert Parrish – Dwayne Saunders | 0.00 | 19.26 | $175.00 | 106 |
| Austin Garland | 7.94 | 19.05 | $130.00 | 105 |
| Kevin Chandler –  Bradley Chandler | 0.00 | 18.51 | $120.00 | 104 |
| Bud Ratliff – Dustin Horne | 0.00 | 17.44 | $115.00 | 103 |
| Josh Stafford | 0.00 | 16.48 | $90.00 | 102 |
| Lance Isenhour | 0.00 | 16.19 | | 101 |
| Roger Hoover – Scott Hamrick | 0.00 | 15.65 | | 100 |
| George Lambeth – Herby Young | 6.12 | 15.50 | | 99 |
| Jacob Bridges – Brady Weisner | 0.00 | 15.46 | | 98 |
| Scott Henley – Johnny Heaton | 7.21 | 14.80 | | 97 |
| Chris Brown – Todd Harris | 6.55 | 14.58 | | 96 |
| Michael Swearingen – CJ Johnston | 0.00 | 14.31 | | 95 |
| Robert Walser – Mack Lowe | 9.19 | 14.06 | $144.00 | 94 |
| Dakota Roberts – Brad Cooper | 5.61 | 13.77 | | 93 |
| Mike Kiser | 0.00 | 13.71 | | 92 |
| Shane Kennedy – Devin Kennedy | 4.10 | 13.70 | | 91 |
| Tanner Albright – Dillon Johnson | 0.00 | 13.43 | | 90 |
| Byron Brush | 0.00 | 12.45 | | 89 |
| Todd Butler – Jeffrey Furr | 4.81 | 9.57 | | 88 |
| Jason Riggs – Steve Sink | 6.18 | 9.57 | | 87 |
| Harrison McCall – Berry McCall | 0.00 | 9.56 | | 86 |
| Chris Scelsi – Zack Scelisi | 3.43 | 9.21 | | 85 |
| Rodney Bell – Tommy Jones | 0.00 | 8.59 | | 84 |
| Ethan Austin – Brad Austin | 3.86 | 7.88 | | 83 |
| Brian File – Nick Bashford | 0.00 | 7.84 | | 82 |
| Hardon Collins – Shawn Poteat | 0.00 | 7.50 | | 81 |
| Dusty Taylor – Marty Williams | 5.65 | 5.68 | | 80 |
| Chad Kindley – Jonathan Craven | 0.00 | 4.76 | | 79 |
| Jerry Bono – Jerry Davis | 0.00 | 0.00 | | 69 |
| Tony Stafford | 0.00 | 0.00 | | 69 |
| Elliott White – Blake White | 0.00 | 0.00 | | 69 |
| Bobby Gill | 0.00 | 0.00 | | 69 |
| Ladd Whicker – Landon Whicker | 0.00 | 0.00 | | 69 |
| Orlando Giles – Carl Myers | 0.00 | 0.00 | | 69 |
| Dale Hedrick – Paul Hedrick | 0.00 | 0.00 | | 69 |
| Jeremy Beatty – Andrew Crotts | 0.00 | 0.00 | | 69 |
| Brian Robbins – Robert Brinson | 0.00 | 0.00 | | 69 |
| Ricky Myers – Katelyn Myers | 0.00 | 0.00 | | 69 |
| Craig Gatewood | 0.00 | 0.00 | | 69 |
| Jared Pressley | 0.00 | 0.00 | | 69 |
| Bryson Perry – Carson Walker | 0.00 | 0.00 | | 69 |
| Ethan Fesperman | 0.00 | 0.00 | | 69 |
| Duke Denison – Bobby Cline | 0.00 | 0.00 | | 69 |
| David Cheek | 0.00 | 0.00 | | 69 |
| Total Entrys | | | $3,840.00 | |
| BONUS $ | | | $1,000.00 | |
| Total Paid At Ramp | | | $4,285.00 | |
| 2022 Yadkin Spring Final Fund | | | $455.00 | |
| 2022 CATT Championship Fund | | | $50.00 | |
| 2022 Yadkin Spring Final Fund Total | | | $875.00 | |
| | | | | |