Coming up May 21-22 at Kerr Lake ! The 2022 CATT Academy Championship! If you entered 2 CATTs you're in! Go to the Division page then tournaments for more info!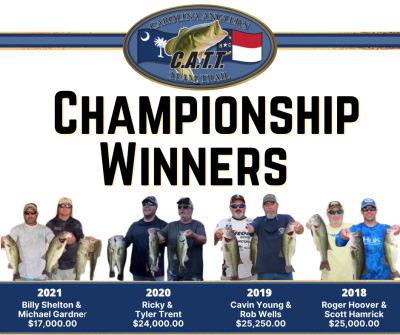 The Yadkin Spring Final will be June 12th at High Rock!
**NO NEW SUBS AT FINAL & NO PAIRING UP AT FINAL WITH ANOTHER MEMBER**
Must fish Final with your partner or a sub your team used
Blastoff Position is Determined By Order Of Payment
You may fish solo at the Yadkin Spring Final.
A team must enter 2 Yadkin Spring Qualifiers to be eligible to enter the Yadkin Spring Final!
Bud Ratcliff & Dustin Horn won the 2022 Spring Yadkin Points and will receive $500!
Tom File & Bryson Perry win High Rock with 5 bass weighing 20.65 lbs! They also weighed in the academy BF at 6.18 lbs! Bryson & Tom earned $1,184.00 plus a $25 academy Gift Card!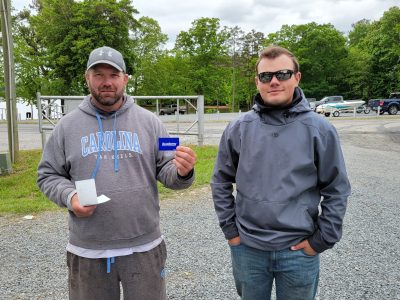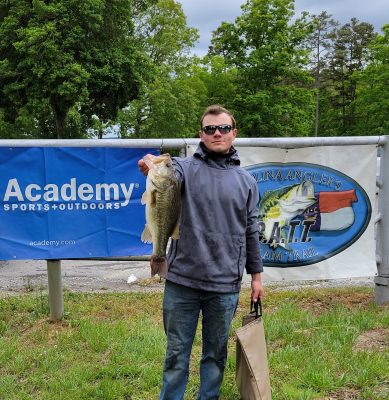 Scott Henley & Johnny Heaton 2nd with 19.60 lbs!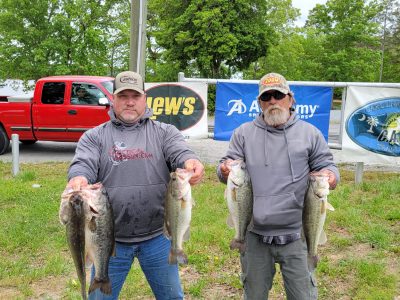 Mike Kiser took 3rd with 19.19 lbs!

Brian File & Nick Bashford 4th 17.95 lbs!

Jeffrey & George Butler 5th 17.44 lbs!

| | | | | |
| --- | --- | --- | --- | --- |
| Team | BF | Weight | Winnings | Points |
| Bryson Perry – Tom File | 6.18 | 20.65 | $1,184.00 | 110 |
| Scott Henley – Johnny Heaton | 4.75 | 19.60 | $475.00 | 109 |
| Mike Kiser | 4.63 | 19.19 | $350.00 | 108 |
| Nick Bashford – Brian File | 4.27 | 17.95 | $125.00 | 107 |
| Todd Butler – Jeffrey Furr | 4.65 | 17.44 | $100.00 | 106 |
| John Kistler – Rusty Melton | 4.58 | 17.28 | | 105 |
| Zach Gooch – Greg Gooch | 4.48 | 16.69 | | 104 |
| Ryan Drew – Butch Drew | 5.11 | 14.82 | $84.00 | 103 |
| Michael Swaringen – Matt Stanley | 4.47 | 14.44 | | 102 |
| Chad Poteat – Jason Barnes | 0.00 | 13.90 | | 101 |
| Bradley Newsome – Chase Cannon | 4.32 | 13.70 | | 100 |
| Bud Ratcliff – Dustin Horn | 0.00 | 13.25 | | 99 |
| Mitch Drew – Kenny Drew | 0.00 | 12.83 | | 98 |
| Jason Riggs – Steve Sink | 0.00 | 12.29 | | 97 |
| Mike Allen – Larry Stout | 0.00 | 11.98 | | 96 |
| Curt Lare | 4.61 | 9.99 | | 95 |
| Hunter Harwood – Scott Harwood | 0.00 | 9.28 | | 94 |
| Harrison McCall – Barry McCall | 0.00 | 7.93 | | 93 |
| Chris Scelsi  Zack Scelsi | 3.73 | 5.14 | | 92 |
| Robert Mixon – Robert Lambert | 4.34 | 4.34 | | 91 |
| Austin Garland | 0.00 | 0.00 | | 81 |
| Carl Myers – Orlando Giles | 0.00 | 0.00 | | 81 |
| Mark Cannon – Frank Brinegar | 0.00 | 0.00 | | 81 |
| TJ Drew – Randall Drew | 0.00 | 0.00 | | 81 |
| Ricky Myers – Katelyn Myers | 0.00 | 0.00 | | 81 |
| Robert Walser – Mack Lowe | 0.00 | 0.00 | | 81 |
| Jason Klutz – Justin Klutz | 0.00 | 0.00 | | 81 |
| Kyle Joyce – Greg Skirven | 0.00 | 0.00 | | 81 |
| Total Entrys | | | $2,160.00 | |
| BONUS $ | | | $625.00 | |
| Total Paid At Ramp | | | $2,255.00 | |
| 2022 Yadkin Spring Final Fund | | | $450.00 | |
| 2022 CATT Championship Fund | | | $50.00 | |
| 2022 Yadkin Spring Final Fund Total | | | $2,195.00 | |