Another great crowd at High Rock! The next CATT Yadkin Fall Qualifier is Nov 9th at Tamarac on High Rock! Come join us! The $$ is piling up for the Final! At the conclusion of this past weekend we have $2,190.00 in the Yadkin Fall Final Fund!
Ron Wolfarth & Shawn Knight win in a tight one! They brought in 5 bass at 19.78 lbs and weigh the BF at 6.14 lb for a total of $1,359.00!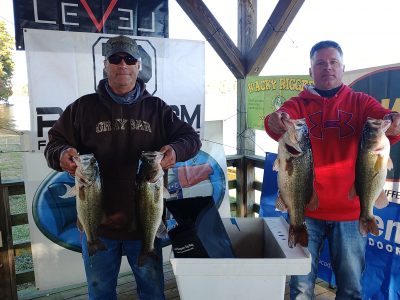 2nd Place went Jason Thomas & Rodney Thomas with 19.46 lbs!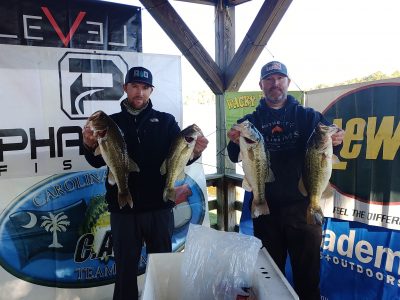 Tod Haynes & Jeremy Talbert claimed 3rd with a limit weighing 19.43 lbs!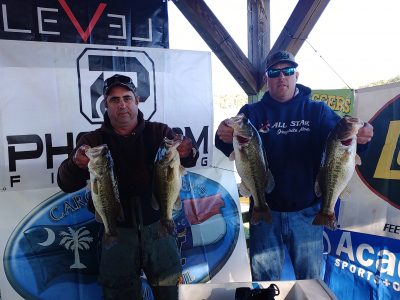 Kevin Chandler & Alan Griffin finished 4th and took over the points lead with 17.92 lbs!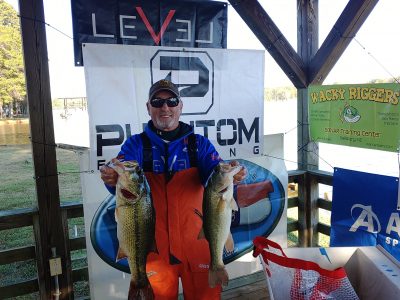 Randy Weddington & Ronnie Smith 5th with 15.72 lbs!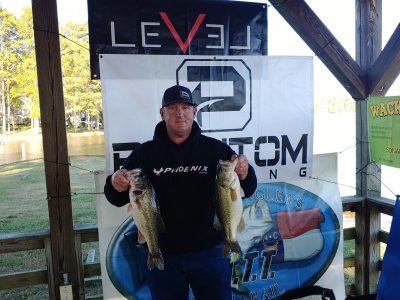 Steve Singleton & Brian Robbins 6th 15.67 lbs!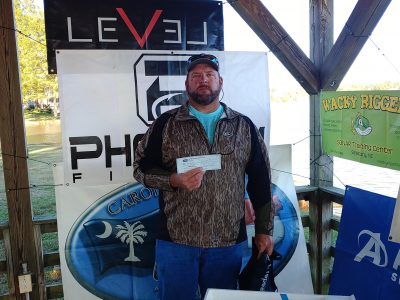 Kenny Seagle & Greg Deal took home the $50 Cash Award from Wackyriggers.com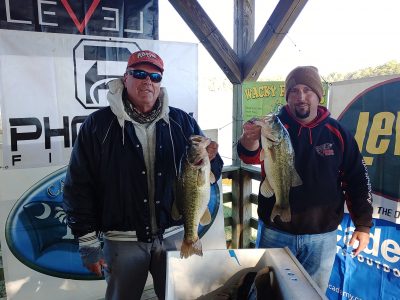 | | | | | |
| --- | --- | --- | --- | --- |
| 32 Teams | BF | Weight | Winnings | Points |
| Ron Wolfarth & Shawn Knight | 6.14 | 19.78 | $1,359.00 | 110 |
| Jason Thomas – Rodney Thomas | 5.62 | 19.46 | $593.00 | 109 |
| Tod Haynes – Jeremy Talbert | 4.64 | 19.43 | $347.00 | 108 |
| Kevin Chandler – Alan Griffin | 5.70 | 17.92 | $246.00 | 107 |
| Randy Weddington & Ronnie Smith | 0.00 | 15.72 | $115.00 | 106 |
| Steve Singleton & Brian Robbins | 5.08 | 15.67 | $100.00 | 105 |
| Kenny Seagle – Greg Deal | 5.61 | 15.62 | | 104 |
| Derek Crumbley – Calvin McCaskills | 0.00 | 13.22 | | 103 |
| Mike Ray & Orlando Giles | 0.00 | 12.96 | | 102 |
| Wayner Ingram & Chris Brown | 3.20 | 11.35 | | 101 |
| Terry James & Robbie Burr | 3.33 | 10.63 | | 100 |
| Rodney Bell – Tommy Jones | 5.48 | 10.52 | | 99 |
| Harrison McCall – Josh Corriher | 0.00 | 7.50 | | 98 |
| Jerry Bono – Marty Williams | 4.75 | 4.75 | | 97 |
| Duke Dennison & Bobby Cline | 3.14 | 4.70 | | 96 |
| Tim Royal | 0.00 | 3.50 | | 95 |
| John Kistler – Rusty Melton | 0.00 | 0.00 | | 94 |
| Steve Sink & Justin Riggs | 0.00 | 0.00 | | 94 |
| Mike Green – Drew Montgomery | 0.00 | 0.00 | | 94 |
| Samuel Thomas – David Wright | 0.00 | 0.00 | | 94 |
| Jeff Emmons | 0.00 | 0.00 | | 94 |
| Mark Cannon – Wesley Parrish | 0.00 | 0.00 | | 94 |
| Rodney Adams – Jeff Faircloth | 0.00 | 0.00 | | 94 |
| Jay Motely – TJ Henley | 0.00 | 0.00 | | 94 |
| Dusty Taylor – Nick Williams | 0.00 | 0.00 | | 94 |
| Scott Henley & Austin Wike | 0.00 | 0.00 | | 94 |
| Tim Skeen & Darryl Crumbley | 0.00 | 0.00 | | 94 |
| Todd Shoaf – Gary Klein | 0.00 | 0.00 | | 94 |
| Tom File & Todd Hammond | 0.00 | 0.00 | | 94 |
| Lance Isenhour – Todd Harris | 0.00 | 0.00 | | 94 |
| Ethan Fesperman – Bryson Perry | 0.00 | 0.00 | | 94 |
| Steve Summers – Rock Summers | 0.00 | 0.00 | | 94 |
| Total Entrys | | | $2,560.00 | |
| BONUS $ | | | $725.00 | |
| Total Paid At Ramp | | | $2,760.00 | |
| 2020 CATT Championship/Phantom Fund | | | $445.00 | |
| 2019 CATT Championship Fund | | | $50.00 | |
| 2019 Yadkin Fall Final Fund Total | | | $2,190.00 | |
| 2020 CATT Championship/Phantom Total | | | $1,475.00 | |