Come out and join at the next Yadkin Fall Qualifier November 3rd on High Rock!! We're having some great crowds at the Yadkin Fall Trail! More teams equals more $$$ for you to win! We had 38 teams enter this past Saturday and I'm sure there are more out there! Would appreciate you guys joining us and making this Trail special!
The 2018 CATT Fall Trail paid back over $11,000.00! We'll smash that this Fall!
1st check out these early morning pictures!
Terry James & Robbie Burr took home $1,330.00 finishing in 1st Place at High Rock Saturday with 5 bass weighing 18.91 lbs!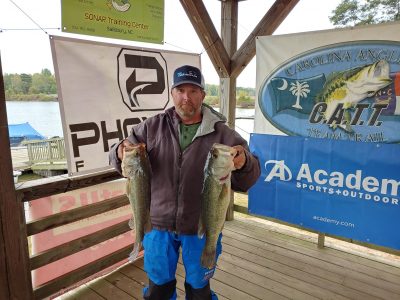 2nd went to to Steve Singleton & Brian Robbins with 17.66 lbs and 2nd BF at 5.83 lbs!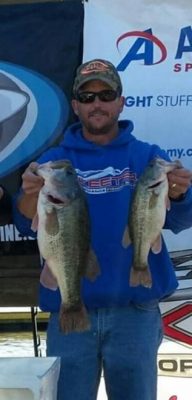 Tod Haynes & Jeremy Talbert 3rd 17.61 lbs! 1st BF at 6.36 lbs!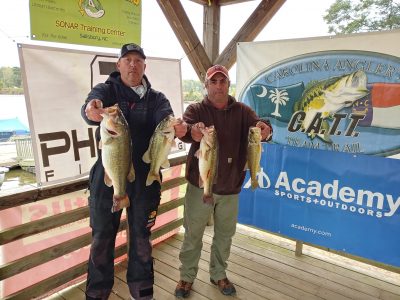 Ronnie Smith & Randy Weddington 4th 16.57 lbs!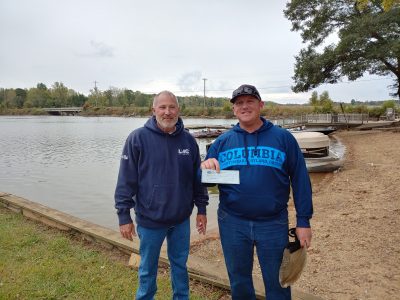 Ron Wolfarth & Shawn Knight took 5th with 16.52 lbs!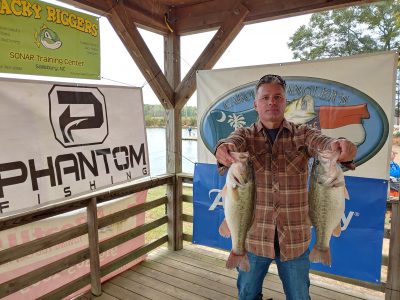 6th went to Chris Brown & Wayne Engram with 15.95 lbs!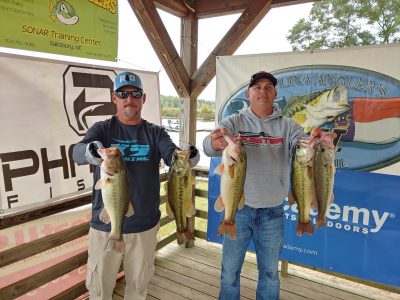 Robert Mixon & Robert Lambert took the last money paying place with 15.90 lbs!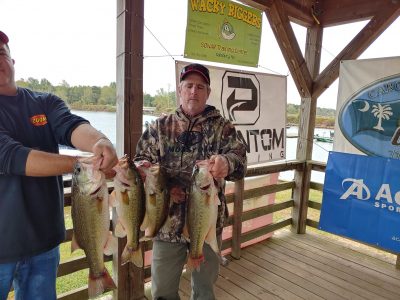 Tony Garitta & Shane Floyd received $50 from Wacky Riggers!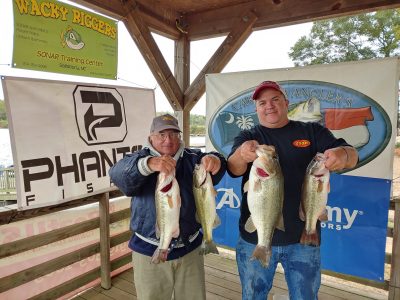 | | | | | |
| --- | --- | --- | --- | --- |
| Terry James & Robbie Burr | 4.87 | 18.91 | $1,330.00 | 110 |
| Steve Singleton & Brian Robbins | 5.83 | 17.66 | $799.00 | 109 |
| Tod Haynes & Jeremy Talbert | 6.36 | 17.61 | $671.00 | 108 |
| Randy Weddington & Ronnie Smith | 4.30 | 16.57 | $210.00 | 107 |
| Ron Wolfarth & Shawn Knight | 4.36 | 16.52 | $140.00 | 106 |
| Wayner Ingram & Chris Brown | 4.28 | 15.95 | $110.00 | 105 |
| Robert Mixon & Robert Lambert | 0.00 | 15.90 | $100.00 | 104 |
| Shane Floyd & Tony Garitta | 5.58 | 15.72 | | 103 |
| Alan Griffin & Kevin Chandler | 0.00 | 15.55 | | 102 |
| George Lambeth & Herby Young | 0.00 | 15.32 | | 101 |
| Jerry Davis & Steve Summer | 0.00 | 15.20 | | 100 |
| David Wright & Jeff Coble | 0.00 | 15.17 | | 99 |
| Steve Carlisle & Mike Morgan | 0.00 | 14.90 | | 98 |
| Rodney Bell & Tommy Jones | 4.96 | 14.77 | | 97 |
| David Cheek | 4.27 | 14.66 | | 96 |
| Duke Dennison & Bobby Cline | 4.03 | 14.06 | | 95 |
| Barry Davis & Will Davis | 0.00 | 13.25 | | 94 |
| Phillip Hedrick & Lucas Hedrick | 3.56 | 13.24 | | 93 |
| Matt Stanley & BRIAN KOONTZ | 3.69 | 13.10 | | 92 |
| Scott Henley & Austin Wike | 4.05 | 11.37 | | 91 |
| Dwayne Hughes & Stan Gobbell | 0.00 | 10.21 | | 90 |
| Mike Ray & Orlando Giles | 0.00 | 9.98 | | 89 |
| Tim Royal | 0.00 | 9.29 | | 88 |
| Tim Skeen & Darryl Crumbley | 0.00 | 5.07 | | 87 |
| Robin Collins & Ronnie White | 0.00 | 0.00 | | 86 |
| John Kistler & Rusty Melton | 0.00 | 0.00 | | 86 |
| Ladd Whicker & Landon Whicker | 0.00 | 0.00 | | 86 |
| Roy Barrow & April Barrow | 0.00 | 0.00 | | 86 |
| Steve Sink & Chase Mabe | 0.00 | 0.00 | | 86 |
| Dabby Nifong & Dale Surratt | 0.00 | 0.00 | | 86 |
| Chris Tucker & Brandon Shaver | 0.00 | 0.00 | | 86 |
| Jeff Faircloth & Rodney adams | 0.00 | 0.00 | | 86 |
| Jimmy Fortson & Craig Hamilton | 0.00 | 0.00 | | 86 |
| Mike Davis & Dean Talbert | 0.00 | 0.00 | | 86 |
| Scott Faulkner & Tony Brewer | 0.00 | 0.00 | | 86 |
| Tanner Stirewalt & Bradley Clark | 0.00 | 0.00 | | 86 |
| Tom File & Todd Hammond | 0.00 | 0.00 | | 86 |
| Scott Harwood & hunter Harwood | 0.00 | 0.00 | | 86 |
| Total Entrys | | | $3,040.00 | |
| BONUS $ | | | $825.00 | |
| Total Paid At Ramp | | | $3,360.00 | |
| 2020 CATT Championship/Phantom Fund | | | $425.00 | |
| 2019 CATT Championship Fund | | | $50.00 | |
| 2019 Yadkin Fall Final Fund Total | | | $1,745.00 | |
| 2020 CATT Championship/Phantom Fund Total | | | $975.00 | |