**Remember guys you have to enter 3 CATT Qualifiers to be able to enter the June 2-3 CATT Championship on Kerr. $10,000 1st Place! You can make your 3 by having fished any FALL 2017 CATT Trails and by fishing any SPRING CATT Trails—the 3 don't have to in the same Division!
We had a great crowd this past Saturday at High Rock! 33 teams met up at Tamarac to try to out fish each other on High Rock! Next Yadkin CATT is on High Rock March 24th! Come on out and win some cash!
David Wright & Chris Brown took 1st Place with 5 bass weighing 24.73 lbs! They took home a total of $1,078.00!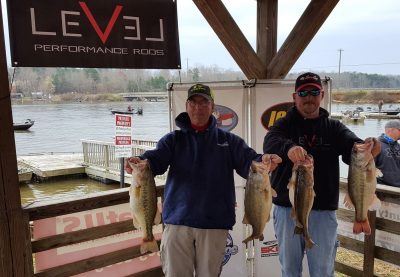 2nd went to Tyler Green & James Wall with 23.07 lbs and they weighed the 2nd BF at 6.53 lbs! All total they took home $661.00!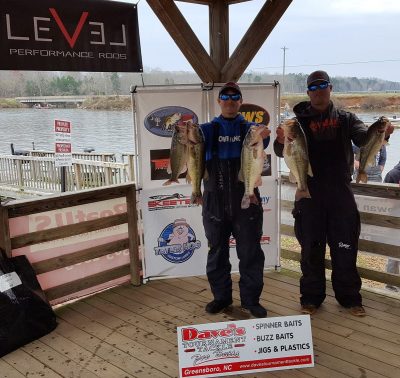 Kevin & Bradley Chandler took 3rd with 19.31 lbs and earned $280.00!
David Cheek & Austin Wagner brought in 18.92 lbs and collected $175.00 for 4th!
5th went to Mike Ray & Orlando Giles with 18.14 lbs worth $115.00!
Jeremy Talbert & Todd Haynes claimed 6th with 18.12 lbs and took home $100.00!
Barry Davis & Robert Burr weighed the 1st BF at 7.34 lbs  taking home $231.00
| | | | | |
| --- | --- | --- | --- | --- |
| 33 Teams |   |   |   |   |
| Team | Big Fish | Weight | Winnings | Points |
| David Wright – Chris Brown  1st BONUS $ | 5.99 | 24.73 | $1,078.00 | 110 |
| Tyler Green – James Wall  2nd BONUS $  2nd BF | 6.53 | 23.07 | $661.00 | 109 |
| Kevin & Bradley Chandler | 5.24 | 19.31 | $280.00 | 108 |
| David Cheek – Austin Wagner | 5.31 | 18.92 | $175.00 | 107 |
| Mike Ray – Orlado Giles | 5.80 | 18.14 | $115.00 | 106 |
| Todd Haynes – Jeremy Talbert | 5.94 | 18.12 | $100.00 | 105 |
| Barry Davis – Robert Burr  1st BF | 7.34 | 17.97 | $231.00 | 104 |
| Ryan Story – Alan A | 4.72 | 17.30 | | 103 |
| Ralph Hollifield – Jeff Hollifield | 0.00 | 16.76 | | 102 |
| Steve Summers – Danny Nifong | 4.69 | 16.43 | | 101 |
| Tony Tysinger – Jerry Davis | 0.00 | 16.14 | | 100 |
| Ladd & Landon Whicker | 4.57 | 15.52 | | 99 |
| Scott Falkner – Tony Brewer | 4.87 | 15.16 | | 98 |
| Dakota & Carl | 0.00 | 15.05 | | 97 |
| Michael Kinard – Tony Lambert | 0.00 | 14.64 | | 96 |
| Andy Nix – John Barringer | 0.00 | 13.76 | | 95 |
| Thomas Ludwick – Jeff Horton | 3.91 | 13.72 | | 94 |
| Chad Kinely – Randall Blankenship | 4.07 | 13.65 | | 93 |
| George Lambeth – Herby Young | 0.00 | 12.90 | | 92 |
| Scott Henley – Robert Mixon | 0.00 | 12.42 | | 91 |
| Shane & Dillon Floyd | 0.00 | 12.41 | | 90 |
| Justin Hill – Justin Albright | 0.00 | 12.27 | | 89 |
| Byron Brush – Byron Brush Sr | 0.00 | 11.55 | | 88 |
| Bailey Hollingsworth – Kyle Goss | 0.00 | 10.27 | | 87 |
| John Ritchie – Bryant Goble | 0.00 | 8.64 | | 86 |
| Jeff & Calvin Davis | 0.00 | 8.02 | | 85 |
| Michael Cribb | 0.00 | 8.00 | | 84 |
| Wayne File – Brian File | 5.48 | 5.48 | | 83 |
| Duke & Boby Cline | 0.00 | 0.00 | | 82 |
| Billy Lee – Mike White | 0.00 | 0.00 | | 82 |
| Mike Kiser | 0.00 | 0.00 | | 82 |
| Rob & Aaron Digh | 0.00 | 0.00 | | 82 |
| Derek Tolly – Terry Trivette | 0.00 | 0.00 | | 82 |
| Total Entrys |   |   | $2,640.00 | |
| BONUS $ |   |   | $540.00 | |
| Total Paid At Ramp |   |   | $2,640.00 | |
| Yadkin 2018 Spring Final Fund |   |   | $490.00 | |
| 2018 CATT Championship Fund |   |   | $50.00 | |
|   |   |   |   | |
| 2018 Yadkin Spring Final Fund Total |   |   | $790.00 | |
| 2018  CATT Championship Fund Total |   |   | $3,250.00 | |