High Rock is doing just fine! Next Yadkin CATT is April 14th on High Rock at Tamarac Marina!
Orlando Giles & Mike Smith brought in 5 bass weighing 22.74 lbs with the 1st BF in their bag at 7.29 lbs! They took home $797.00!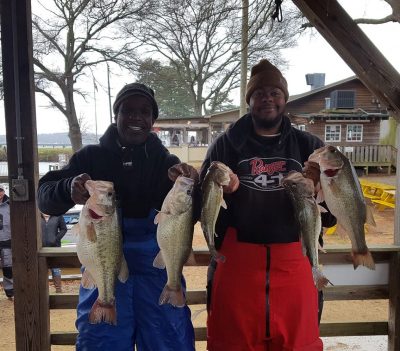 Orlando & Mike!
Tony Brewer & Scott Faulkner took 2nd with 22..69 lbs! They weifghed the 2nd BF at 7.07 lbs and took home $308.00!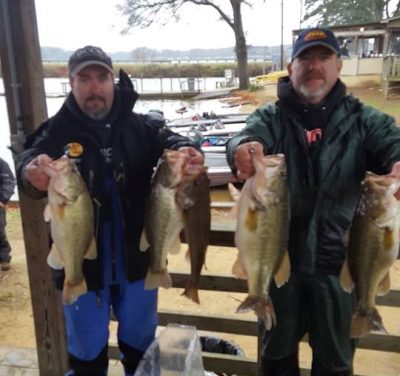 3rd went to Ladd & Landon Whicker with 20.14 lbs worth $90.00!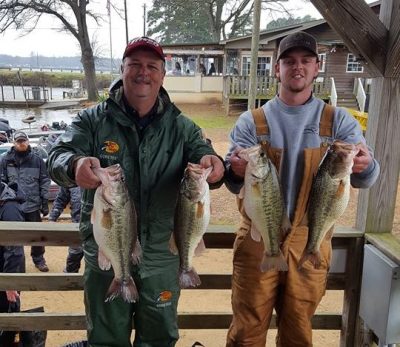 | | | | | |
| --- | --- | --- | --- | --- |
| 16 Teams  |   |   |   |   |
| Team | Big Fish | Weight | Winnings | Points |
| Mike Smith – Orlando Giles  1st BF 1st BONUS | 7.29 | 22.74 | $797.00 | 110 |
| Tony Brewer – Scott Faulkner  2nd BF  2nd BONUS | 7.07 | 22.69 | $308.00 | 109 |
| Ladd Whicker – Landon Whicker | 5.11 | 20.14 | $90.00 | 108 |
| Joey Musgrave – Marty Williams | 5.97 | 19.89 | | 107 |
| Phillip Hedrick – Jack Vanderford | 6.75 | 19.87 | | 106 |
| Brian File – Wayne File | 4.56 | 19.59 | | 105 |
| Scott Henley – Robert Mixon | 5.42 | 19.19 | | 104 |
| Ryan Story – Alan A | 0.00 | 17.63 | | 103 |
| Butch Drew – Dan Funderburke | 5.60 | 16.12 | | 102 |
| Mike White – Sammy Carter | 0.00 | 14.22 | | 101 |
| Danny Nifong – Nathan | 4.70 | 13.77 | | 100 |
| Todd Haynes – Jeremy Talbert | 0.00 | 13.35 | | 99 |
| Kenneth Wood – Dustin | 0.00 | 11.10 | | 98 |
| Jarrett Albright – Chris Albright | 0.00 | 0.00 | | 97 |
| Dakota Roberts – Carl Myers | 0.00 | 0.00 | | 97 |
| Steve Gawthrop – Kenneth Martin | 0.00 | 0.00 | | 97 |
| Total Entrys |   |   | $1,280.00 | |
| BONUS $ |   |   | $250.00 | |
| Total Paid At Ramp |   |   | $1,195.00 | |
| Yadkin 2018 Spring Final Fund |   |   | $300.00 | |
| 2018 CATT Championship Fund |   |   | $0.00 | |
|   |   |   |   | |
| 2018 Yadkin Spring Final Fund Total |   |   | $1,090.00 | |
| 2018  CATT Championship Fund Total |   |   | $3,525.00 | |