**Remember guys you have to enter 3 CATT Qualifiers to be able to enter the June 2-3 CATT Championship on Kerr $10,000 1st Place! You can make your 3 by having fished any FALL 2017 CATT Trails and by fishing any SPRING CATT Trails—the 3 don't have to in the same Division!
You have 1 more chance to be eligible to enter the Yadkin Final on High Rock June 23rd. The last 2018 CATT Yadkin Spring Qualifier is May 27 at Tuckertown! 1st Place is a minimum of $2,500.00 and so far we have 60 teams eligible to enter!
Mike Clark & Chris Anderson took 1st Place this past Saturday on High Rock with 5 bass weighing 19.16 lbs! They also took home the 1st BF at 7.13 lbs and took home a total of $725.00!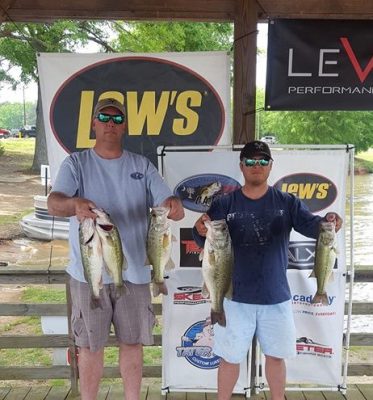 2nd went to Jeremy Talbert and Todd Haynes with 5 bass weighing 18.45 lbs and they took home $540.00!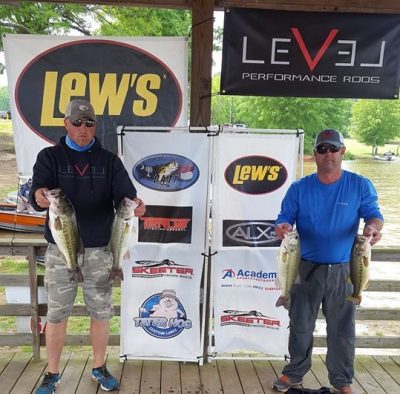 Gerald Ritchie & Bryant Gobble claimed 3rd with 5 bass weighing 18.12 lbs and they collected $300.00!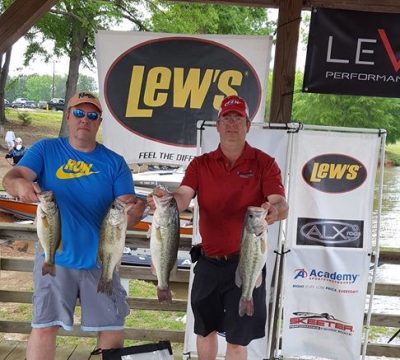 Ladd & Landon Whicker 4th with 17.50 lbs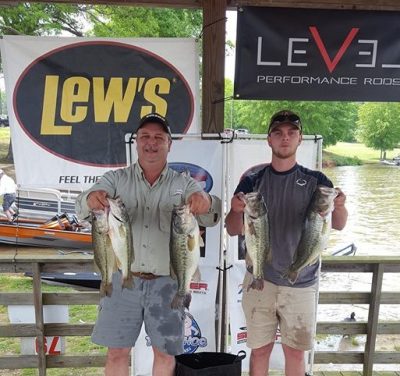 Barry Davis & Robert Brown 5th with 17.47 lbs and 2nd BF 6.24 lbs!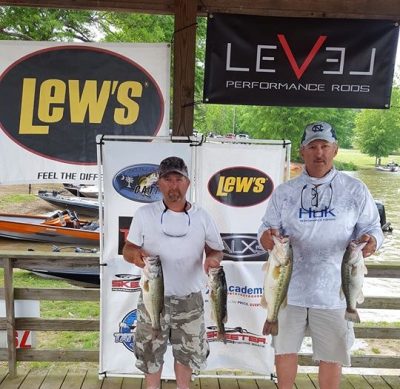 25 Teams
Big Fish
Weight
Winnings
Points
Mike Clark – Chris Anderson  

1st BF

7.13
19.16
$725.00
110
Jeremy Talbert – Todd Haynes 

1st BONUS $

5.81
18.45
$540.00
109
Gerald Ritchie – Bryant Gobble 

2nd BONUS $

5.89
18.12
$300.00
108
Ladd Whicker – Larry Whicker
5.01
17.50
$110.00
107
Barry Davis – Robert Brown 

2nd BF

6.24
17.47
$175.00
106
Mike Ray – Orlando Giles
4.55
17.17
 
105
Jarrett Albright
4.07
14.91
104
Robert Mixon – Scott Henley
4.28
14.55
103
Thomas Ludwick
0.00
13.85
102
Danny Nifong – Steve Summer
5.35
12.12
101
Jason Freddle – Terry Brooks
0.00
11.43
100
Michael Cribb
3.70
8.85
99
Brian File – Wayne File
0.00
7.20
98
Duke Denison
0.00
0.00
97
Steve Sink – Tony Foster
0.00
0.00
97
Phillip Hedrick – Marty Williams
0.00
0.00
97
Tyler Green – Todd Walters
0.00
0.00
97
Justin Hill – Bart Hill
0.00
0.00
97
Brad Younts – Adam Younts
0.00
0.00
97
Derek Tolley – Terry Trivette
0.00
0.00
97
Randy Weddington – Ronnie Smith
0.00
0.00
97
Butch Drew – Dan Funderburke
0.00
0.00
97
Steve Carlisle
0.00
0.00
97
Thomas Jones – Phil Rogers
0.00
0.00
97
Christain Johnson
0.00
0.00
97
Total Entrys
 
 
$2,000.00
 
BONUS $
 
 
$340.00
 
Total Paid At Ramp
 
 
$1,850.00
 
Yadkin 2018 Spring Final Fund
 
 
$440.00
 
2018 CATT Championship Fund
 
 
$50.00
 
 
 
 
 
 
2018 Yadkin Spring Final Fund Total
 
 
$1,900.00
 
2018  CATT Championship Fund Total
 
 
$4,580.00