We started the Yadkin Fall Trail on High Rock this past weekend with 36 teams entering! Great start!
Next Yadkin Fall Qualifier is this coming weekend August 21st at Badin Lake launching from Circle Drive!

A team must enter 2 Yadkin Fall Qualifiers to be eligible to enter the Yadkin Fall Final!
Yadkin Fall Point Winners Receive $500
2nd Place Points Team Receives Free Entry at Yadkin Final
Tod Haynes & Jeremy Talbert took 1st Place with 5 bass weighing 18.02 lbs and took home $1,268.00!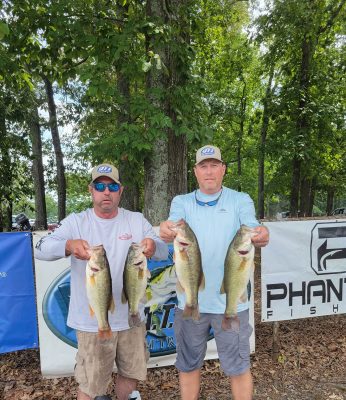 2nd Place went to Steve Sink & Jason Riggs with a limit weighing 16.25 lbs! They collected a total of $797.00 with the Academy BF added in which weighed up at 4.72 lbs!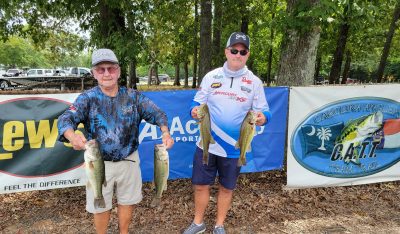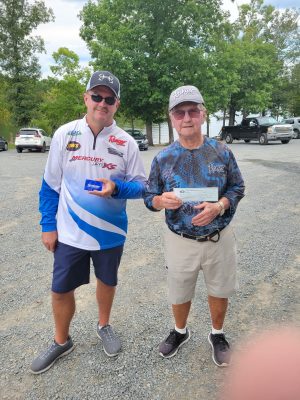 Scott & Hunter Harwood claimed 3rd with 15.52 lbs and earned $372.00!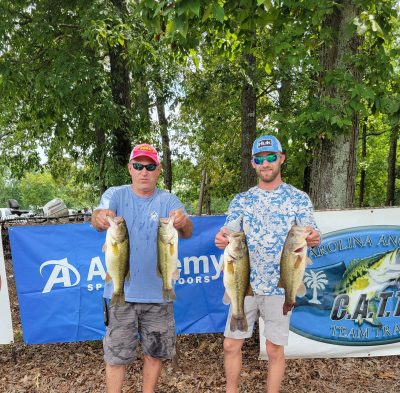 George Lambeth & Herby Young 4th 13.77 lbs!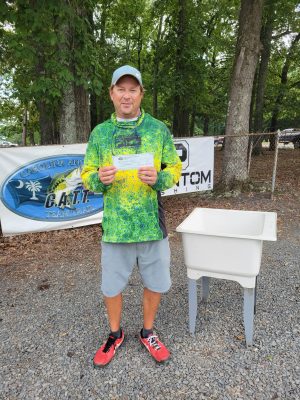 5th went to Jerry Bono & Billy Marshall with 13.41 lbs!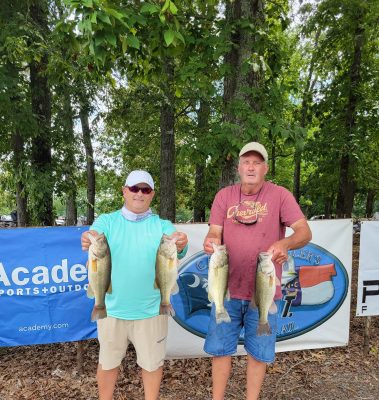 Rodney Bell & Wayne Smelser 6th 13.13 lbs!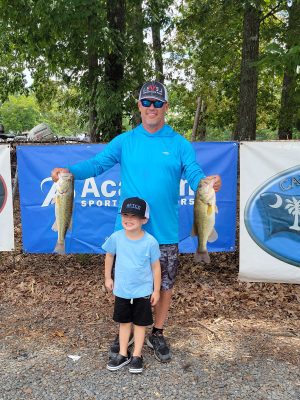 7th went to Ladd & Landon Wicker 12.92 lbs!
1st Place team out of the money John Kistler & Rusty Melton received a Crankbait Gift Pack from Smith Built Custom Lures!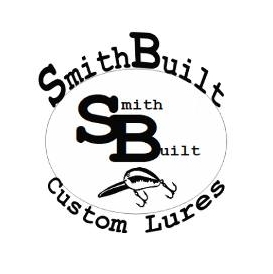 | | | | | |
| --- | --- | --- | --- | --- |
| Team | BF | Weight | Winnings | Points |
| Tod Haynes – Jeremy Talbert | 3.87 | 18.02 | $1,268.00 | 110 |
| Steve Sink – Jason Riggs | 4.72 | 16.25 | $797.00 | 109 |
| Hunter Harwood – Scott Harwood | 4.15 | 15.52 | $372.00 | 108 |
| George Lambeth – Herby Young | 3.95 | 13.77 | $200.00 | 107 |
| Jerry Bono – Billy Marshall | 0.00 | 13.41 | $120.00 | 106 |
| Rodney Bell – Wayne Smelser | 0.00 | 13.13 | $110.00 | 105 |
| Ladd Wicker – Landon Wicker | 0.00 | 12.92 | $100.00 | 104 |
| John Kistler – Rusty Melton | 0.00 | 11.81 | | 103 |
| Todd Butler – Jeffrey Furr | 3.37 | 11.34 | | 102 |
| RM Parker – Corey Gibson | 0.00 | 11.15 | | 101 |
| Marty Williams | 0.00 | 8.73 | | 100 |
| Orlando Giles – Sam Smith | 3.76 | 8.25 | | 99 |
| Mike Allen – Thomas Furr | 0.00 | 8.10 | | 98 |
| Dillon Kigor | 0.00 | 7.78 | | 97 |
| Chris Passmore | 3.89 | 7.31 | | 96 |
| Shane Floyd – Austin Floyd | 4.46 | 6.10 | $108.00 | 95 |
| Chris Brown | 0.00 | 4.45 | | 94 |
| Zach Scelsi – Marshall Conrad | 0.00 | 2.90 | | 93 |
| Lance Isenhower | 0.00 | 2.32 | | 92 |
| Marty Smith – Mitch Frederick | 0.00 | 1.31 | | 91 |
| David Hunt – Darrell Crumbley | 0.00 | 0.00 | | 81 |
| Tom File – Thomas Ludwick | 0.00 | 0.00 | | 81 |
| Tanner Werth – Taylor Werth | 0.00 | 0.00 | | 81 |
| Josh Griffin | 0.00 | 0.00 | | 81 |
| Keith Davis – Keith Davis Jr | 0.00 | 0.00 | | 81 |
| Nathan Pyrtle | 0.00 | 0.00 | | 81 |
| Austin Garland | 0.00 | 0.00 | | 81 |
| Same Lawhon – Mike Lawhon | 0.00 | 0.00 | | 81 |
| Mark Mohler – Graeme Bosch | 0.00 | 0.00 | | 81 |
| Chad Kindley | 0.00 | 0.00 | | 81 |
| Craig Gatewood | 0.00 | 0.00 | | 81 |
| Micheal Swearingen – Matt Stanley | 0.00 | 0.00 | | 81 |
| Jack Vanderford – Lucas Hedrick | 0.00 | 0.00 | | 81 |
| Harrison McCall – Barry McCall | 0.00 | 0.00 | | 81 |
| Josh Stafford | 0.00 | 0.00 | | 81 |
| Robert Walser – Mack Lowe | 0.00 | 0.00 | | 81 |
| Total Entrys | | | $2,880.00 | |
| BONUS $ | | | $725.00 | |
| Total Paid At Ramp | | | $3,075.00 | |
| 2022 Yadkin Fall Final Fund | | | $420.00 | |
| 2022 CATT Championship Fund | | | $50.00 | |
| 2022 Yadkin Fall Final Fund Total | | | $420.00 | |