Next Yadkin Fall CATT is September 8 on High Rock launching from Tamarac Marina!
A team must enter 2 Yadkin Fall Qualifiers to be eligible to enter the Yadkin Fall Final!
$500 will be awarded to the 2019 Yadkin Fall Point Winners!
The 1st Team out of the money will earn $50 at each Yadkin Fall Qualifier!
To see the Yadkin Points g to the Yadkin Division page and scroll down to the bottom of the page!
Sponsored by Wacky Riggers!

Robbie Walser took the win this past Saturday with 5 bass weighing 23.60 lbs and he weighed in the 2nd BF at 7.32 lbs! Robbie collected $1,118.00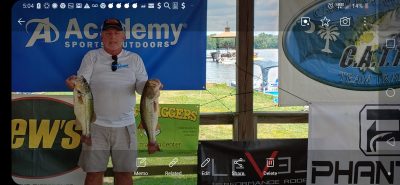 2nd went to Scott Faulker & Tomey Brewer with 5 bass weighing 22.63 lbs! They earned $570.00!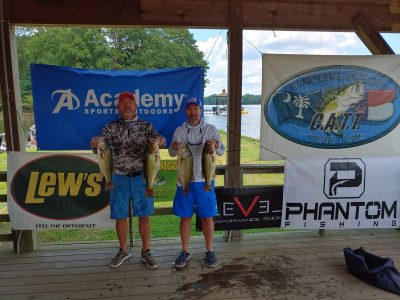 3rd went to Chris Brown & Wayne Ingram with 5 bass weighing 20.79 lbs!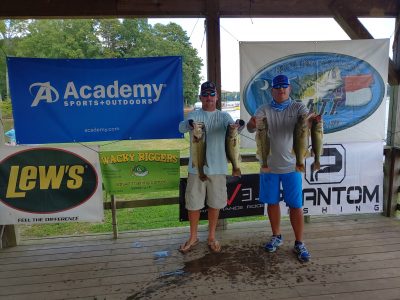 Matt Stanley claimed 4th with 19.89 lbs!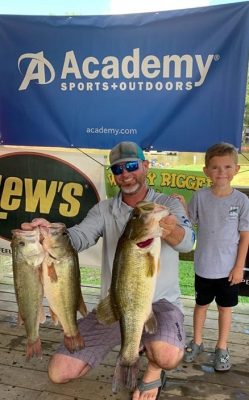 Tim Skeen & Darryl Crumbly 5th 19.59 lbs!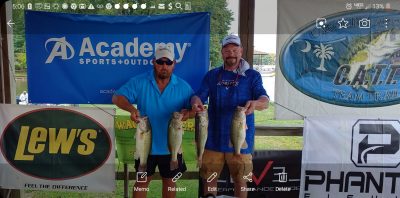 6th Phillip Hedrick & Lucas Hedrick 19.56 lbs!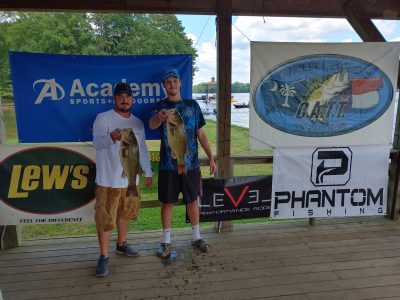 1st BF Derek Tolley & Terry Trivette 7.88 lbs $220.00 plus a $25 Academy Gift Card!
Kevin Chandler & Alan Griffin 1st Team out of the money – $50 From Wackyrigger.com
| | | | | |
| --- | --- | --- | --- | --- |
| | Big | Total | Total | |
|  31 Teams | Fish | Weight | Winnings | Points |
| Robbie Walser | 7.32 | 23.60 | $1,118.00 | 110 |
| Scott Faulkner & Tony Brewer | 6.06 | 22.63 | $570.00 | 109 |
| Wayne Ingram & Chris Brown | 5.80 | 20.79 | $330.00 | 108 |
| Matt Stanley | 6.93 | 19.89 | $140.00 | 107 |
| Tim Skeen & Darryl Crumbly | 0.00 | 19.58 | $110.00 | 106 |
| Phillip Hedrick & Lucas Hedrick | 6.91 | 19.56 | $100.00 | 105 |
| Kevin Chandler & Alan Griffin | 0.00 | 17.66 | | 104 |
| Derek Tolley & Terry Trivette | 7.88 | 17.53 | $220.00 | 103 |
| Randy File | 3.93 | 17.48 | | 102 |
| Ladd Whicker & Steve Sink | 0.00 | 17.30 | | 101 |
| Eric Easter & Harold Pridgen | 0.00 | 16.40 | | 100 |
| Doug Young & Thomas Simmerson | 0.00 | 16.11 | | 99 |
| Orlando Giles & Mike Ray | 5.36 | 15.60 | | 98 |
| Todd Harris & Lance Isenhour | 0.00 | 15.36 | | 97 |
| Byron Brush & Byron Brush Sr. | 0.00 | 15.13 | | 96 |
| Jerry Davis & Steve Summer | 0.00 | 14.79 | | 95 |
| John Kistler & Rusty Melton | 0.00 | 14.15 | | 94 |
| Tod Haynes & Jeremy Talbert | 0.00 | 14.02 | | 93 |
| David Cheek & Austin Wagonor | 0.00 | 12.53 | | 92 |
| Dwayne Hughes & Stan Gobbel | 0.00 | 12.25 | | 91 |
| Herby Young & George Lambeth | 0.00 | 12.08 | | 90 |
| Mike Kiser & Cole Helms | 0.00 | 11.97 | | 89 |
| Ron Wolfarth & Larry Inman | 0.00 | 10.71 | | 88 |
| Eric Bailey & Grayson Bailey | 0.00 | 4.41 | | 87 |
| Mark Beshears & Jeff Emmons | 0.00 | 0.00 | | 86 |
| Duke Dennison Bobby Cline | 0.00 | 0.00 | | 86 |
| Kyle Whisnant & Austin Wike | 0.00 | 0.00 | | 86 |
| Steve Carlisle & Mike Morgan | 0.00 | 0.00 | | 86 |
| Jimmy Fortson & John Ritchie | 0.00 | 0.00 | | 86 |
| Scott Harwood & Hunter Harwood | 0.00 | 0.00 | | 86 |
| Carson Walter & Bryson Perry | 0.00 | 0.00 | | 86 |
| Total Entrys | | | $2,480.00 | |
| BONUS $ | | | $675.00 | |
| Total Paid At Ramp | | | $2,630.00 | |
| 2020 CATT Championship/Phantom Fund | | | $445.00 | |
| 2019 CATT Championship Fund | | | $50.00 | |
| 2019 Yadkin Fall Final Fund Total | | | $445.00 | |
| 2020 CATT Championship/Phantom Fund Total | | | $50.00 | |