Next Yadkin CATT is at Badin Lake March 28 launching from Circle Drive!
Chris Brown & Wayne Ingram win Tillery with 5 bass weighing 13.28 lbs!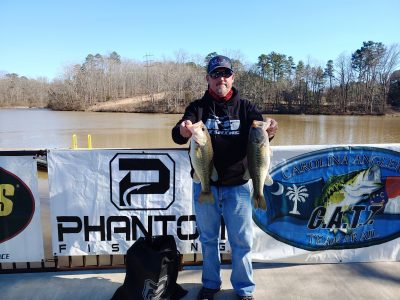 Zack & Greg Gooch 2nd with 9.81 lbs!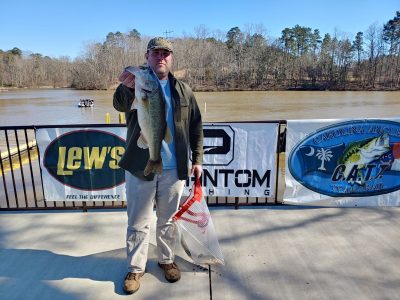 3rd Place John Kistler & Rusty Melton 7.93 lbs!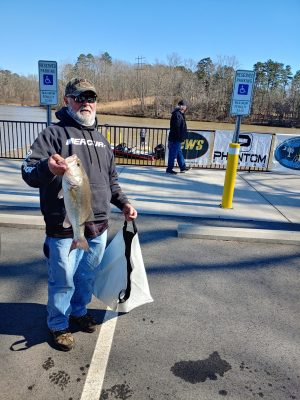 4th Billy Cobb & Jeff Proctor 7.28 lbs!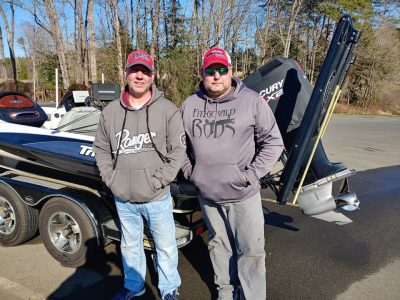 Brandon Shaver & Chris Tucker with their $50 Wacky Riggers award plus a $25 Academy Gift Card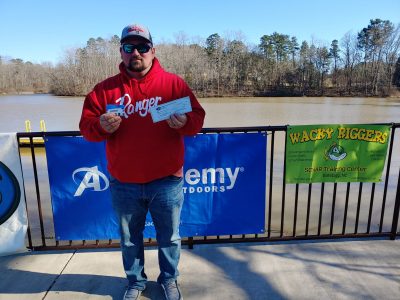 | | | | | |
| --- | --- | --- | --- | --- |
| 20 Teams | BF | Weight | Winnings | Points |
| Chris Brown – Wayne Ingram | 0.00 | 13.28 | $840.00 | 110 |
| Zack Gooch – Greg Gooch | 6.77 | 9.81 | $525.00 | 109 |
| John Kistler – Rusty Melton | 4.06 | 7.93 | $185.00 | 108 |
| Billy Cobb – Jeff Proctor | 0.00 | 7.28 | $100.00 | 107 |
| Brandon Shaver – Chris Tucker | 2.84 | 5.12 | | 106 |
| Brian Robbins – Andrew Wilson | 0.00 | 4.99 | | 105 |
| Hunter Harwood – Scott Harwood | 2.74 | 4.72 | | 104 |
| Brian File – Nick Bashford | 0.00 | 3.67 | | 103 |
| Chris Murphy- Vince Murphy | 0.00 | 3.45 | | 102 |
| Westen Lineberry – Jordan Taylor | 0.00 | 2.53 | | 101 |
| Mike Powers – Seth Mycko | 0.00 | 2.04 | | 100 |
| Myles Stewart | 0.00 | 1.64 | | 99 |
| Michael Kitchens – Johnny Byrd | 0.00 | 0.00 | | 89 |
| Brad Burns – Caleb Burns | 0.00 | 0.00 | | 89 |
| Duke Dension – Bobby Cline | 0.00 | 0.00 | | 89 |
| Dale Hedrick – Paul Hedrick | 0.00 | 0.00 | | 89 |
| John Lancaster – Lewis Brown | 0.00 | 0.00 | | 89 |
| Robin Collins – Ronnie White | 0.00 | 0.00 | | 89 |
| Robert Brusnon – Aaron West | 0.00 | 0.00 | | 89 |
| Mike Kiser – David Cheek | 0.00 | 0.00 | | 89 |
| Total Entrys | | | $1,600.00 | |
| BONUS $ | | | $450.00 | |
| Total Paid At Ramp | | | $1,650.00 | |
| Yadkin Spring 2021 Final Fund | | | $300.00 | |
| 2021 CATT Championship Fund | | | $50.00 | |
| 2021 Yadkin Spring Final Fund Total | | | $300.00 | |
| 2021 CATT Championship Fund Total | | | $1,590.00 | |