Next Yadkin CATT is March 20th at High Rock launching from Southmont Hwy 8!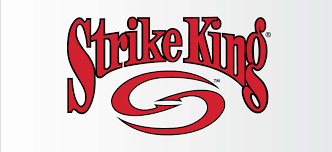 Ethan & Brad Austin brought in 5 bass weighing 16.94 lbs good enough for 1st Place and $970.00!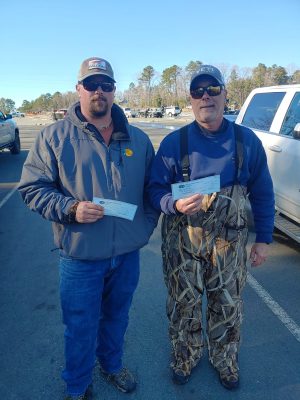 Michael McDonald & Cody Thompson claimed 2nd with 16.76 lbs!
3rd went to Dustin Horn & Bud Ratliff with 16.14 lbs!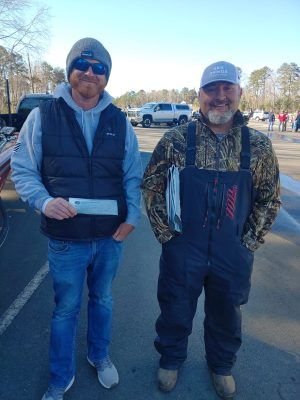 Alan Griffin & Kevin Chandler earned 4th with 14.96 lbs!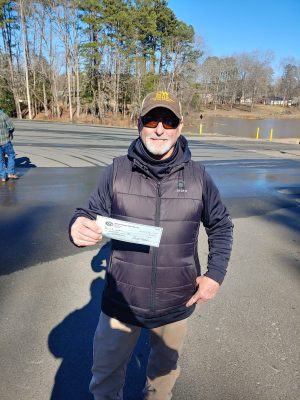 Byron Brush took 5th with 14.91 lbs!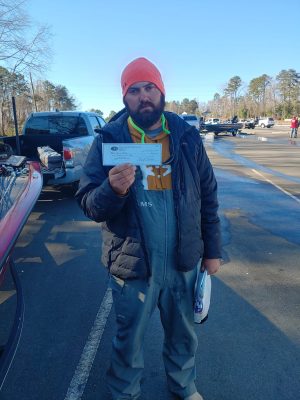 Marty Smith with the Academy BF at 5.47 lbs!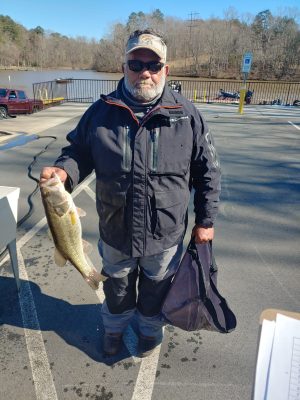 | | | | | |
| --- | --- | --- | --- | --- |
| Team | BF | Weight | Winnings | Points |
| Ethan Austin – Brad Austin | 3.97 | 16.94 | $970.00 | 110 |
| Michael McDonald – Cody Thompson | 4.09 | 16.76 | $460.00 | 109 |
| Bud Ratliff – Dustin Horn | 4.03 | 16.14 | $210.00 | 108 |
| Alan Griffin – Kevin Chandler | 4.13 | 14.96 | $110.00 | 107 |
| Byron Brush | 0.00 | 14.91 | $100.00 | 106 |
| Michael Swearingen – CJ | 4.66 | 13.84 | $78.00 | 105 |
| Hunter Harwood – Scott Harwood | 0.00 | 13.57 | | 104 |
| Tod Haynes – Jeremy Talbert | 0.00 | 13.40 | | 103 |
| Jason Haithcock – Eddie Haithcock | 0.00 | 11.43 | | 102 |
| Josh Griffin – Daniel Griffin | 2.90 | 11.40 | | 101 |
| Greg Gooch – Zac Gooch | 0.00 | 10.26 | | 100 |
| Mike Kiser | 0.00 | 10.22 | | 99 |
| Chris Scelsi  Zack Scelsi | 3.58 | 10.09 | | 98 |
| Jacob Bridges – Brady Weisner | 3.50 | 9.88 | | 97 |
| Robert Parrish – Dwayne Saunders | 0.00 | 9.76 | | 96 |
| Manny Leneau | 0.00 | 9.42 | | 95 |
| John Kistler – Rusty Melton | 0.00 | 9.29 | | 94 |
| Marty Smith – Mitchell Fredrick | 5.47 | 8.62 | $182.00 | 93 |
| Nick Bashford – Brian File | 0.00 | 7.94 | | 92 |
| Weston Lineberry – Jordan Taylor | 0.00 | 6.06 | | 91 |
| George Lambeth – Herby Young | 0.00 | 5.83 | | 90 |
| Carl Myers – Orlando Giles | 0.00 | 3.95 | | 89 |
| Thomas Furr – Mike Allen | 0.00 | 2.99 | | 88 |
| Chris Walls – Cody Lambeth | 0.00 | 0.00 | | 78 |
| Ricky Myers – Katelyn Myers | 0.00 | 0.00 | | 78 |
| Mike Smith – Eric Myers | 0.00 | 0.00 | | 78 |
| Total Entrys | | | $2,080.00 | |
| BONUS $ | | | $550.00 | |
| Total Paid At Ramp | | | $2,110.00 | |
| 2022 Yadkin Spring Final Fund | | | $420.00 | |
| 2022 CATT Championship Fund | | | $50.00 | |
| 2022 Yadkin Spring Final Fund Total | | | $420.00 | |