Thanks for fishing with us this Spring! We paid back $16,245.00! Keep an out out for the Fall Yadkin schedule!
George Lambeth – Herby Young weighed in 5 bass at 22.77 lbs and took home $2,960.00! Great job guys!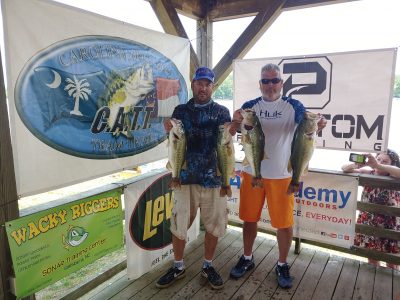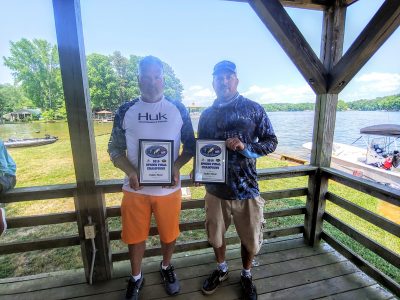 2nd went to Randy File & Hunter Harwood with 20.53 lbs worth $1,265.00! They brought in the BF at 6.53 lbs and received an Academy Gift Card and a Lews Mach Baitcast Reel!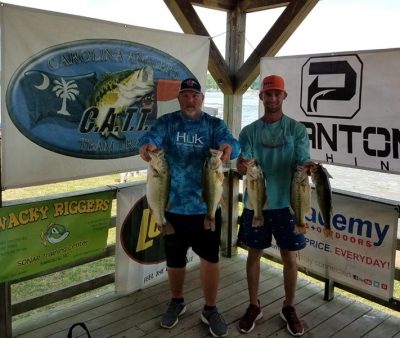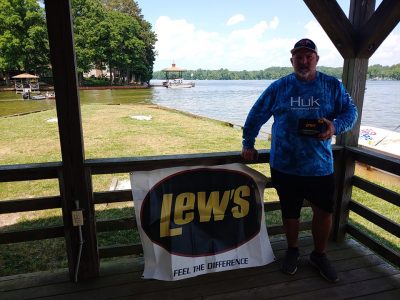 Tony Foster & Steve Sink 3rd with 19.07 lbs!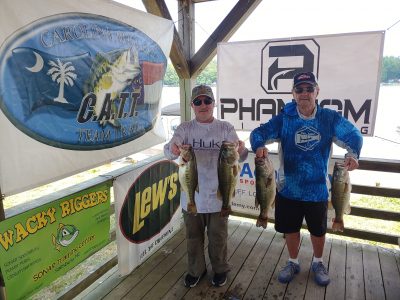 Andrew Wallace & Derek Livingston were our Spring Point Winners!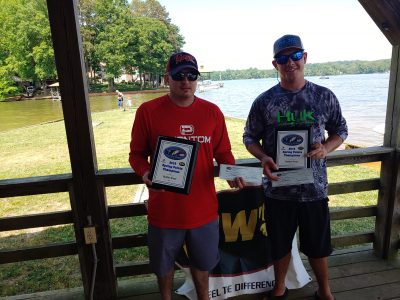 | | | | |
| --- | --- | --- | --- |
| 21 Teams | BF | Weight | Winnings |
| George Lambeth – Herby Young | 5.88 | 22.77 | $2,960.00 |
| Hunter Harwood – Randy File | 6.52 | 20.53 | $1,265.00 |
| Steve Sink – Tony Foster | 5.22 | 19.07 | $600.00 |
| Scott Henley – Robert Mixon | 4.88 | 18.67 | $305.00 |
| Andrew Wallace – Derek Livingston | 5.04 | 18.47 | $150.00 |
| James Blankinship – Jonathan Phillips | 5.39 | 18.14 | |
| Tony Brewer – Scott Faulkner | 4.80 | 17.13 | |
| Todd Haynes – Jeremy Talbert | 0.00 | 17.07 | |
| Marty Williams – Todd Walters | 0.00 | 17.03 | |
| Ladd Whicker – Landon Whicker | 0.00 | 16.99 | |
| Mike Ray – Orlando Giles | 4.55 | 16.62 | |
| Phillip & Lucas Hedrick | 4.31 | 16.54 | |
| Mack Lowe – Robbie Walser | 0.00 | 15.50 | |
| Kevin Burrage – Patrick Burrage | 0.00 | 15.14 | |
| Todd Barbee – Scott Wyatt | 3.72 | 14.96 | |
| Zac & Greg Gooch | 5.26 | 14.28 | |
| Mike Smith – Erik Myers | 0.00 | 14.25 | |
| Brian File – Wayne File | 4.18 | 13.24 | |
| Butch Drew – Dan Funderburke | 0.00 | 11.80 | |
| Dwayne Hughes – Stan Gobble | 0.00 | 0.00 | |
| Weston Lineberry – Dakota Garner | 0.00 | 0.00 | |
| Total Entrys | | | $2,400.00 |
| BONUS $ | | | $425.00 |
| Yadkin Fall Final Fund | | | $2,305.00 |
| Total Paid At Ramp | | | $5,480.00 |
| Grand Total Paid 2019 Spring Yadkin | | | $16,245.00 |