We have now wrapped up another spring season on the Yadkin Chain. Thank you to all those that have participated in this trail, several were there from start to finish hitting each event. You as anglers are what makes this trail a success as we continue to grow each year, I love every minute of it. Thank you all for being patient with me over the last several weigh ins we have had and those that stepped in to lend me a hand during the weigh ins with whatever was needed, again you anglers are what make this trail what it is. Special thanks to Erik as he has been there through the season giving his time and energy to help me at the events as well, we missed him today but he is on a much deserved vacation with his family! Thank you to my sister Carissa Smith and to my lady Kari Murphy for helping with the food, drinks, set up….I mean they really helped with it all haha and it is much appreciated. I also want to thank Brett Collins for standing behind me as I run this division, always answering any question I may have, sending supplies I may need, and being a great friend! Last but not least all of our sponsors….Phantom Outdoors Fishing, Roy and April Barrow at Wacky Riggers, Lews/Strike King and Academy Sports. They all deliver great products and contribute to the success of this trail. I will be working on a fall schedule soon and hope to see familiar faces as well as new faces.
Jeremy Talbert & Tod Haynes hit the jackpot with 5 bass weighing 22.58 lbs Saturday at High Rock Lake! Throw in the 2nd BF at 6.19 lbs and they took home $3,980.00 by finishing 1st at the 2021 CATT Yadkin Spring Final!!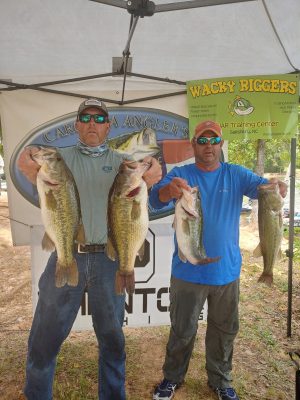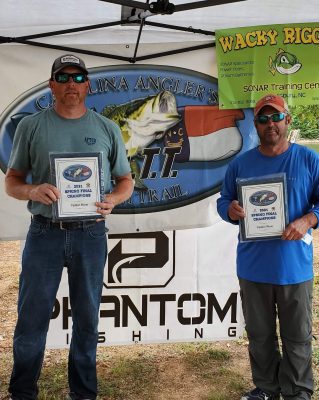 John Kistler & Rusty Melton claimed 2nd with 5 bass weighing 21.32 lbs! They also were our 2021 Yadkin Points winners and earned an extra $500 in point money! Al total they took home $2,180.00!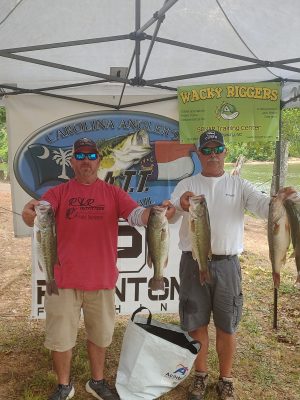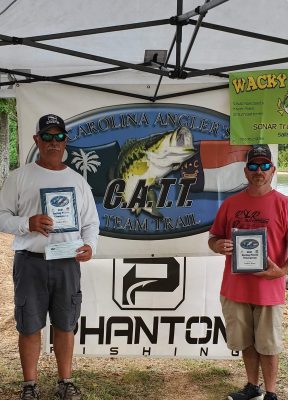 Shawn Knight & Ron Wolfarth took 3rd with 19.14 lbs and collected $1,040.00!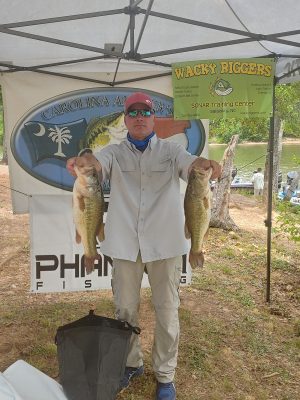 Scott Faulkner was 4th with 18.43 lbs!
Chris & Vince Murphy with the BF at 6.73 lbs! They earned $220.00 Plus a $100 Lews/Strike King Gift Card!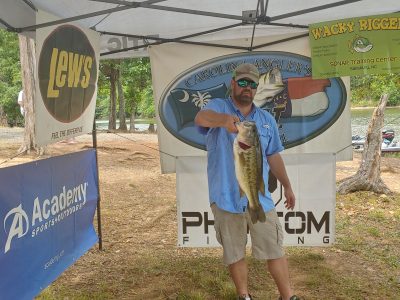 2nd BF went to Zack Scelsi with a 6.20 lb bass! $90 plus a $25 Academy Gift Card!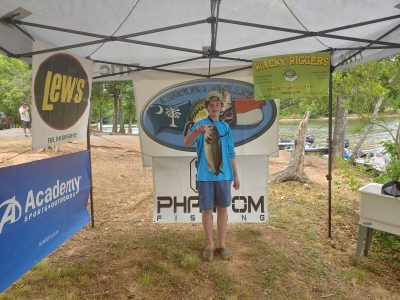 Brian File won the Wacky Riggers $50 award!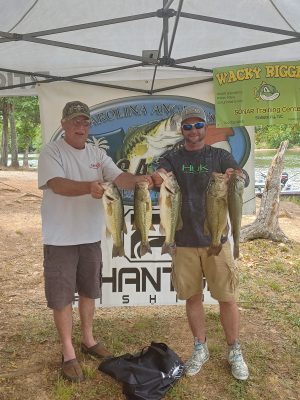 Several Academy Gift cards were awarded!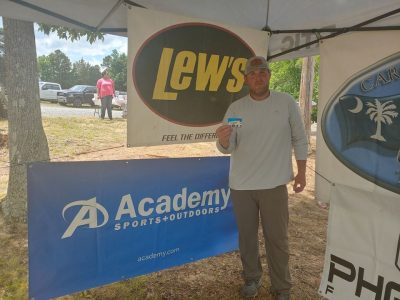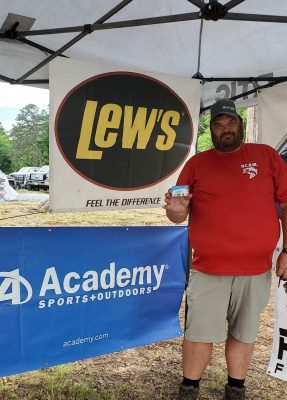 | | | | |
| --- | --- | --- | --- |
| Team | BF | Weight | Winnings |
| Jeremy Talbert – Tod Haynes | 6.19 | 22.58 | $3,980.00 |
| John Kistler – Rusty Melton | 5.65 | 21.32 | $2,180.00 |
| Ron Wolfarth – Shawn Knight | 5.54 | 19.14 | $1,040.00 |
| Scott Faulkner | 5.15 | 18.43 | $400.00 |
| Thomas Ludwick – Tom File | 5.32 | 17.84 | $140.00 |
| Brian File | 4.47 | 17.73 | |
| Mike Ray – Orlando Giles | 5.54 | 17.46 | |
| Weston Lineberry – Jordan Taylor | 0.00 | 15.95 | |
| Ladd Wicker – Landon Wicker | 4.29 | 15.89 | |
| Hunter Harwood – Scott Harwood | 4.49 | 15.86 | |
| Robert Walser – Mack Lowe | 4.41 | 15.25 | |
| Scott Henley – Sparky Furr | 0.00 | 14.76 | |
| Chris Murphy – Vince Murphy | 6.73 | 13.96 | $220.00 |
| Alan Griffin – Kevin Chandler | 0.00 | 13.96 | |
| Shane Kennedy – Curt Lare | 0.00 | 13.32 | |
| Jason Riggs – Steve Sink | 3.30 | 13.10 | |
| Chris Scelsi – Zach Scelsi | 6.20 | 12.35 | |
| Zack Gooch – Greg Gooch | 0.00 | 12.25 | |
| Micth Drew – Kenny Drew | 0.00 | 12.03 | |
| Elliot White – Blake White | 0.00 | 11.08 | |
| Austin Garland | 0.00 | 11.06 | |
| Brad Burns – Caleb Burns | 0.00 | 10.84 | |
| Randall & TJ Drew | 0.00 | 8.48 | |
| Mike Powers – Seth Mycko | 0.00 | 7.46 | |
| Chris Brown – Wayne Ingram | 0.00 | 0.00 | |
| George Lambeth – Herby Young | 0.00 | 0.00 | |
| Robert Mixon – Robert Lambert | 0.00 | 0.00 | |
| Brandon Shaver – Chris Tucker | 0.00 | 0.00 | |
| David Lloyd – Daniel Lloyd | 0.00 | 0.00 | |
| Chase Cannon – Bradley Newsome | 0.00 | 0.00 | |
| Mike Lawhon – Sam Lawhon | 0.00 | 0.00 | |
| Total Entrys | | | $3,720.00 |
| BONUS $ | | | $1,400.00 |
| Yadkin  Spring Final Fund | | | $2,425.00 |
| Total Paid At Ramp | | | $7,960.00 |
| Grand Total Paid Spring 2021 Yadkin | | | $18,765.00 |