Next up on the Yakdin CATT Trail is High Rock Lake August 16 launching from Tamarac Marina!
David Eichorn & Bo Russell weighed  a fat bag of Tuckertown bass at 22.287 lbs to take 1st Place! They also weighed in the 1st BF at 6.01 lbs collecting $1,100.00!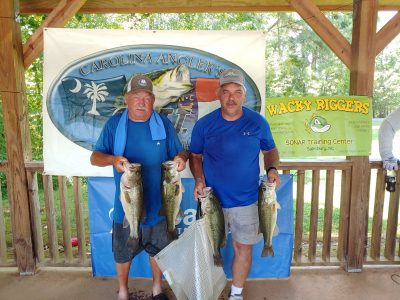 Matt Stanley & Cameron Andrews 2nd with 17.98 lbs and took home $460.00!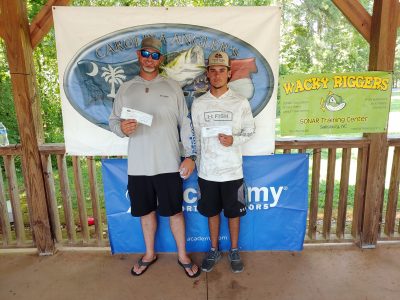 3rd went to Roy & April Barrow with 15.63 lbs!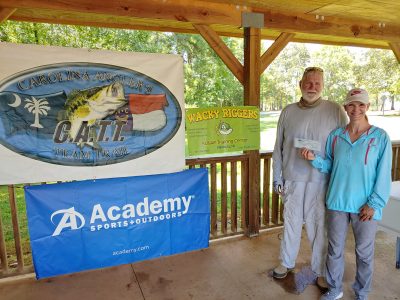 Brandon Shaver & Chad Cook 4th 14.83 lbs!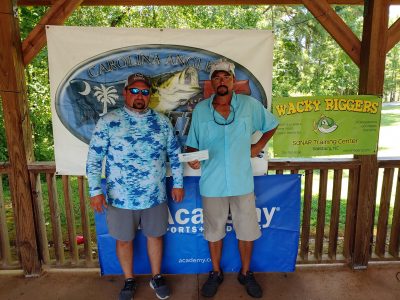 Chris & Vince Murphy took home the $50 cash prize sponsored by Wackyriggers.com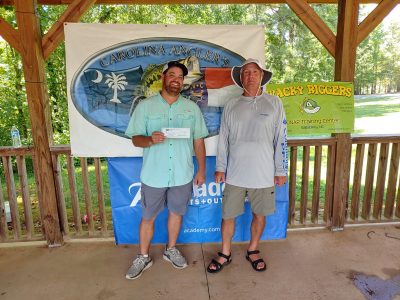 Bobbie Cline with some nice uns!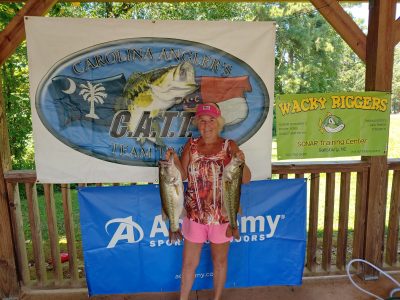 | | | | | |
| --- | --- | --- | --- | --- |
| 20 Teams | BF | Weight | Winnings | Points |
| David Eichorn – Bo Russell | 6.01 | 22.28 | $1,100.00 | 110 |
| Cameron Andrews – Matt Stanley | 5.84 | 17.98 | $460.00 | 109 |
| Roy Barrow – April Barrow | 5.48 | 15.63 | $125.00 | 108 |
| Brandon Shaver & Chad Cook | 0.00 | 14.83 | $100.00 | 107 |
| Chris Murphy & Vince Murphy | 0.00 | 13.28 | | 106 |
| Brian Robbins – Dean Talbert | 0.00 | 12.20 | | 105 |
| Ron Wolfarth – Shawn Knight | 0.00 | 11.82 | | 104 |
| John Kistler & Rusty Melton | 0.00 | 9.23 | | 103 |
| Duke Denison – Bobby Cline | 5.14 | 8.56 | | 102 |
| Tony Vernon – Scott Quinn | 0.00 | 8.01 | | 101 |
| Robin Collins – Ronnie White | 0.00 | 7.34 | | 100 |
| Scott Henley – Nick House | 0.00 | 7.30 | | 99 |
| Bobby Bowers – John Wagers | 0.00 | 3.33 | | 98 |
| Alan Griffin – Kevin Chandler | 0.00 | 0.00 | | 97 |
| Corey Gibson & Brandon Gibson | 0.00 | 0.00 | | 97 |
| Derrick Crumbley – Darryl Crumbley | 0.00 | 0.00 | | 97 |
| Curtis Dillon – Zach McLean | 0.00 | 0.00 | | 97 |
| Scott Horwood – Hunter Horwood | 0.00 | 0.00 | | 97 |
| Manny Lenau | 0.00 | 0.00 | | 97 |
| Mike Ray – Mike Smith | 0.00 | 0.00 | | 97 |
| Total Entrys | | | $1,600.00 | |
| BONUS $ | | | $425.00 | |
| Total Paid At Ramp | | | $1,785.00 | |
| Yadkin Spring 2020 Final Fund | | | $200.00 | |
| 2020 CATT Championship Fund | | | $0.00 | |
| 2020 Yadkin Spring Final Fund Total | | | $540.00 | |
| 2020 CATT Championship Fund Total | | | $4,160.00 | |