All we have left is the Yadkin Final June 23rd on High Rock! We have 61 teams eligible to enter so look for a great payback!
Ron Wolfarth & Kevin Chandler (Level Rod Pro Staffer) took the win with 18.92 lbs of Tuckertown bass!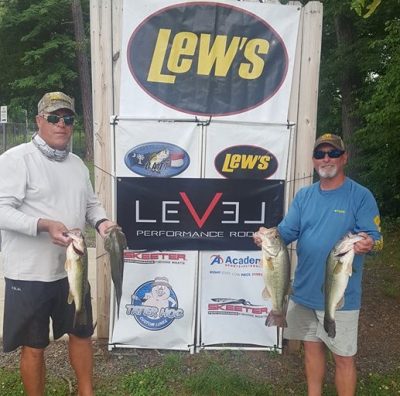 2nd went to Jeremy Talbert & Todd Haynes with 18.56 lbs! They also won the Points and will fish the Final Free!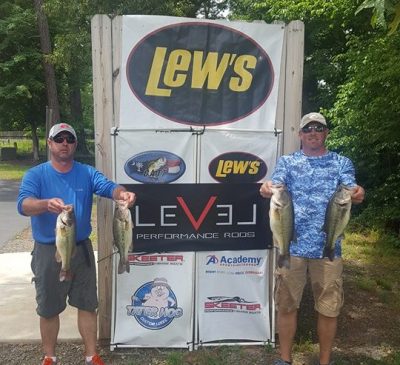 | | | | | |
| --- | --- | --- | --- | --- |
| 15 Teams | Big Fish | Weight | Winnings | Points |
| Ron Wolfarth – Kevin Chandler  1st BF & 2nd Bonus $ | 5.16 | 18.92 | $675.00 | 220 |
| Jeremy Talbert – Todd Haynes    1st BF & 1st BONUS $ | 5.34 | 18.56 | $385.00 | 218 |
| Phillip Herdrick – Bull | 0.00 | 17.88 | $80.00 | 216 |
| Robbie Walser – Mack Lowe | 3.81 | 15.76 | | 214 |
| Collin Ford – Cody Amen | 3.58 | 15.07 | | 212 |
| Randy Weddington – Ronnie Smith | 4.97 | 14.46 | | 210 |
| Scott Henley – Robert Mixon | 3.64 | 13.63 | | 208 |
| Mike Ray – Orlando Giles | 4.13 | 13.42 | | 206 |
| Butch Drew – Dan Funderburke | 4.38 | 13.23 | | 204 |
| Adam Younts – Justin Torrence | 4.33 | 13.01 | | 202 |
| Derek Tolley | 3.43 | 12.70 | | 200 |
| Duke Denison | 0.00 | 10.66 | | 198 |
| Dennis Kennedy | 3.97 | 9.00 | | 196 |
| Michael Cribb | 0.00 | 7.27 | | 194 |
| Mitch & Kenny Drew | 0.00 | 0.00 | | 192 |
| Total Entrys | | | $1,200.00 | |
| BONUS $ | | | $260.00 | |
| Total Paid At Ramp | | | $1,140.00 | |
| Yadkin 2018 Spring Final Fund | | | $285.00 | |
| 2018 CATT Championship Fund | | | $35.00 | |
| | | | | |
| 2018 Yadkin Spring Final Fund Total | | | $2,185.00 | |
| 2018  CATT Championship Fund Total | | | $4,900.00 | |