Guys we will be posting the 2019 schedules soon! keep checking!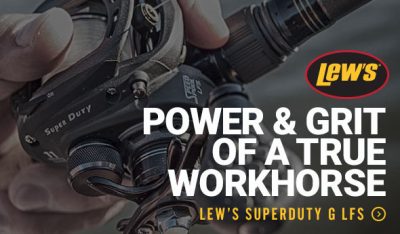 Eric Schell & Todd Smith took the win with a 2 day total of 29.54 lbs! They collected $2,780.00!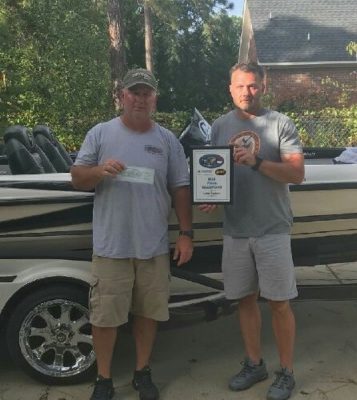 Janet & Ivan Morris finished 2nd with 10 bass weighing 28.05 lbs! They took home $1,200.00! They also provided us with some great trophies fro each Gaston event! Thanks Ivan & Janice!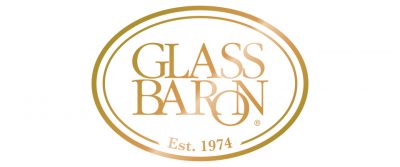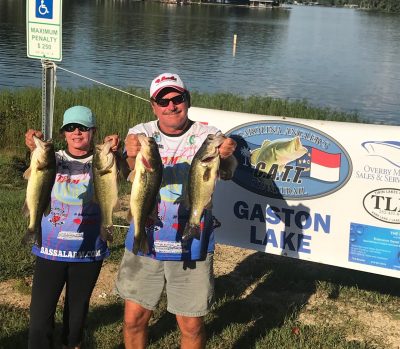 JT Palmore weighed in the BF at 5.84 lbs!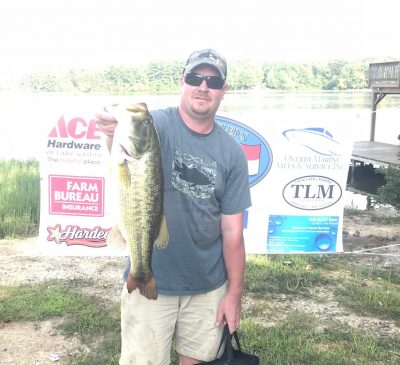 | | | | | | | |
| --- | --- | --- | --- | --- | --- | --- |
| | | | | | Total | Total |
| | Names | Day-1 | BF | Day 2 | Weight | Winnings |
| 1 | Eric Schell- Todd Smith | 14.68 | 3.77 | 14.86 | 29.54 | $2,780.00 |
| 2 | Ivan & Janet Morris | 16.25 | 3.98 | 11.8 | 28.05 | $1,200.00 |
| 3 | Shane Doughtie- Evan White | 13.82 | 3.52 | 14.2 | 2802 | $970.00 |
| 4 | Adam Richardson- Gene Richardson | 13.94 | 3.87 | 13.72 | 27.66 | |
| 5 | Scott Griffin- Kyle Griffin | 12.79 | 3.98 | 14.14 | 26.93 | $80.00 |
| 6 | Chuck Murray- Randy Groves | 15.72 | 0 | 9.63 | 25.35 | $120.00 |
| 7 | Mark Robertson – Keith Joyce | 12.6 | 0 | 11.26 | 23.86 | |
| 8 | Mikey Anderson- Rock Gross | 14.49 | 0 | 9.2 | 23.69 | |
| 9 | Jt Palmore& Bobby Crisman | 9 | 5.84 | 13.04 | 22.04 | $100.00 |
| 10 | Wesley Bennett- Chris Bishop | 9.73 | 0 | 10.03 | 19.76 | |
| 11 | Scott Golden – Jesse Medlin | 8.75 | 0 | 8.97 | 17.72 | |
| 12 | Michael Garner – Richard Bracey | 10.83 | 0 | 5.82 | 16.65 | |
| 13 | Tom Peele – Brian Bartholomew | 10.5 | 0 | 4.21 | 14.71 | |
| 14 | John Jackon – Lee Gay | 3.65 | 0 | 8.07 | 11.72 | |
| 15 | ricky todd | 9.33 | 0 | 0 | 9.33 | |
| 16 | Bubba Haywood- David Fry | 8.85 | 0 | 0 | 8.85 | |
| 17 | Gregory Kropp-Kevin Scholar | 0 | 0 | 0 | | |
| 18 | Michael Chlomoudis- Marty Warren | 0 | | 0 | | |
| 19 | Justin Miles | 0 | | 0 | | |
| 20 | Ryan Harrell- Danny Moss | 0 | | 0 | | |
| 21 | Randy Broughman- Chase Clark | 0 | | 0 | | |
| 22 | Rich Hartman – Mark Brown | 0 | | 0 | | |
| 23 | Patrick Wooten- Phillip Sykes | 0 | | 0 | | |
| 24 | David Enos- Carl Enos | 0 | | 0 | | |
| 25 | Jay Wright- Nick Bell | 0 | | 0 | | |
| 26 | Ray Horrocks | 0 | | 0 | | |
| 27 | Ryan Braughman- Cason Price | 0 | | 0 | | |
| 28 | Richard Kramer – Shawn Evans | 0 | | 0 | | |
| 29 | George Smiley – Butch Coons | 0 | | 0 | | |
| 30 | Kevin Williams- Pat Williams | 0 | | 0 | | |
| 31 | Mike Pendleton- Richard Chattin | 0 | | 0 | | |
| 32 | Joey Scott- Derek Ogburn | 0 | | 0 | | |
| 33 | Michael Whitehurst – Donna Wilson | 0 | | 0 | | |
| 34 | Allen White- Mike Vaughan | 0 | | 0 | | |
| 35 | Gene Woodard – Ray Cooke | 0 | | 0 | | |
| 36 | Steven Brinkley – | 0 | | 0 | | |
| 37 | James Joyner- Lucas Puckett | 0 | | 0 | | |