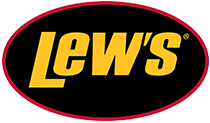 Butch Williams & David Williams bring in 5 bass weighing 16.07 lbs finishing 1st and taking home $975.00!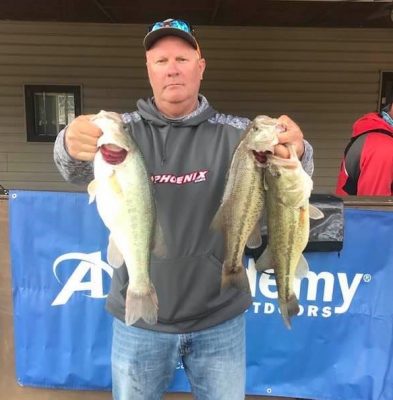 2nd Place Tanner & Alan Fletcher with 15.13 lbs and the BF at 5.89 lbs!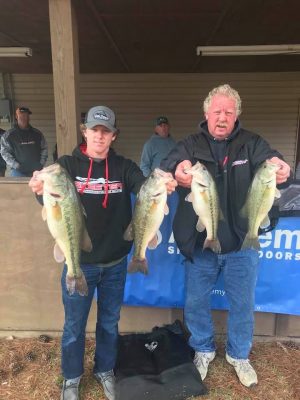 Bryan Holmes & Mike Ware 3rd with 14.22 lbs!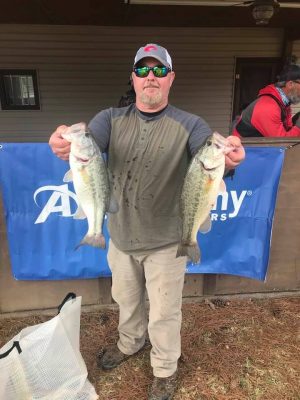 Craig Haven 4th with 14.03 lbs!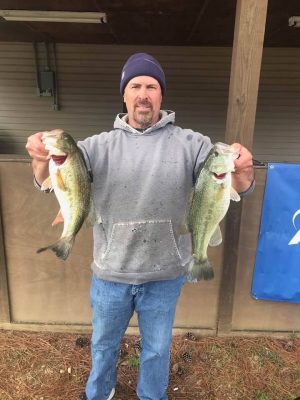 Donnie Maiers with a nice un!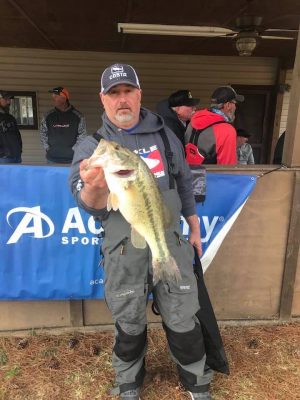 Team
BF
Weight
Winnings
Points
Butch Williams & David Ethridge
4.19
16.07
$975.00
110
Allan Fletcher & Tanner Fletcher
5.89
15.13
$461.00
109
Mike Ware & Bryan Holmes
3.04
14.22
$200.00
108
Craig Haven
3.59
14.03
$120.00
107
Chad Gainey & Mack Kitchens
4.57
13.67
106
Clayton King & Jeff Knight
3.60
13.61
105
Donald Hinson & Carl Smith
3.16
13.22
104
Donnie Maiers & Dean Benfield
4.90
12.72
$69.00
103
Shane Cantley & Michael Richardson
4.82
11.74
102
Scott Williams & Robbie English
3.56
11.28
101
Stacy Seagars & Darrell Fenton
2.78
5.47
100
Scott Floyd & Bob Weaver
3.26
5.10
99
Greg Sigmon & Paul Wells
0.00
0.00
89
Sam Hopkins & Paul Hopkins
0.00
0.00
89
Gabe Hopkins & Tal Lucas
0.00
0.00
89
Jeff Reynolds & Trent McLaughlin
0.00
0.00
89
Jason McCoy & Ronnie McCoy
0.00
0.00
89
Chad Rabon & Walt Almond
0.00
0.00
89
Jim Davis & Mike Allerman
0.00
0.00
89
Jimmy McFarland & Calvin Griggs
0.00
0.00
89
Landen Rose
0.00
0.00
89
Mike Jennings & Mike Criminger
0.00
0.00
89
Kyle Westerman
0.00
0.00
89
Total Entrys
$1,840.00
BONUS $
$400.00
Total Paid At Ramp
$1,825.00
2021 Wateree Spring Final Fund
$365.00
2021 CATT Championship/Phantom Fund
$50.00
2021 Wateree Spring Fund Total
$1,195.00
2021 CATT Championship/Phantom Fund Total
$2,025.00