We wrapped up the 2017 Yadkin CATT season on High Rock! Total Yadkin payback for 2017 was $29,535.00! 2018 Yadkin Spring schedule will be up soon!
Jerry Bono & Marty Williams took 1st Place at the Yadkin Fall Final with 5 bass weighing 21.31 lbs and weighed the 2nd BF at 5.51 lbs! They took home $2,012.00!
2nd went to Orlando Giles & Jeff Prevost with 5 bass weighing 18.15 lbs and they took home $680.00!
1st BF weighing 6.17 lbs worth $84.00 was weighed in by Chris Brown & David Wright.
Yadkin Fall Final
 
 
 
 
Team
Big Fish
Weight
Winnings
Jerry Bono – Marty Williams  2nd BF
5.51
21.31
$2,012.00
Orlando Giles – Jeff Provost
0.00
18.15
$680.00
Phillip Hedrick – Jack Vanderford
4.73
17.29
Chris Brown – David Wright   1st BF
6.17
15.79
$84.00
Jerry Davis – Tony Tysinger
3.85
12.80
Todd Shoaf
0.00
10.38
Ladd Whicker – Landon Whicker
0.00
8.17
Scott Henley
0.00
0.00
Dusty Williams – Nick Williams
0.00
0.00
Randy Weddington – Ronnie Smith
0.00
0.00
Tom File – Peanut
0.00
0.00
Herby Young
0.00
0.00
Chad Poteat – George Lambeth
0.00
0.00
Total Entrys
 
 
$1,440.00
BONUS $
 
 
$260.00
Yadkin Fall Final Fund
 
 
$1,005.00
Total Paid At Ramp
 
 
$2,776.00

Grand Total Paid 2017 Yadkin

 
 
$29,535.00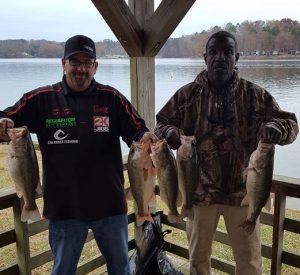 2nd Place Jeff Provost – Orlando Giles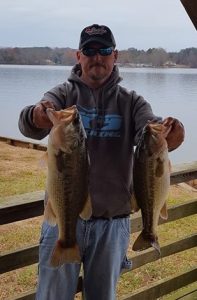 Chris Brown & David Wright 1st BF