We had 19 teams enter the Lake Norman #2 Spring Qualifier this past Saturday! The next one is June 16th at Pinnacle! The CATT Norman Spring Trail is sponsored by the Goodwill Industries of Northwest North Carolina! They are sponsoring a cash prize for our top Norman point winners! #GoodwillNWNC

Michael Smith & Josh Queen take 1st Place with 5 bass weighing 13.95 lbs! They also collected the BONUS $ and took home $570.00!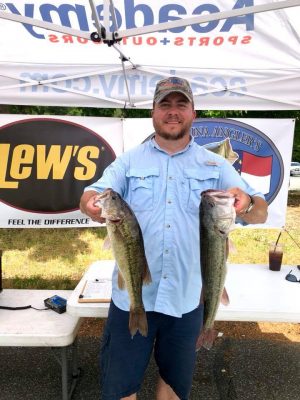 Scott & Dwight Beattie weighed in the BF at 4.77 lbs and earned an Academy Sports Gift Card!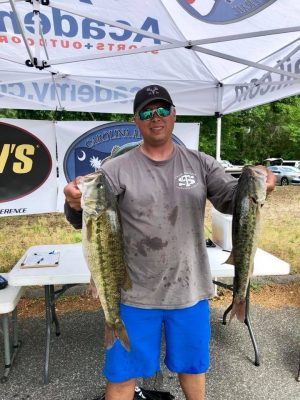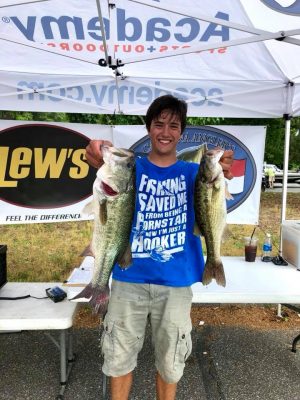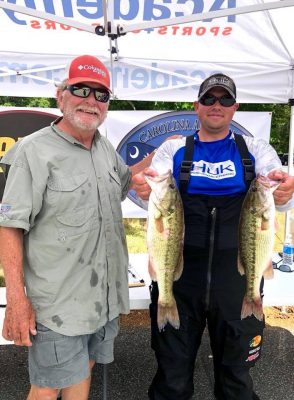 | | | | | |
| --- | --- | --- | --- | --- |
| | Big | Total | Total | |
| 19 Teams | Fish | Weight | Winnings | Points |
| Michael Smith – Josh Queen    BONUS $ | 4.05 | 13.95 | $570.00 | 110 |
| Mike Clark – Chris Anderson | 4.51 | 13.11 | $210.00 | 109 |
| Russell Hoyle – Jerry Pruitt | 4.68 | 12.59 | $105.00 | 108 |
| Scott Beattie – Dwight Beattie     BF | 4.77 | 12.31 | $90.00 | 107 |
| Bobby Young – Greg Simms | 2.81 | 11.55 | | 106 |
| John Allen – Don Poteat | 3.42 | 11.49 | | 105 |
| Ted Geddis – Kevin Stroble | 3.42 | 10.72 | | 104 |
| Tom Laicher – Branson Brickweg | 4.29 | 10.47 | | 103 |
| Shane Sharpe – Will Mitchell | 4.06 | 10.19 | | 102 |
| Scott Hamrick – Roger Pope | 3.54 | 10.01 | | 101 |
| Jesse Smith – Patrick Houpe | 2.03 | 8.02 | | 100 |
| Dale Surrett – Lee Endicott | 0.00 | 7.87 | | 99 |
| Allen & Noah Eaker | 3.22 | 7.10 | | 98 |
| Keith Westrick – Bobby Williams | 0.00 | 3.22 | | 97 |
| Randy Snow – Josh Beasley | 0.00 | 0.00 | | 96 |
| Steve Addington – Matt Stout | 0.00 | 0.00 | | 96 |
| Jason Eaker – Mike Seawright | 0.00 | 0.00 | | 96 |
| Dillon & Austin Smith | 0.00 | 0.00 | | 96 |
| Tony Nelson | 0.00 | 0.00 | | 96 |
| Total Entrys | | | $950.00 | |
| BONUS $ | | | $200.00 | |
| Total Paid At Ramp | | | $150.00 | |
| Norman Spring 2018 Final Fund | | | $25.00 | |
| 2018 CATT Championship Fund | | | $0.00 | |
| | | | | |
| 2018 Norman Spring Final Fund Total | | | $275.00 | |
| 2018  CATT Championship Fund Total | | | $4,865.00 | |