I would say the 1st Phantom Invitational on the Waccamaw River was a huge success! We had a great crowd and paid back over $18,000.00!  We are making plans to do this again in 2020 on the Waccamaw River out of Bucksport! Thanks for the support and I'm sure next year will be even bigger! We started the NC Championship the same way and now it offers a $10,000 1st place Prize! Please give Phantom Outdoors your support! A portion of the proceeds from your Phantom purchase will be donated towards charitable foundations for youth fishing programs, the military and law enforcement! 

Jonathan Hammond & Van Turbeville win the 2019 Phantom Invitational! 20.02 lbs. 1st BF 6.41 lbs. $8,400 cash PLUS 2 Level Performance Rods PLUS a Lews Mach Speed Stick PLUS 2-$25 Academy Gift Cards! $9,000 in cash & prizes! PLUS Van was in a new Nitro and checking on Outdoors Reward Program … could possibly be another $3,000 added to their total cash winnings! It pays to fish the CATT Trail….BIG TIME! 
Jonathan Hammond also received a Lews Mach Speed Stick for weighing in the 6.41 lb BF of the tournament!
Jason Owens & Jonathan Lee finished 2nd with 15.72 lbs and took home $2,600.00 and 2 – $25 Academy Gift Cards!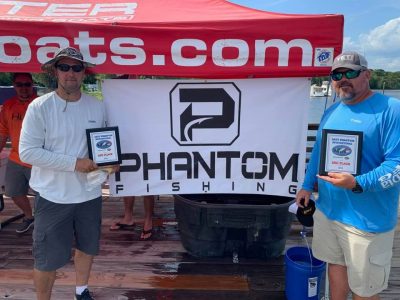 Joel Barfield & Carlton Thompkins  finsihed 3rd with 15.09 lbs worth $2,500.00!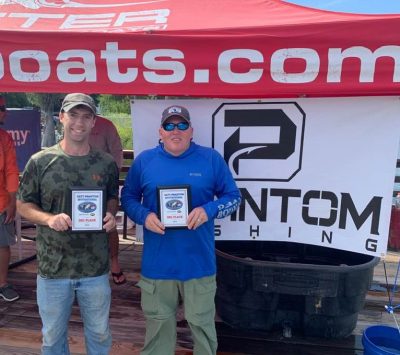 Robby Byrum $ Sam Patterson brought 14.65 lbs to the scales and the 2nd BF at 6.04 lbs! They claimed $1,085.00!
Check out the rest of the money winners and we have tons of pictures posted on the CATT FB Page! Go to the page and give us a like!
Here's the Facebook link!  https://www.facebook.com/CATT-236924475174/
| | | | |
| --- | --- | --- | --- |
| 62 Teams | BF | Weight | Winnings |
| Van Turbeville – Jonathan Hammond | 6.41 | 20.02 | $8,400.00 |
| Anthony Lee – Jason Owens | 5.02 | 15.72 | $2,600.00 |
| Carlton Thompkins – Joel Barfield | 3.94 | 15.09 | $2,500.00 |
| Robby Byrum – Sam Patterson | 6.04 | 14.65 | $1,085.00 |
| Patrick Cook – Mack Cook | 5.12 | 12.75 | $700.00 |
| Ryan Thompson – Josh Medlin | 4.14 | 12.72 | $500.00 |
| Jess White – Hunter Dickerson | 3.91 | 12.65 | $400.00 |
| Andy Howell – Branson Howell | 4.39 | 12.62 | $300.00 |
| Reid McDowell – Danny Allen | 3.63 | 12.41 | $250.00 |
| Nick Gant – Randall Miller | 4.32 | 12.32 | $200.00 |
| Alex Cribb – Roddy Cross | 2.88 | 12.06 | |
| Tim Williamson – James Walters | 3.43 | 11.73 | |
| Andrew Vereen – Jordan Weaver | 4.62 | 11.34 | |
| Michael Dennis -Matthew Moore | 3.67 | 11.32 | |
| Britt Brown – Danny Martin | 3.49 | 10.74 | |
| Timmy Squires – River Squires | 2.76 | 10.37 | |
| Casey Stamey – JD Farrand | 2.19 | 10.08 | |
| Wade Cook – Brian Howard | 2.66 | 10.00 | |
| Wayne Marlow – Winston Marlow | 2.64 | 9.96 | |
| Gary Pope – Kevin Alford | 3.20 | 9.78 | |
| Kyle Chestnut – Kristen Chestnut | 3.37 | 9.54 | |
| Kaleb Gerald – Wesley Williamson | 2.73 | 9.40 | |
| Travis Gatlin – Grant Powell | 2.45 | 9.40 | |
| Calvin Clatterbuck – Gregory Parker | 2.80 | 9.34 | |
| Marshall Sasser – Kel Owens | 3.69 | 9.18 | |
| John Alford – Glenn Altman | 2.69 | 9.18 | |
| Chad Pennell – Casey Warren | 2.18 | 9.00 | |
| Rodney Hardee – TJ Hardee | 2.40 | 8.96 | |
| Kevin Owens – Bill Moore | 2.36 | 8.87 | |
| Ray Inman – Jenneifer Floyd | 2.20 | 8.75 | |
| Adam Lewis – Timmy Barfield | 2.44 | 8.48 | |
| Jacob Barfield | 2.67 | 8.47 | |
| Ben Cox – Chase Marshall | 2.36 | 8.46 | |
| Seth Rabon | 2.11 | 8.40 | |
| Johnny Johnson – Wesley Howell | 2.53 | 8.33 | |
| Chris Jones – Ed Owens | 1.86 | 8.23 | |
| Jesse Hopkins – Corey Singleton | 2.24 | 8.22 | |
| Dason Lasek – David Crabill | 2.56 | 8.12 | |
| Chad Williams – Jeremy Hewitt | 2.42 | 7.67 | |
| Winkey Watford – Scotty Mixon | 1.96 | 7.62 | |
| Darren Williamson – Charles Fryer | 2.54 | 7.39 | |
| Bradley Suggs – Cal Cox | 0.00 | 7.32 | |
| Avery Williams | 1.85 | 7.29 | |
| Dylan McConnell – Dave McConnell | 2.63 | 6.70 | |
| Stephen Smith | 1.72 | 6.52 | |
| Sammie Grier – Cleo Strickland | 0.00 | 6.38 | |
| John Eagen – Amanda Eagen | 2.17 | 6.29 | |
| Casey Leach – Charlene Leach | 0.00 | 6.18 | |
| Steven Martin – Jacob Martin | 1.77 | 5.69 | |
| John Proctor – Johnny Dauart | 0.00 | 0.00 | |
| Matthew Goheen – Hunter Spivey | 0.00 | 0.00 | |
| David Quandt – Carson Quandt | 0.00 | 0.00 | |
| Shawn Todd – Clay Lewis | 0.00 | 0.00 | |
| Eric Freeman – Kevin Bazen | 0.00 | 0.00 | |
| Richard Porter – Gavin Porter | 0.00 | 0.00 | |
| Wayne Marsh – Ryan Marsh | 0.00 | 0.00 | |
| Cody Squires – Dillon Thompkins | 0.00 | 0.00 | |
| Greyson Brewster | 0.00 | 0.00 | |
| Anthony Amerson – Devin Lambert | 0.00 | 0.00 | |
| Greg Benton – Logan Benton | 0.00 | 0.00 | |
| Danny Rabon – Jamie Godbolt | 0.00 | 0.00 | |
| Chris Blanchette – Marc Protor | 0.00 | 0.00 | |