Next Kerr Fall Qualifier is Sept 26 at Occoneechee and is a GOLD!
Also we have schedule the Kerr Phantom Outdoors Invitational for Oct 30 at Kerr Lake State Park-New Nutbuch Ramp. Same ramp we use for the CATT Championship! $5,000 1st Place! More info go to https://www.cattteamtrail.com/divisions/phantom-outdoors-invitational/
PLUS –
2021 PHANTOM OUTDOORS INVITATIONAL CLASSIC

The 2021 PHANTOM OUTDOORS Invitational Classic will take place on Lake Hartwell Nov 5-6 and we are guaranteeing $10,000.00 to 1st Place!
Green Pond Landing & Event Center – 470 Green Pond Rd, Anderson, SC 29625
A team or solo angler must fish 2 CATT events to Qualify! You may fish the Invitational solo or with your partner or alternate partner your team used in any CATT event.
You can get in your 2 events by fishing any CATT Fall 2020,  CATT Spring 2021, CATT Summer 2021 & CATT Fall 2021!
Go to the Division page and tap on 2021 Phantom Outdoor Invitational Classic!
Tyler Trent & Ricky Trent take the win with 5 bass weighing 14.46 lbs and collected $990.00!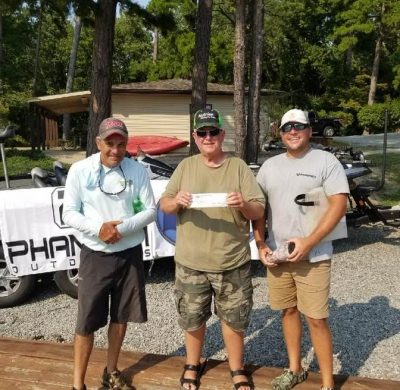 Billy Sheldon & Mike Garner finish 2nd with 5 bass weighing 12.05 lbs!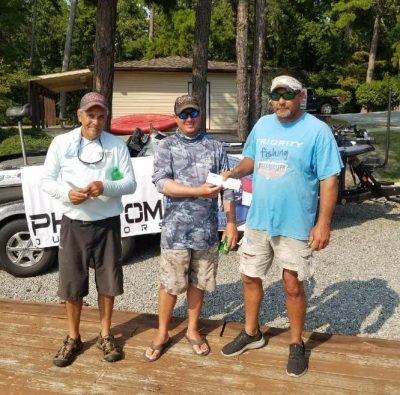 Clay Samples & Bryan Welch claimed 3rd with 10.82 lbs!
| | | | | |
| --- | --- | --- | --- | --- |
| Team | BF | Weight | Winnings | Points |
| Tyler Trent – Ricky Trent | 3.29 | 14.46 | $990.00 | 110 |
| Billy Sheldon – Mike Garner | 3.19 | 12.05 | $630.00 | 109 |
| Clay Samples – Bryan Welch | 4.73 | 10.82 | $502.00 | 108 |
| Randy Waterman – Eddie Fore | 3.22 | 10.57 | $110.00 | 107 |
| Jay Fogleman – Doug Stallings | 2.59 | 10.39 | $100.00 | 106 |
| Tom Wilkins – Tyler Percell | 4.06 | 9.67 | $78.00 | 105 |
| Joey Talbot – Fisher Talbot | 2.94 | 9.29 | | 104 |
| Ben Magon – Mark Magon | 2.67 | 9.01 | | 103 |
| Chuck Morton – Miek Riggs | 2.56 | 8.36 | | 102 |
| Charlie Davis – Bill Goots | 2.20 | 8.33 | | 101 |
| Hal Blackwelder – Cliff Swan | 3.08 | 8.17 | | 100 |
| John Conway – Mike Gunn | 0.00 | 7.40 | | 99 |
| Bobby Overby – Tony Malam | 0.00 | 7.38 | | 98 |
| Kurt Poythress – Steve Loper | 0.00 | 0.00 | | 88 |
| Chris McDaniel – Jesse Severt | 0.00 | 0.00 | | 88 |
| Jesse Stanley | 0.00 | 0.00 | | 88 |
| Marty Howard – Keith Wright | 0.00 | 0.00 | | 88 |
| Brandon Curtis | 0.00 | 0.00 | | 88 |
| Marty Warren – Lynn Fox | 0.00 | 0.00 | | 88 |
| Rick Clements – Alton Clements | 0.00 | 0.00 | | 88 |
| Robbie Kennon – Ross Kennon | 0.00 | 0.00 | | 88 |
| Gray Williams – Andrew Kerns | 0.00 | 0.00 | | 88 |
| Mike McMillian – Terry Easter | 0.00 | 0.00 | | 88 |
| Ryan Roller – Gary Caldwell | 0.00 | 0.00 | | 88 |
| Lonny Whitfield – Phillip Smith | 0.00 | 0.00 | | 88 |
| Wesley Harris – Travis Gainey | 0.00 | 0.00 | | 88 |
| Total Entrys | | | $2,080.00 | |
| BONUS $ | | | $850.00 | |
| Total Paid At Ramp | | | $2,410.00 | |
| Kerr 2021 FALL Final Fund | | | $420.00 | |
| 2022 CATT Championship/Phantom Fund | | | $50.00 | |
| 2021 Kerr FALL Final Fund Total | | | $420.00 | |
| 2022 CATT Championship/Phantom Total | | | $0.00 | |