Marty Williams & Jerry Bono win the Kerr Spring Points and will fish the Final FREE!
Steve Vaughn & Allen Pegram win with 5 bass weighing 18.19 lbs and take home $1,000.00!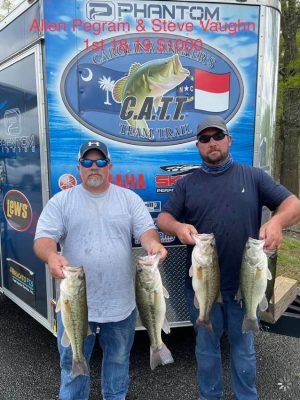 Marty Williams and Jerry Bono take 2nd with 5 bass weighing 15.80 lbs! They take home $1,795.00 and win the Points!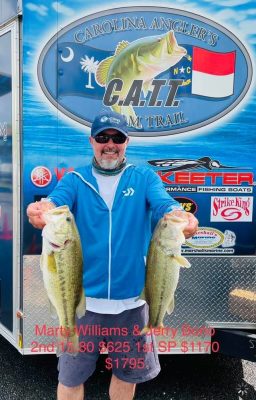 Tyler Trent & Jacob Lloyd claim 3rd with 15.12 lbs worth $1,210.00!
| | | | | |
| --- | --- | --- | --- | --- |
| Team Names | BF | Weight | Winnings | Points |
| Steve Vaughn / Allen Pegram | 4.99 | 18.19 | $1,000.00 | 110 |
| Marty Williams / Jerry Bono | 4.43 | 15.80 | $1,795.00 | 109 |
| Tyler Trent / Jacob Lloyd | 3.34 | 15.12 | $1,210.00 | 108 |
| Howard Bohanon Jr. / Timmy Ferrell | 4.19 | 15.04 | $770.00 | 107 |
| Gary Colwell / Ryan Roller | 3.61 | 14.80 | $280.00 | 106 |
| Billy Bledsoe / Brian McDonald | 4.11 | 14.54 | $210.00 | 105 |
| Steve Lucy / Todd Dorton | 4.30 | 14.46 | $160.00 | 104 |
| Kevin Cheatham / Johnny Wilder | 3.44 | 14.37 | $130.00 | 103 |
| Ben Dalton / Tyler Calloway | 3.20 | 14.33 | $120.00 | 102 |
| Brandon Gray / Brian Clark | 4.12 | 13.96 | $100.00 | 101 |
| Chuck Morton / Mike Riggs | 4.58 | 13.91 | $100.00 | 100 |
| Matthew Little / Derrick Bowden | 5.22 | 13.73 | $286.00 | 99 |
| Brian Callaway / Gary Dickerson | 4.30 | 13.67 | | 98 |
| Paul Smith / Jason Lloyd | 3.18 | 13.56 | | 97 |
| Marty Warren / Daniel Jemnkins | 3.16 | 13.55 | | 96 |
| Rodney Sorrells / Steven Griggs | 3.06 | 13.36 | | 95 |
| Roger Clary / Jonathan Rhew | 3.84 | 13.29 | | 94 |
| Brian Kirkpatrick / Eddie Fore | 3.04 | 13.14 | | 93 |
| Monte Aleman / Kevin Aleman | 2.73 | 13.12 | | 92 |
| Jordan Sanderlin / Andrew George | 2.75 | 12.83 | | 91 |
| Mike Garner / Billy Shelton | 3.31 | 12.32 | | 90 |
| David Farrington / Terry Easter | 4.36 | 12.30 | | 89 |
| Danny Moss / April Moss | 2.80 | 12.18 | | 88 |
| Spencer Barrow / Sammy Barrow | 3.00 | 12.06 | | 87 |
| Emmit Whitby / Justin Dalton | 2.82 | 11.62 | | 86 |
| Brndon Moore / Tyler Dix | 3.82 | 11.59 | | 85 |
| Donnie Avant / Randy Waterman | 3.18 | 11.28 | | 84 |
| Eddie Glasscock / Billy Dunn | 0.00 | 11.13 | | 83 |
| Bo Grosvenor / Tony Woodard | 3.97 | 11.08 | | 82 |
| Anthony Shawler / Scott Davies | 2.48 | 11.02 | | 81 |
| Aronld Hall / Josh Hart | 3.12 | 10.91 | | 80 |
| Ray Griffin | 0.00 | 10.79 | | 79 |
| Aaron McQuain / David Moore(sub) | 3.21 | 10.76 | | 78 |
| Bryan Welch / Mark Inman | 4.30 | 10.69 | | 77 |
| LonnieWhitField / Phillip Smith | 2.14 | 10.48 | | 76 |
| Michael Stewart / Buck Clark | 3.08 | 10.41 | | 75 |
| Alden Patterson / Jacob Johnson | 2.43 | 10.37 | | 74 |
| Kevin Dawson / Joey Dawson | 2.73 | 10.10 | | 73 |
| Joey Talbot / Curtis Talbot | 0.00 | 10.08 | | 72 |
| Jeff Shelton / Matt Childress | 0.00 | 10.01 | | 71 |
| Joushua Lanaville / Timothy Davis | 0.00 | 9.74 | | 70 |
| Justin Rhew / Mike Rhew | 2.40 | 9.61 | | 69 |
| Larry Freeman / Christopher Bowen | 2.31 | 9.40 | | 68 |
| Bryson Peed / Jonathan Jones | 0.00 | 9.20 | | 67 |
| Hall Caldwell / Larry Gunn | 2.22 | 9.10 | | 66 |
| David Bullock / Jimmy Henderson | 0.00 | 8.78 | | 65 |
| Jay Folgleman / Jeff Clifton | 0.00 | 8.69 | | 64 |
| Robbie Kennon / Ross Kennon | 2.06 | 8.58 | | 63 |
| Trip Emerson / Ray Emerson | 3.04 | 6.40 | | 62 |
| Tate Fogleman / Cade Currin | 5.48 | 5.48 | $434.00 | 61 |
| Dustin Hess / Nate Arrington | 0.00 | 5.14 | | 60 |
| Wesley Harris | 0.00 | 0.00 | | 50 |
| Gray Williams / Andrew Kerns | 0.00 | 0.00 | | 50 |
| Lynn Fox | 0.00 | 0.00 | | 50 |
| Travis Dwen / Mark Hatcher | 0.00 | 0.00 | | 50 |
| Seth Ellis / Doug Stallings | 0.00 | 0.00 | | 50 |
| Brad McLaurin / Tanner McLaurin | 0.00 | 0.00 | | 50 |
| Don Warren / Jack Garton | 0.00 | 0.00 | | 50 |
| Parker Mills / Brock Rouse | 0.00 | 0.00 | | 50 |
| Allen White / Mike Vaughn | 0.00 | 0.00 | | 50 |
| Hal Blackwater / Clift Swann | 0.00 | 0.00 | | 50 |
| Kent Pearsou / Bubba Barksdale | 0.00 | 0.00 | | 50 |
| Kenny Reynolds / Brandon Reynolds | 0.00 | 0.00 | | 50 |
| Total Entrys | | | $5,040.00 | |
| BONUS $ | | | $2,250.00 | |
| Total Paid At Ramp | | | $6,595.00 | |
| Kerr 2021 Spring Final Fund | | | $555.00 | |
| 2021 CATT Championship/Phantom Fund | | | $50.00 | |
| 2021 Kerr Spring Final Fund Total | | | $2,280.00 | |
| 2021 CATT Championship/Phantom Total | | | $2,630.00 | |