Next Kerr FALL CATT is Oct 27 at Occoneechee State Park! Blast off is 7 am!
We are off to our best start ever in the Fall on Kerr Lake with 43 teams entering the 1st Kerr Lake Fall Qualifier! Come out and join us! We are working on the 2020 CATT Championship date and hope to have it wrapped up very soon!
Jeff Porter & Nathan Reeves claimed 1st Place at Kerr with 5 bass weighing 17.97 lbs! They took home a total of $1,825.00!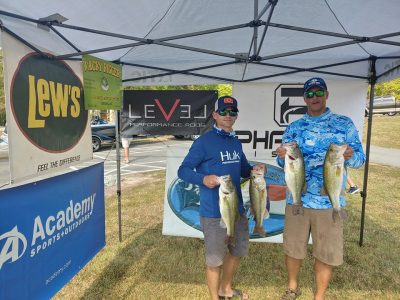 2nd went to Randy Black & Mickey Anderson with 5 bass weighing 15.49 lbs! They also weighed in the 2nd BF at 4.83 lbs! They earned $1,054.00!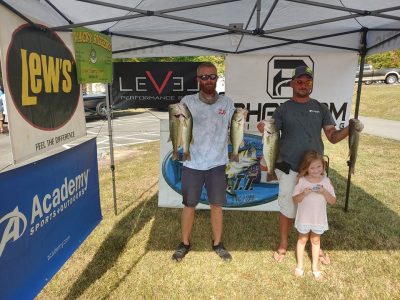 Coming in 3rd were Adam &Bentley Richardson with a limit weighing up at 14.99 lbs!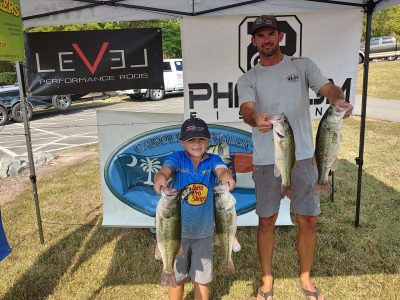 Ryan Roller & Gary Colwell 4th with 14.24 lbs!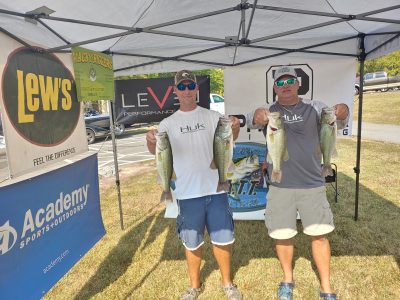 Rodney Sorrells & Gerald Beck took 5th with 13.53 lbs!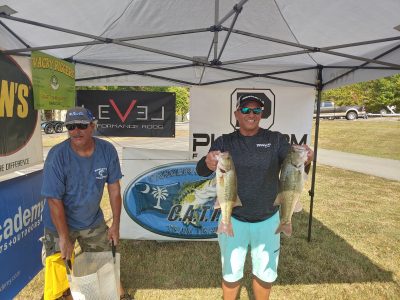 | | | | | |
| --- | --- | --- | --- | --- |
| 43 Teams | BF | Weight | Winnings | Points |
| Jeff Porter – Nathan Reeves | 0.00 | 17.97 | $1,825.00 | 110 |
| Randy Black- Mikey Anderson | 4.83 | 15.49 | $1,054.00 | 109 |
| Adam Richardson- Bentley Richardson | 0.00 | 14.99 | $480.00 | 108 |
| Ryan Roller- Gary Colwell | 0.00 | 14.24 | $220.00 | 107 |
| Gerald Beck – Rodney Sorrells | 0.00 | 13.53 | $145.00 | 106 |
| Clemont Dutroit- Houston Cash | 0.00 | 13.50 | $110.00 | 105 |
| Tommy Hughes- Bobby Clark | 0.00 | 13.48 | $100.00 | 104 |
| Tommy Marrow- Dennis Reedy | 0.00 | 12.75 | $100.00 | 103 |
| Kenny Reynolds- Ryaen Reynolds | 0.00 | 12.20 | | 102 |
| Bryan Cottrell- Brandon Cottrell | 0.00 | 12.19 | | 101 |
| Jay Fogleman- Jeff Clifton | 0.00 | 12.12 | | 100 |
| Reggie Norfleet- Charlie Gunter | 0.00 | 11.70 | | 99 |
| Eddie Glasscock- Billy Dunn | 0.00 | 11.39 | | 98 |
| William Hubbard – Gary Dickerson(sub) | 0.00 | 11.28 | | 97 |
| Denny Gilbert- Charlie Reed | 0.00 | 10.65 | | 96 |
| Tyler Trent- Ricky Trent | 0.00 | 10.15 | | 95 |
| Kevin Dawson- Joey Dawson | 0.00 | 9.99 | | 94 |
| Donnie Avant – Randy Waterman | 0.00 | 9.84 | | 93 |
| Marty Warren | 0.00 | 9.59 | | 92 |
| Bryson Peed – Josh Fletcher | 0.00 | 9.47 | | 91 |
| Phil Smith- Lonnie Whitfield | 0.00 | 9.03 | | 90 |
| Gary Horsley – David Dehart | 0.00 | 8.93 | | 89 |
| Trey Nichols- Jim Nichols | 0.00 | 8.91 | | 88 |
| Manny Lenau | 0.00 | 8.73 | | 87 |
| Charles Stewart- (sub) Ronald Harris | 0.00 | 8.73 | | 86 |
| James Condrey- Erika Condrey(sub) | 0.00 | 8.41 | | 85 |
| Jay Garrard- Mark Herndon | 5.47 | 8.05 | $301.00 | 84 |
| Kent Pearson – Jimmy Ferguson | 0.00 | 7.99 | | 83 |
| Devon Bushey – Jake Osborne | 0.00 | 7.93 | | 82 |
| Mike McMillian- Braden McMillian | 0.00 | 7.40 | | 81 |
| Clay Ausely – Ken McNeil | 0.00 | 6.64 | | 80 |
| David Avent- Pam Pellerin | 0.00 | 6.13 | | 79 |
| Jeremy Kent – Brendan Kent | 0.00 | 5.43 | | 78 |
| Mike Cole – Marty Wilson | 0.00 | 4.95 | | 77 |
| Joe Smith- Raeford Faircloth | 0.00 | 4.29 | | 76 |
| Matthew Little | 0.00 | 4.18 | | 75 |
| Bryan Keane – Evan Anderson | 0.00 | 3.83 | | 74 |
| Edward Townsend | 0.00 | 1.75 | | 73 |
| Michael Garner – Billy Shelton | 0.00 | 0.00 | | 72 |
| Monte Aleman- Kevin Aleman | 0.00 | 0.00 | | 72 |
| Ricky Todd- Andy Liles | 0.00 | 0.00 | | 72 |
| Chase Cooper- Eric Holland | 0.00 | 0.00 | | 72 |
| Joey Talbott- Kristen McAaninch(Sub) | 0.00 | 0.00 | | 72 |
| | | | |
| --- | --- | --- | --- |
| Total Entrys | | | $3,440.00 |
| BONUS $ | | | $1,500.00 |
| Total Paid At Ramp | | | $4,335.00 |
| Kerr 2019 FALL Final Fund | | | $520.00 |
| 2020 CATT Championship/Phantom Fund | | | $50.00 |
| 2019 Kerr FALL Final Fund Total | | | $520.00 |
| 2020 CATT Championship/Phantom Fund Total | | | $735.00 |