Next Lake Gaston CATT is March 6 at Summit Landing!
Tyler Dix & Derrik Moyer took 1st Place with 5 bass weighing 19.51 lbs and took home $2,099.00! Great job!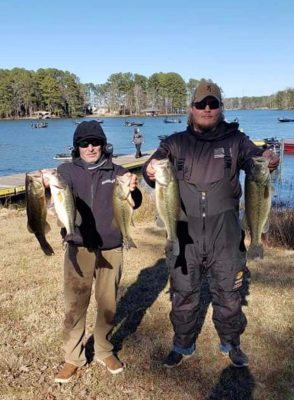 Ryan Harrell & Brent Boney finished 2nd with 18.38 lbs and also weighed in the 1st BF at 6.27 lbs! They took home $1,391.00!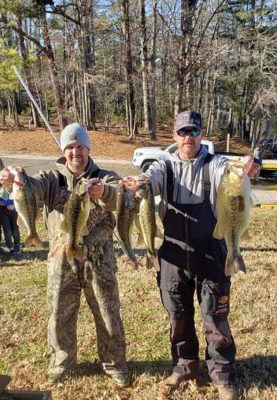 Jay Fogleman & Doug Stallings claimed 3rd with 17.79 lbs worth $590.00!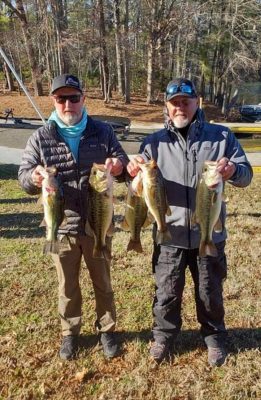 Michael Garner & Bill Shelton took 4th with 17.70 lbs!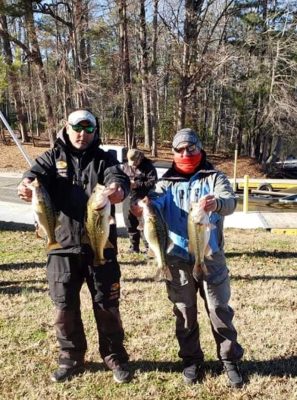 5th went to Travis Hewett & Mikey Anderson with 16.55 lbs!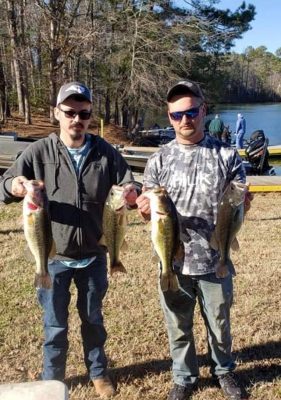 Last money paying place went to Shawn Hammack & Flash Butts with 16.20 lbs!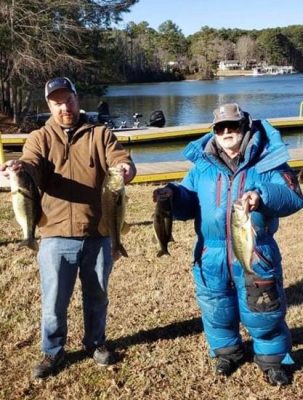 | | | | | |
| --- | --- | --- | --- | --- |
| Team | BF | Weight | Winnings | Points |
| Tyler Dix Derrik Moyer | 5.66 | 19.51 | $2,099.00 | 110 |
| Ryan Harrell Brent Boney | 6.27 | 18.38 | $1,391.00 | 109 |
| Jay Fogleman Doug Stallings | 5.26 | 17.79 | $590.00 | 108 |
| Michael Garner Billy Shelton | 5.57 | 17.70 | $300.00 | 107 |
| Travis Hewett Mikey Anderson | 3.99 | 16.55 | $200.00 | 106 |
| Flash Butts Shawn Hammack | 0.00 | 16.20 | $150.00 | 105 |
| Dennis Bradley Allen Mitchell | 5.10 | 15.58 | | 104 |
| JA Williford Marty Warren | 4.93 | 14.70 | | 103 |
| Ricky Todd Jerry Cullom | 4.64 | 14.56 | | 102 |
| Gene Woodard Ray Cooke | 0.00 | 14.14 | | 101 |
| Artie Jones Anthony Jones | 0.00 | 14.02 | | 100 |
| Joey Scott Chris Clary | 0.00 | 13.36 | | 99 |
| Jesse Medlin Scott Golden | 3.52 | 13.34 | | 98 |
| Raymond Jones Braxton Chase | 0.00 | 13.32 | | 97 |
| John Edwards Jr Land Weaver | 0.00 | 13.30 | | 96 |
| Allen Haigh Doug Washburn | 0.00 | 13.01 | | 95 |
| Shane Doughtie Evan White | 0.00 | 12.98 | | 94 |
| Michael Chlomoudis Scott Griffin | 0.00 | 12.58 | | 93 |
| Bobby Peedin TJ Myrick | 0.00 | 12.16 | | 92 |
| Keith Joyce Mark Robertson | 0.00 | 12.05 | | 91 |
| Allen White Mike Vaughan | 4.55 | 10.78 | | 90 |
| Cameron Medlin Caleb Horn | 0.00 | 10.68 | | 89 |
| Jake Murdock John Murdock | 0.00 | 9.86 | | 88 |
| Rv Mann Previn Dixon | 0.00 | 9.17 | | 87 |
| Michael Scott Kenny Cullum | 0.00 | 8.71 | | 86 |
| Cory Byrum Kevin Dickens | 4.39 | 8.28 | | 85 |
| Jim Sampson Mike Dunham | 0.00 | 6.30 | | 84 |
| Steve Michaels John Ashtabridge | 0.00 | 0.00 | | 74 |
| Benny Cannon Jeff Hayden | 0.00 | 0.00 | | 74 |
| David Birchfield Charlie Birchfield | 0.00 | 0.00 | | 74 |
| Rodney Birth Sam Stewart | 0.00 | 0.00 | | 74 |
| Mike May Scooter Lilly | 0.00 | 0.00 | | 74 |
| Steven Michaels Tony Ashtabridge | 0.00 | 0.00 | | 74 |
| Dennis Phillips Craig Phillips | 0.00 | 0.00 | | 74 |
| Total Entrys | | | $3,960.00 | |
| BONUS $ | | | $1,250.00 | |
| Total Paid At Ramp | | | $4,730.00 | |
| Gaston 2022 Spring Final Fund | | | $380.00 | |
| 2022 CATT Championship Fund | | | $50.00 | |
| 2022 Gaston Spring Final Fund Total | | | $380.00 | |