We had a great Spring on Lake Gaston! Payback totaled up over $21,000.00! We have a Fall Trail posted! Remember guys CATT has a Spring & Fall membership! We payback 99.9% of the entry fee! A Fall membership allows you to enter any CATT Fall Trail!
 Shane Doughtie & Evan White win the Gaston Spring Final with 10 bass weighing 32.86 lbs! They collected $2,750.00!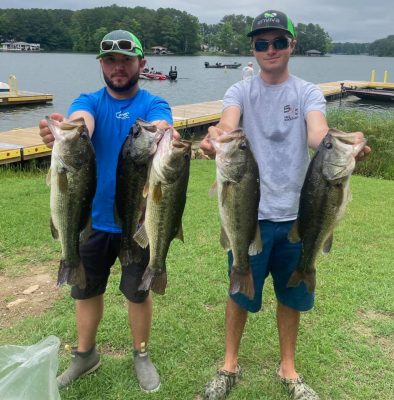 JT Palmore &n Bobby Crisman took 2nd with 10 bass weighing 30.10 lbs worth $1,180.00!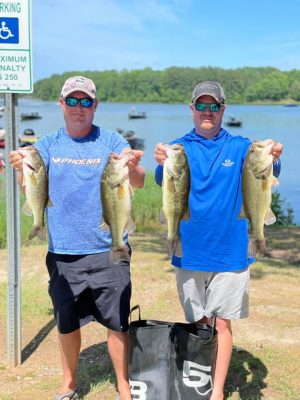 Spring Gaston Point Winners John Edwards and Land Weaver!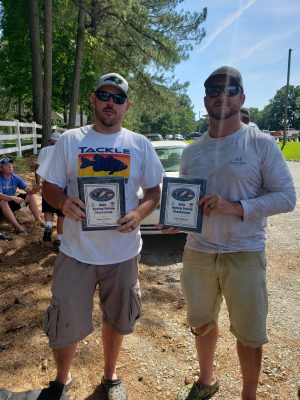 | | | | | | |
| --- | --- | --- | --- | --- | --- |
| Team | | Day 1 | Day 2 | Total | Winnings |
| Shane Doughtie | Evan White | 20.48 | 12.38 | 32.86 | $2,750.00 |
| Jt Palmore | Bobby Chrisman | 12.82 | 17.28 | 30.10 | $1,180.00 |
| Michael Garner | | 14.60 | 15.04 | 29.64 | $820.00 |
| Dennis Bradley | Allen Mitchell | 12.85 | 15.34 | 28.19 | $600.00 |
| George Smiley | Butch Coons | 13.68 | 12.72 | 26.40 | $250.00 |
| Chandler Todd | Robert Todd | 8.92 | 17.46 | 26.38 | $150.00 |
| Chuck Murray | Randy Groves | 15.24 | 10.20 | 25.44 | $70.00 |
| Shawn Hammack | Flash Butts | 15.96 | 9.44 | 25.40 | $180.00 |
| Adam Richardson | Blake Richardson | 13.52 | 11.28 | 24.80 | |
| Jay Wright | Mikey Anderson | 12.92 | 11.74 | 24.66 | |
| Joey Scott | Chris Clary | 12.58 | 11.94 | 24.52 | |
| Scott Golden | Jesse Medlin | 14.92 | 9.48 | 24.40 | |
| Jeff Bradley | Travis West | 13.24 | 11.16 | 24.40 | |
| Jerry Cullom | Lana Balltgzlier | 15.24 | 9.14 | 24.38 | |
| Doug Washburn | | 13.68 | 10.64 | 24.32 | |
| Jefferson Price | Cason Price | 12.26 | 10.90 | 23.16 | |
| Justin Miles | Raymond Miles | 11.74 | 10.60 | 22.34 | |
| Scott Griffin | Jay Allen | 11.28 | 9.86 | 21.14 | |
| Land Weaver | John Edwards Jr. | 10.78 | 9.92 | 20.70 | |
| Ricky Todd | Andy Liles | 6.36 | 13.33 | 19.69 | |
| Bobby Peedin | TJ Myrick | 9.69 | 9.90 | 19.59 | |
| Jacob Brown | Rhett Brown | 6.24 | 11.86 | 18.10 | |
| Josh Brown | Randy Brown | 4.12 | 13.30 | 17.42 | |
| Hunter Kendrick | Johnny Kendrick | 12.64 | 0.00 | 12.64 | |
| Michael Scott | William Scott | 11.64 | 0.00 | 11.64 | |
| Benny Cannon | | 11.64 | 0.00 | 11.64 | |
| Reggie Norflett | Angie Britton | 8.80 | 0.00 | 8.80 | |
| Gary Horsley | David Dehart | 0.00 | 0.00 | 0.00 | |
| Greg Vick | Ed Mawyer | 0.00 | 0.00 | 0.00 | |
| Mitch Miles | Bryan Trentham | 0.00 | 0.00 | 0.00 | |
| Todd Harris | Keith Biggs | 0.00 | 0.00 | 0.00 | |
| | | | | | |
| Total Payback | | | | | |
| Gaston Spring Trail | | | | | $21,085.00 |