Next Roanoke Rapids CATT is May 29th!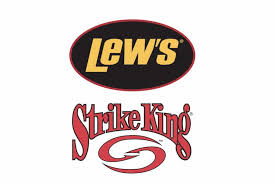 Jake Murdock & John Murdock brought in a fat sack of Roa Rapids bass weighing up at 21.58 lbs taking 1st Place and $735.00!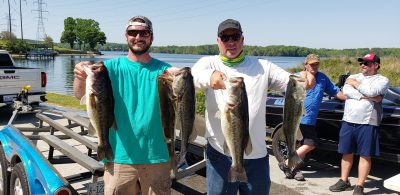 Scott Golden & Danny Smith took 2nd with 20.63 lbs and took over the Points lead!
Bryan & Kent Edwards finished 3rd with 19.60 lbs!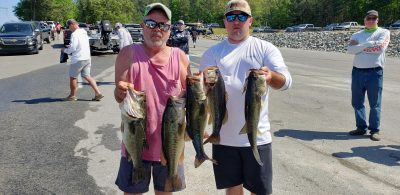 4th went to Chris Bishop & Clifton Ricks!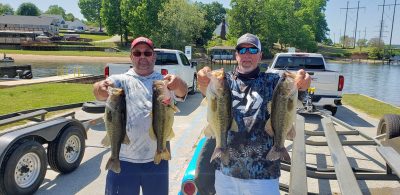 Cory Byrum & Jesse Medlin took 5th with 19.23 lbs!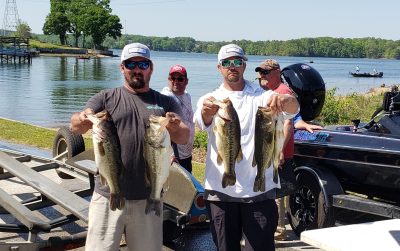 Team
BF
Weight
Winnings
Points
Jake Murdock John Murdock
5.68
21.58
$735.00
110
Scott Golden Danny Smith
0.00
20.63
$200.00
109
Bryan Edwards Kent Edwards
0.00
19.60
$80.00
108
Chris Bishop Clifton Ricks
0.00
19.34
$160.00
107
Cory Byrum Jesse Medlin
5.10
19.23
106
Dennis Bradley Allen Mitchell
0.00
17.64
105
Rv Mann Jeff Pincheon
3.88
16.22
103
Thomas Webb Dan Garner
0.00
16.18
102
Caleb Horn Mike Barnes
0.00
16.00
101
William Scott Michael Scott
4.02
15.90
100
Justin Miles
0.00
15.28
99
Nathaniel Kilgore
4.62
14.12
98
Robby Butler Michael Midgett
0.00
12.83
97
Brandon Hardy Kenny Cullum
6.04
8.94
$105.00
96
Total Entrys
$1,120.00
BONUS $
$500.00
Total Paid At Ramp
$1,280.00
2022 Roanoke Rapids Spring Final Fund
$250.00
2022 CATT Championship Fund
$30.00
2022 Roanoke Rapids  Spring Final Fund Total
$640.00