We plan to do this again next year guys! Thanks for fishing!
Next Swamp Quest Event is March 16th and is the Final. You only had to enter 1 event to be eligible to fish the Final!
Entry fee for the Final is $120 or $130 at the ramp. You must fish with your partner, solo or with a sub that was used at a Swamp Quest Qualifier. No new subs at the Final!
Paul Geddings & Bruce Peavy took 1st Place with 5 bass weighing 18.18 lbs at the last Swamp Quest event!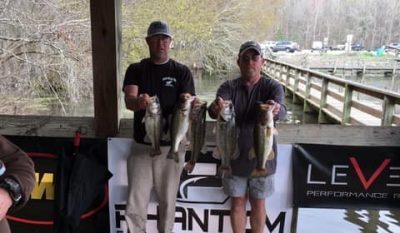 2nd went to Brian Scott & Brian Beatson with 16.87 lbs and they win the Quest Points and will fish the Final Free!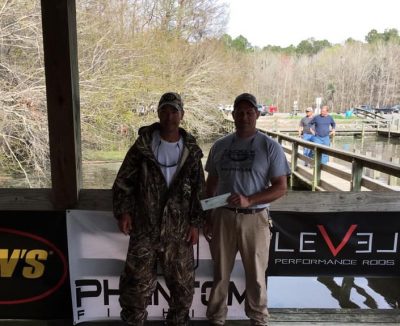 | | | | | |
| --- | --- | --- | --- | --- |
| | Big | Total | Total | |
| 13 Teams | Fish | Weight | Winnings | Points |
| Paul Geddings – Bruce Peavy | 4.57 | 18.18 | $640.00 | 110 |
| Brian Scott – Brad Beatson | 0.00 | 16.87 | $165.00 | 109 |
| Max Terry – Jamie Glasscock | 0.00 | 15.37 | | 108 |
| Lee Morris – Robert Ross | 0.00 | 13.18 | | 107 |
| Danny Shanz – Cody Armstong | 0.00 | 12.54 | | 106 |
| Victor Moore – Alan Bowzard | 0.00 | 8.26 | | 105 |
| Mike Kirby | 0.00 | 4.38 | | 104 |
| Derrick McCloud – Clint Borrows | 0.00 | 3.14 | | 103 |
| Todd Gayman | 0.00 | 0.00 | | 102 |
| Joseph Budin – Joseph Buddin | 0.00 | 0.00 | | 102 |
| TJ Anderson – Mark Pipkin | 0.00 | 0.00 | | 102 |
| Sandy Oliver | 0.00 | 0.00 | | 102 |
| David Eargle – Reggie Harris | 0.00 | 0.00 | | 102 |
| Total Entrys | | | $650.00 | |
| BONUS $ | | | $275.00 | |
| Total Paid At Ramp | | | $805.00 | |
| Swamp Quest 2018 Final Fund | | | $100.00 | |
| 2019 CATT Championship Fund | | | $20.00 | |
| Swamp Quest Final Fund Total | | | $560.00 | |
| 2019  CATT Championship Fund Total | | | $3,315.00 | |