Next Yadkin CATT is this coming Saturday May 25 at High Rock launching from Tamarac Marina! This will be the 2019 Yadkin Spring Final and you had to enter 2 Yadkin Qualifiers to be able to enter the Spring Final!
Derek Livingston & Andrew Wallace win the Yadkin Points and will fish the Final Free and receive 2 Yadkin Spring Point Winner Plaques!
Tony Brewer & Scott Faulkner brought in 5 High Rock bass weighing up at 23.63 lbs good enough to take home the win and $850.00!
2nd went to Scott Henley & Robert Mixon with 22.23 lbs!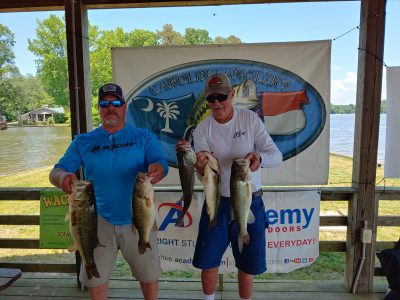 Lucas & Phillip Hedrick 3rd with 21.98 lbs!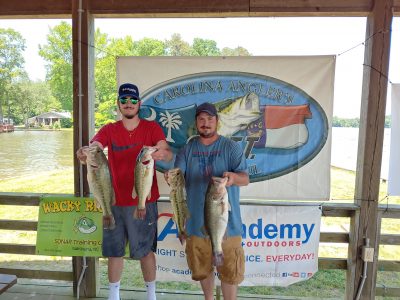 Jeremy Talbert & Todd Haynes earned a $50 Gift Certificate from Wacky Riggers!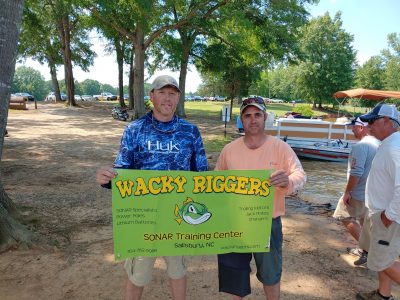 | | | | | |
| --- | --- | --- | --- | --- |
| | Big | Total | Total | |
|  23 Teams | Fish | Weight | Winnings | Points |
| Tony Brewer – Scott Faulker | 0.00 | 23.63 | $850.00 | 110 |
| Scott Henley – Robert Mixon | 7.09 | 22.23 | $494.00 | 109 |
| Phillip & Lucas Hedrick | 7.20 | 21.98 | $411.00 | 108 |
| Dwayne Hughes – Stan Gobbel | 0.00 | 21.70 | $120.00 | 107 |
| Todd Haynes – Jeremy Talbert | 0.00 | 21.42 | $50.00 | 106 |
| Marty Williams – Todd Walters | 0.00 | 21.31 | | 105 |
| Steve Sink – Tony Foster | 0.00 | 20.20 | | 104 |
| Danny Nifong – Dale Surrett | 5.30 | 17.63 | | 103 |
| Derek Livingston – Andrew Wallace | 0.00 | 15.29 | | 102 |
| Kevin Burrage – Patrick Burrage | 0.00 | 14.84 | | 101 |
| Mike Ray – Orlando Giles | 0.00 | 14.50 | | 100 |
| Noah Beck – Ben Renos | 0.00 | 14.35 | | 99 |
| Kevin Farley – Landon Farley | 0.00 | 14.09 | | 98 |
| Kirby Moffitt – Spencer Moffitt | 4.20 | 13.99 | | 97 |
| Zac Gooch | 0.00 | 13.77 | | 96 |
| Ladd & Landon Wicker | 0.00 | 13.59 | | 95 |
| John Lancaster – Thomas Carroll | 0.00 | 13.17 | | 94 |
| John Ritchie – Bryant Gobble | 0.00 | 12.61 | | 93 |
| Hutson Hatfield | 0.00 | 5.07 | | 92 |
| Maser Collier – Mike Collier | 0.00 | 0.00 | | 91 |
| Jarett Albright – Chirs Albright | 0.00 | 0.00 | | 91 |
| Hunter Harwood – Randy File | 0.00 | 0.00 | | 91 |
| Brian File – Jeff Davis | 0.00 | 0.00 | | 91 |
| Total Entrys | | | $1,840.00 | |
| BONUS $ | | | $500.00 | |
| Total Paid At Ramp | | | $1,875.00 | |
| Yadkin Spring 2019 Final Fund | | | $385.00 | |
| 2019 CATT Championship Fund | | | $50.00 | |
| 2019 Yadkin Spring Final Fund Total | | | $2,305.00 | |
| 2019 CATT Championship Fund Total | | | $5,615.00 | |