Next Yadkin Spring CATT is at Badin Lake March 21st launching from Circle Drive! The Yadkin CATT paid back over $43,000.00 in 2019! Lets top that number in 2020!

Chad Coley & Micah Speights win with 18.03 lbs! Great bag of bass! 
Brian File & Nick Brashford take 2nd with 16.82 lbs!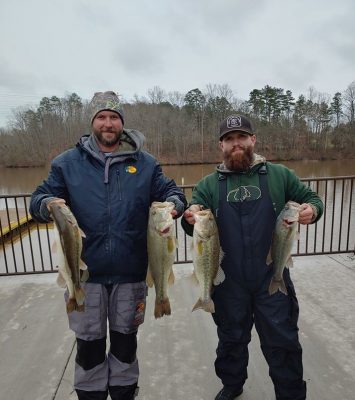 Alan Griffin & Kevin Chandler finish 3rd with 16.15 lbs!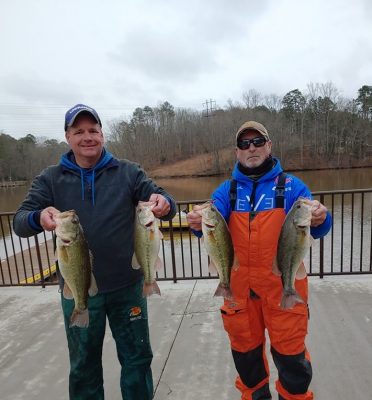 Hunter Harwood & Scott Harwood take the last money spot with 14.62 lbs!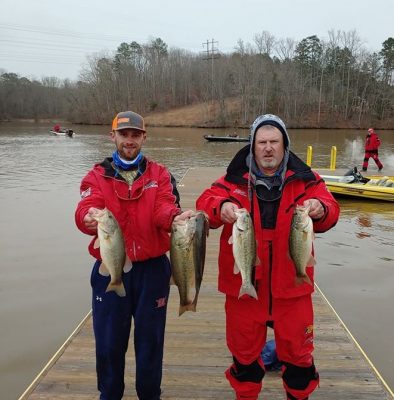 Travis Williams & Brandon Gardner received $50 cash from Wackyriggers.com!

| | | | | |
| --- | --- | --- | --- | --- |
| 22 Teams | BF | Weight | Winnings | Points |
| Chad Coley & Micah Speights | 4.82 | 18.03 | $866.00 | 110 |
| Brian File & Nick Bashford | 4.86 | 16.82 | $604.00 | 109 |
| Alan Griffin & Kevin Chandler | 4.32 | 16.15 | $250.00 | 108 |
| Hunter Harwood & Scott Harwood | 3.82 | 14.62 | $100.00 | 107 |
| Travis Williams & Brandon Gardner | 0.00 | 14.49 | $50.00 | 106 |
| John Kistler & Rusty Melton | 0.00 | 12.32 | | 105 |
| Rick Bradfprd & Russell Corey | 4.05 | 11.85 | | 104 |
| Steve Singleton & Brian Robbins | 3.94 | 10.48 | | 103 |
| Mike Kiser & David Cheek | 0.00 | 8.36 | | 102 |
| Mike Davis & Dean Talbert | 0.00 | 7.28 | | 101 |
| Brad Smith & Anthony Brooks | 0.00 | 6.46 | | 100 |
| Johm Lancaster & Mike Smith | 0.00 | 5.94 | | 99 |
| Tony Vernon & Scott Quinn | 4.13 | 5.72 | | 98 |
| Chris Murphy & Vince Murphy | 0.00 | 5.69 | | 97 |
| Brandon Shaver & Chad Cook | 0.00 | 4.96 | | 96 |
| Richard Quinn & john Buckner | 0.00 | 4.28 | | 95 |
| Mike Ray & Orlando GIles | 0.00 | 0.00 | | 94 |
| Andrew Wallace & Derek Livingston | 0.00 | 0.00 | | 94 |
| Clint Miller & Steve Dyer | 0.00 | 0.00 | | 94 |
| Corey Gibson & Brandon Gibson | 0.00 | 0.00 | | 94 |
| Joel Marcotte | 0.00 | 0.00 | | 94 |
| Ronnie Smith & Ronnie White | 0.00 | 0.00 | | 94 |
| Total Entrys | | | $1,760.00 | |
| BONUS $ | | | $500.00 | |
| Total Paid At Ramp | | | $1,870.00 | |
| Yadkin Spring 2020 Final Fund | | | $340.00 | |
| 2020 CATT Championship Fund | | | $50.00 | |
| 2020 Yadkin Spring Final Fund Total | | | $34.00 | |
| 2020 CATT Championship Fund Total | | | $2,050.00 | |