After the Wateree Open Final was done CATT had paid $79,360.00 on Lake Wateree in 2017! The 2018 Wateree Spring schedule is posted and we look forward to a huge year on Wateree!
Shane Cantley & Michael Richardson won the 2017 Wateree Open Final with 5 bass weighing 15.96 lbs! They took home the BONUS $ and the 1st BF money with a 4.39 lbs bass. All total Shane & Michael earned $1,935.00! They also received a Lews Mach II Speed Spool Bait Cast Reel!
2nd went to Brad Petway & Brett Collins with a limit weighing 12.93 lbs and they took home $800.00!
Butch Williams and David Ethridge collected $350.00 with a 3rd place finish. They weighed in 10.69 lbs!
4th Place was claimed by Tim & Craig Haven with a 9.71 lb bag and they took home $225.00.
Jerry Freezon & Kareem White claimed 5th with 8.05 lb bass worth $265.00 with some point money added in!
Thanks for fishing and see you in 2018!
| | | | |
| --- | --- | --- | --- |
| | Big | Total | Total |
| Team | Fish | Weight | Winnings |
| Shane Cantley – Michael Richardson  BONUS & 1st BF | 4.39 | 15.96 | $1,935.00 |
| Brad Petway – Brett Collins   2nd BF | 3.59 | 12.93 | $800.00 |
| Butch Willimas – David Ethridge | 2.84 | 10.69 | $350.00 |
| Tim Haven – Craig Haven | 2.93 | 9.71 | $225.00 |
| Jerry Freezon – Kareem White | 3.28 | 8.05 | $265.00 |
| Jason McCoy – Buddy Hartis | 0.00 | 6.91 | |
| David F. Canupp – David L. Canupp | 0.00 | 5.72 | $250.00 |
| Stevie Walker – Jimbo Powell | 1.85 | 4.25 | |
| Scott Floyd – Greg Corvin | 2.01 | 2.01 | $150.00 |
| Chad Sims – Dustin Snipes | 0.00 | 0.00 | |
| Thad Driggers | 0.00 | 0.00 | |
| Jason Bateman – Steve Phillips | 0.00 | 0.00 | |
| Total Paid Wateree Open Final | | | $3,975.00 |
| Total Paid Wateree Opens 2017 | | | $29,415.00 |
| * Team # 7 Free Entry | | | |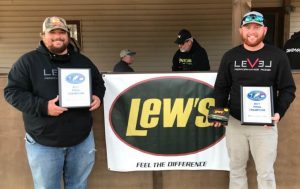 Michael & Shane with their 1st Place Plaques & Lews Mach II Baitcast Reel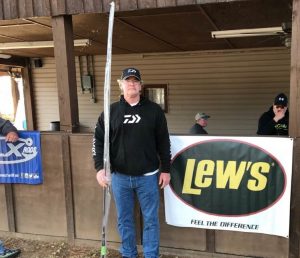 Brad Petway with his Lews Custom Speed Stick