The East Fall Final is Dec 9th! Larry Thomas & Will James win the East Fall Points and will fish the Final Free! If we have 25 boats enter the East Final 1st Place will take home $2,000.00!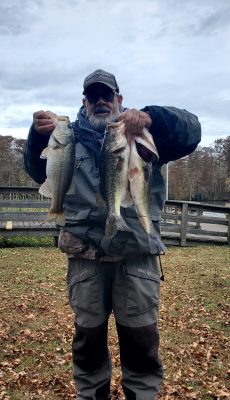 1st Bobby Clark Tommy Hughes 14.20 lbs. $525. 2nd big fish 4.46 lbs $69. 1st place side pot $350.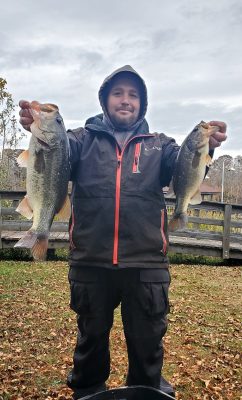 2nd Charles Weathersby 11.95 lbs $300. 1st big fish 5.03 lbs $161. 2nd place side pot $150.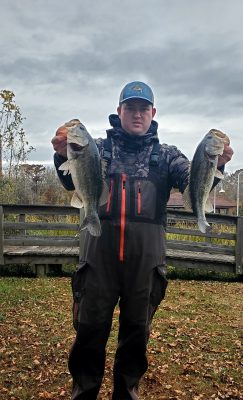 3rd Larry Thomas Will James 11.37 lbs $200.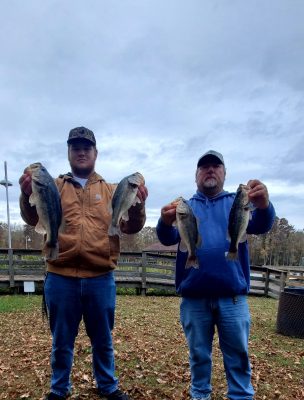 4th Rinnie Britt Dillon Britt 10m12 lbs $120.
| | | | | |
| --- | --- | --- | --- | --- |
| Team | BF | Weight | Winnings | Points |
| Bobby Clark – Tommy Hughes | 4.46 | 14.20 | $944.00 | 110 |
| Charles Weathersbee | 5.03 | 11.95 | $611.00 | 109 |
| Larry Thomas – Will James | 3.67 | 11.37 | $200.00 | 108 |
| Ronnie Britt – Dylan Britt | 0.00 | 10.12 | $120.00 | 107 |
| Wayne Stallings – Zeb West | 3.52 | 9.79 | | 106 |
| Jeff Stoop – Randy Vaughn | 2.96 | 9.56 | | 105 |
| Jason Samson | 0.00 | 9.24 | | 104 |
| Steve Bishop – Darryl Peele | 3.60 | 9.16 | | 103 |
| Allen Hawkins – Cecil Hamilton | 0.00 | 9.12 | | 102 |
| Donald Luther & Mike Kannan | 3.00 | 9.07 | | 101 |
| Brandon Johnson – Wilbur johnson | 0.00 | 8.67 | | 100 |
| Jerry Langley – David Langley | 3.93 | 7.58 | | 99 |
| Jerry Hardy – Larry Revel | 0.00 | 7.46 | | 98 |
| Jim Hipkins | 0.00 | 7.25 | | 97 |
| Kevin Jones – Tyler Jones | 3.29 | 6.49 | | 96 |
| John Clark – Bobby Barrett | 0.00 | 5.38 | | 95 |
| Mike Layton – Ray Layton | 0.00 | 0.00 | | 85 |
| Dickie Killinger – Ryan Killinger | 0.00 | 0.00 | | 85 |
| Danny Flynn – Brad Elks | 0.00 | 0.00 | | 85 |
| Jim Britt – Bradlkey Gooden | 0.00 | 0.00 | | 85 |
| Charles Anderson – Adam Haithcock | 0.00 | 0.00 | | 85 |
| Derrick Whitmore | 0.00 | 0.00 | | 85 |
| Total Entrys | | | $1,760.00 | |
| BONUS $ | | | $500.00 | |
| Total Paid At Ramp | | | $1,875.00 | |
| CATT | | | $50.00 | |
| East 2023 Fall Final Fund | | | $285.00 | |
| 2023 CATT Championship Fund | | | $50.00 | |
| 2023 East Spring  Fall Fund Total | | | $1,475.00 | |