We kicked off the 2018 Gaston edition of the CATT Trail with 25 teams entering! The fishing was hot! Several great bags of bass were weighed in! Next Gaston CATT is April 15th at Salmons Landing (Stonehouse) and remember 1st Place is taking home $1,000 at each 2018 Gaston Qualifier!
Michael Garner & Richard Bracey claimed 1st with 5 bass weighing 22.92 lbs! they also took the 1st BONUS and left with $1,360.00 in their pockets!
Richard Kramer & Shawn Evans took 2nd with 5 bass weighing 21.52 ls and they took home $742.00!
Scott Griffin & Kyle Griffin finished 3rd with 21.13 lbs and they earned $498.00!
4th and the last check of $255.00 went to George Smiley & Butch Coons with 21.10 lbs!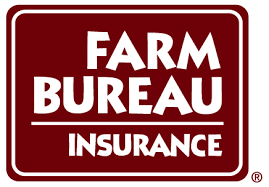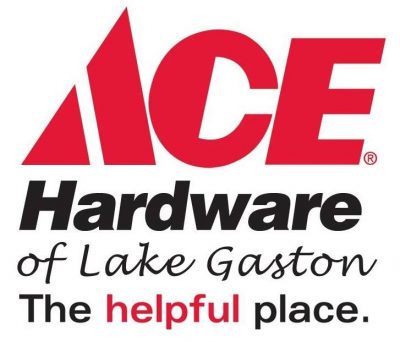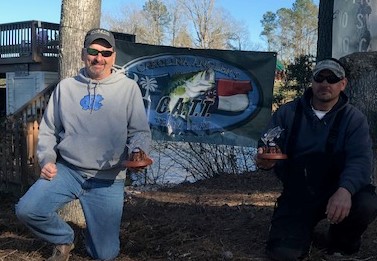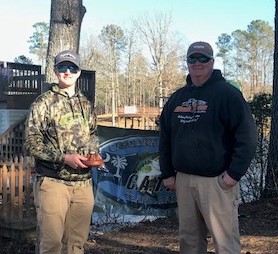 Thanks to Glass Baron for the Trophys! www.glassbarons.com
| | | | | | |
| --- | --- | --- | --- | --- | --- |
| Place | Names | Big Fish | Weight | Winnings | Points |
| 1 | Michael Garner – Richard Bracey  1st BONUS $ | 6.27 | 22.92 | $1,360.00 | 110 |
| 2 | Richard Kramer – Shawn Evans  2nd BF & 2nd BONUS $ | 6.33 | 21.52 | $742.00 | 109 |
| 3 | Scott Griffin- Kyle Griffin 1st BF & 3rd BONUS $ | 7.20 | 21.13 | $498.00 | 108 |
| 4 | George Smiley – Butch Coons  4th BONUS $ | 0.00 | 21.10 | $255.00 | 107 |
| 5 | Adam Richardson- Gene Richardson | 0.00 | 19.91 | | 106 |
| 6 | Scott Golden – Jesse Medlin | 5.41 | 19.30 | | 105 |
| 7 | Patrick Wooten- Phillip Sykes | 5.31 | 18.98 | | 104 |
| 8 | Jt Palmore& Sub for- Bobby Crisman | 6.22 | 18.97 | | 103 |
| 9 | Wesley Bennett- Chris Bishop | 0.00 | 17.31 | | 102 |
| 10 | Ray Horrocks | 0.00 | 16.48 | | 101 |
| 11 | Kenny Reynolds- Bo Grosevenor | 0.00 | 14.56 | | 100 |
| 12 | Chuck Murray- Randy Groves | 0.00 | 14.49 | | 99 |
| 13 | Ivan & Janet Morris | 0.00 | 13.62 | | 98 |
| 14 | Tim Kirby – Bill Nowell | 0.00 | 13.13 | | 97 |
| 15 | Michael Chlomoudis- Marty Warren | 0.00 | 12.16 | | 96 |
| 16 | Allen White- Mike Vaughan | 0.00 | 12.03 | | 95 |
| 17 | Scott White- Evan White | 0.00 | 10.53 | | 94 |
| 18 | Gene Woodard – Ray Cooke | 0.00 | 10.05 | | 93 |
| 19 | Mark Robertson – Keith Joyce | 0.00 | 7.19 | | 92 |
| 20 | Rich Hartman | 0.00 | 6.64 | | 91 |
| 21 | Nathaniel Kilgan- Shawn Roberson | 0.00 | 6.63 | | 90 |
| 22 | Michael Whitehurst – Donna Wilson | 0.00 | 0.00 | | 89 |
| 23 | Jackson Warner – Dustin Dinsmore | 0.00 | 0.00 | | 89 |
| 24 | Steven Brinkley – | 0.00 | 0.00 | | 89 |
| 25 | Frank Porrier | 0.00 | 0.00 | | 89 |
| 26 | Matthew Oakley | 0.00 | 0.00 | | 89 |
| | Total Entrys |   |   | $3,000.00 | |
| | BONUS $ |   |   | $525.00 | |
| | Total Paid At Ramp |   |   | $2,975.00 | |
| | Gaston 2018 Spring Final Fund |   |   | $380.00 | |
| | 2018 CATT Championship Fund |   |   | $50.00 | |
| |   |   |   |   | |
| | 2018 Gaston Spring Final Fund Total |   |   | $380.00 | |
| | 2018 CATT Championship Fund Total |   |   | $2,925.00 | |
| | | | | | |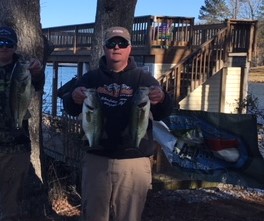 3rd Place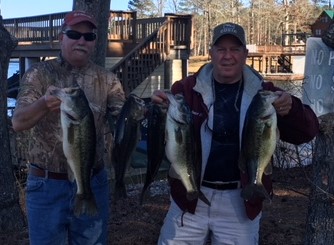 4th Place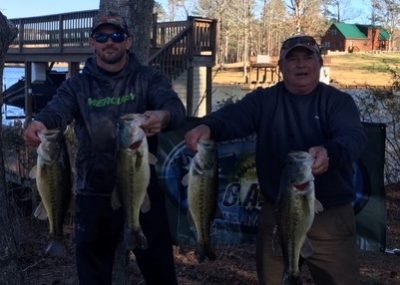 5th Place