James River Entry – CATT GOLD – $120 Entry  $130 at Ramp
Final – $160 Entry $170 at Ramp
Optional Sidepot – $50 Paying up to 3 Places
James River Membership – $35 Per Person
Blastoff Position is Determined By Order Of Payment
Must fish 4 of 7 Qualifiers to Fish Final
Fishing solo once & with sub once counts toward teams Qualification
You may fish solo and you can Qualify solo for the James River Final.

Purchase a NEW 2019 Skeeter From Anna's Marine Center and Anna's Marine Center will pay all your CATT James River Regular Season events! If purchase is made later in 2019 this offer will extend over into the 2020 CATT James River season!
Next James River CATT is May 11 at Rt 5 Riverfront Park!
Steve Lamm & Jesse Johnson weighed in 5 bass at 25.13 lbs with a 9.22 lb James River Hammer which was more than enough to take 1st Place at $2,871.00!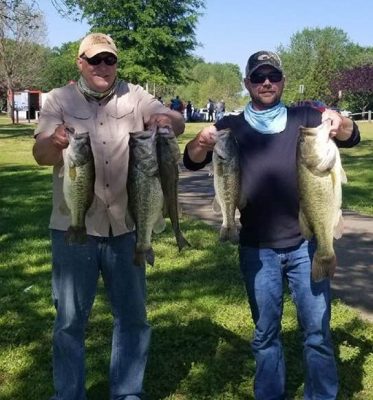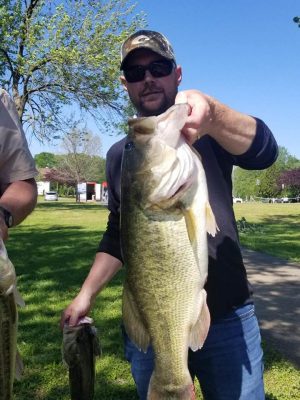 2nd Place Team – Donnie Daniel & Ray Hogge with 5 bass weighing 19.07 lbs! $1,125.00!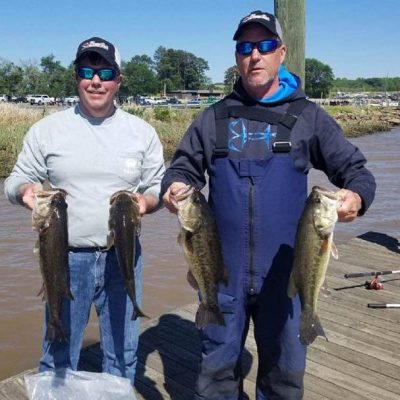 Corbin Glenn & Donnie Bell 3rd with 18.84 lbs!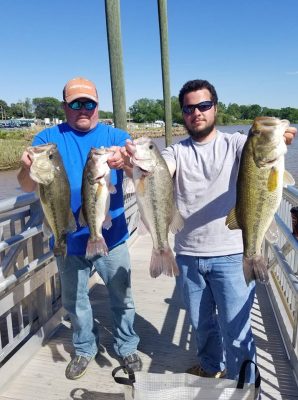 Lenny Biard & Frank Poirer claimed 4th with 18.67 lbs & the 1st Bonus $ $1,060.00!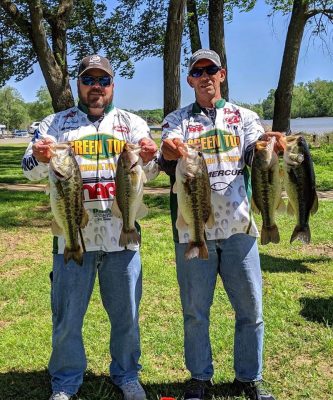 | | | | | |
| --- | --- | --- | --- | --- |
| | Big | Total | Total | |
| 78 Teams | Fish | Weight | Winnings | Points |
| Steve Lamm and Jesse Johnson | 9.22 | 25.13 | $2,871.00 | 220 |
| Ray Hogge and Donnie Daniel | 5.03 | 19.07 | $1,125.00 | 219 |
| Donnie Bell and Corbin Gibbs | 5.34 | 18.84 | $810.00 | 218 |
| Frank Poirier and Lenny Biard | 0.00 | 18.67 | $1,060.00 | 217 |
| Kelly Pratt and Richard Addy | 5.52 | 18.12 | $764.00 | 216 |
| Bo Bolts and Mick Anderson | 0.00 | 17.83 | $730.00 | 215 |
| Tim Garner and Martin Villa | 0.00 | 17.52 | $340.00 | 214 |
| Chris Milton and Ed Milton | 0.00 | 16.55 | $300.00 | 213 |
| Chris Atwell and Gary Atwell | 0.00 | 16.47 | $275.00 | 212 |
| Stacy Vasser | 4.78 | 16.34 | $250.00 | 211 |
| Matthew Chisholm and Todd Fisher | 4.02 | 16.20 | $210.00 | 210 |
| Jared Williams and Guy Fairweather | 0.00 | 16.08 | $180.00 | 209 |
| Brandon Hill and Kevin King | 0.00 | 15.97 | $150.00 | 208 |
| Jason Bishop and Jeff Hamilton | 0.00 | 15.67 | $140.00 | 207 |
| Charles James and John Conway | 0.00 | 15.64 | $130.00 | 206 |
| Kelly Robinette and Dave Collins | 4.08 | 15.63 | | 205 |
| John Barnes and Ryan Barksdale | 0.00 | 15.57 | | 204 |
| Roger Walters and David Fox | 5.44 | 15.40 | | 203 |
| Luke Carson and Derrin Zolar | 0.00 | 15.31 | | 202 |
| Donnie Bowman and Mike Wright | 0.00 | 15.27 | | 201 |
| Trey Goodman and Tim Chaffin | 5.06 | 15.25 | | 200 |
| Zach Whitt and Larry Whitt | 3.66 | 15.07 | | 199 |
| Brandon Vaughn and Thomas Childress | 0.00 | 14.79 | | 198 |
| Jeffery Banko | 0.00 | 14.72 | | 197 |
| James Funk and Matt Funk | 0.00 | 14.62 | | 196 |
| Harvey Reece and Gary Smith | 0.00 | 14.54 | | 195 |
| Mike Martinez and William Allen | 0.00 | 14.41 | | 194 |
| Linwood Shores and Garrett Towler | 0.00 | 14.36 | | 193 |
| Leidy Clark and Ricky West | 0.00 | 13.98 | | 192 |
| James Condrey and Jimmy Condrey | 0.00 | 13.93 | | 191 |
| Tommy Little and Jerry Heffler | 0.00 | 13.91 | | 190 |
| Marcello Passal and Landon Tucker | 0.00 | 13.89 | | 189 |
| Jason Brooks and Carl Sadler | 0.00 | 13.87 | | 188 |
| Richard Mistr and Jim Palazzo | 0.00 | 13.64 | | 187 |
| Chris Bryant and Matt Dunnigan | 4.86 | 13.47 | | 186 |
| Robert Whitehurst and Parker Hinka | 0.00 | 13.45 | | 185 |
| Jonathan Ceasar and Ben Jacobi | 0.00 | 13.21 | | 184 |
| Ron Studer and Nelson Marshall | 0.00 | 13.08 | | 183 |
| Dave Carney and Andy Bollhorst | 0.00 | 12.88 | | 182 |
| Chris Burnett and Chris Powell | 3.52 | 12.84 | | 181 |
| Burley Langford and Brian Langford | 0.00 | 12.29 | | 180 |
| Will Vickery and Dee Kidd | 0.00 | 12.19 | | 179 |
| Jay Griffin and Charlie Kline | 0.00 | 12.07 | | 178 |
| Mike Caul and Alexis Caul | 3.41 | 11.79 | | 177 |
| Ryan Drewery and Wayne Drewery | 0.00 | 11.75 | | 176 |
| Steve Webb Robert Taylor | 0.00 | 11.57 | | 175 |
| Brian Bersik and Rich Knisely | 0.00 | 11.52 | | 174 |
| Caleb Burress Justin Hodges | 0.00 | 11.08 | | 173 |
| Craig Fagan and Torry Aiken | 4.40 | 11.01 | | 172 |
| Wesley Farmer and Harrison Baker | 0.00 | 10.81 | | 171 |
| Wayne Taylor and John Doyle | 0.00 | 10.60 | | 170 |
| Mike Hinkley and Matt Pulley | 0.00 | 10.16 | | 169 |
| Brian Snipes and Chris Cockrell | 0.00 | 10.04 | | 168 |
| Jason S Bishop | 0.00 | 9.90 | | 167 |
| Andy Semonico and Wayne Andrews | 0.00 | 9.84 | | 166 |
| RJ Davis and Zachary Bruss | 0.00 | 9.25 | | 165 |
| Danny Ashton and Tim Ashton | 0.00 | 9.00 | | 164 |
| William Clements and James Cornett | 0.00 | 8.86 | | 163 |
| Marshall Johnson Ryan Lachiet | 0.00 | 8.31 | | 162 |
| David Owen and Kyle Owen | 0.00 | 7.89 | | 161 |
| Michael Green | 3.26 | 7.68 | | 160 |
| Curtis Combs and CJ Combs | 0.00 | 6.39 | | 159 |
| Bryan Keane | 0.00 | 5.69 | | 158 |
| Tom Murphy | 0.00 | 5.51 | | 157 |
| Ben Knapp and Rodney Manson | 0.00 | 4.88 | | 156 |
| Audie Murphy | 0.00 | 4.55 | | 155 |
| Charles Ramer and Paul Brock | 0.00 | 4.10 | | 154 |
| Gibson and Rocky Stone | 0.00 | 4.03 | | 153 |
| James Powell and Warren Ray | 0.00 | 0.00 | | 152 |
| George Petrohovich and Dennis Whittaker | 0.00 | 0.00 | | 152 |
| Kevin Best | 0.00 | 0.00 | | 152 |
| Mike Baldwin and Randy Taylor | 0.00 | 0.00 | | 152 |
| Paul Martin Francis Martin | 0.00 | 0.00 | | 152 |
| Jim Sampson and Craig Ferguson | 0.00 | 0.00 | | 152 |
| Travis West and Mike Oley | 0.00 | 0.00 | | 152 |
| Marcus Chandler | 0.00 | 0.00 | | 152 |
| Greg Garabedam and Aaron Sadler | 0.00 | 0.00 | | 152 |
| | | | | |
| Total Entrys | | | $9,360.00 | |
| BONUS $ | | | $750.00 | |
| Total Paid At Ramp | | | $9,335.00 | |
| James River 2019 Final Fund | | | $600.00 | |
| 2019 CATT Championship Fund | | | $50.00 | |
| 2019 James River Final Fund Total | | | $1,200.00 | |
| 2019 CATT Championship Fund Total | | | $5,235.00 | |