Next CATT Kerr Spring Qualifier is March 17 at Occoneechee and is a GOLD event!
Check out the 2019 CATT Championship Info!
2019 Academy CATT Championship June 1-2 Kerr Lake!
$10,000.00 1st Place GUARANTEED!
(Stay Tuned – 1st Place $$ May be Increased!)
New Nutbush Ramp – Kerr State Park!
A team or solo angler must fish 3 CATT events to Qualify!
You can get in your 3 events by fishing any CATT Fall 2018 and CATT Spring 2019!
Qualifying is simple!
Enter 1 CATT event as a team – Entering solo or with a Sub also counts toward your teams Championship Qualification or all 3 as a Team!
The 3 events do not have to be in the same CATT Trail!
$200 Per Team Entry
Optional Platinum BONUS $100
Optional BONUS $50
Joe Talbott & Shane Johns take the win with 5 bass weighing 13.23 lbs! They took home the Skeeter Real Money BONUS $3,000–total winnings $4,460.00! This weather is making for some tough fishing!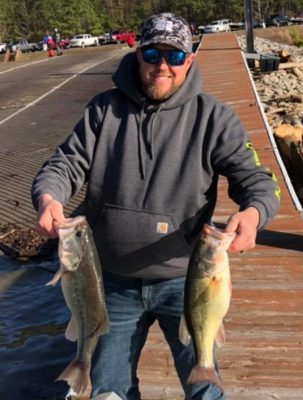 2nd went to Alan White & Mike Vaughn with 13.05 lbs!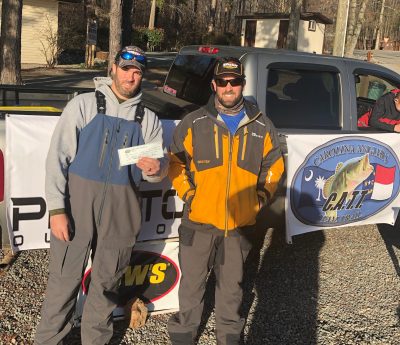 3rd Paul Smith & Jason Lloyd with 12.43 lbs!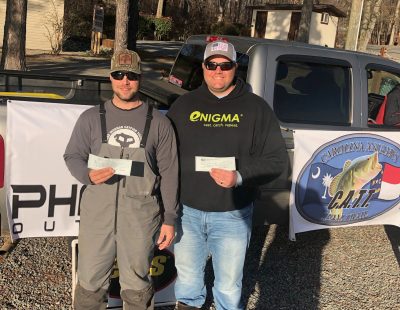 | | | | | |
| --- | --- | --- | --- | --- |
| | Big | Total | | |
| 39 Teams | Fish | Weight | Winnings | Points |
| Joey Talbott – Shane Johns | 4.33 | 13.23 | $4,460.00 | 110 |
| Alan White – Mike Vaughn | 3.98 | 13.05 | $430.00 | 109 |
| Paul Smith – Jason Lloyd | 3.49 | 12.43 | $785.00 | 108 |
| Eddie Glasscock – Billy Dunn | 3.43 | 12.17 | $390.00 | 107 |
| Dana Moore – Mike White | 5.88 | 10.83 | $413.00 | 106 |
| Jay Foster – Tate Fogleman | 5.16 | 10.52 | $110.00 | 105 |
| Eddie Fore – Bryan Kirkpatrick | 3.27 | 9.84 | $100.00 | 104 |
| Scott Dupree – Reggie Norflett | 5.85 | 7.98 | $117.00 | 103 |
| Jason Suggs – Britten Oquinn | 2.60 | 7.90 | | 102 |
| Kevin Dawson – Joey Dawson | 3.19 | 7.87 | | 101 |
| Brian Calloway – William Hubbard | 3.96 | 6.63 | | 100 |
| Roger Clary – Justin Rhew | 4.61 | 6.61 | | 99 |
| Phil Smith – Lonnie Whitfield | 4.37 | 4.37 | | 98 |
| Donnie Avant – Randy Waterman | 3.61 | 3.61 | | 97 |
| Kyle Moore | 3.46 | 3.46 | | 96 |
| Ben Dalton – Collin Bennett | 0.00 | 3.28 | | 95 |
| Dave Enos – Brnet Enos | 0.00 | 3.13 | | 94 |
| Matt Norrias – Alex King | 0.00 | 2.69 | | 93 |
| Daniel Jenkins – Jason Kopp | 0.00 | 2.54 | | 92 |
| Jason Houchins – Danny Houchins | 0.00 | 0.00 | | 91 |
| Scott Moser – Travis Owen | 0.00 | 0.00 | | 91 |
| Kevin Alemon – Monte Alemon | 0.00 | 0.00 | | 91 |
| Charlie Reed – Dennie Gilbert | 0.00 | 0.00 | | 91 |
| Jacon Lloyd – Tyler Trent | 0.00 | 0.00 | | 91 |
| Robert Wells – Calvin Young | 0.00 | 0.00 | | 91 |
| Justin Dalton – James Joyner | 0.00 | 0.00 | | 91 |
| Bryan Cotrell – Ellis Jones | 0.00 | 0.00 | | 91 |
| Carmen Linebach – Chris Barnes | 0.00 | 0.00 | | 91 |
| Tim Grein – Richard Cooper | 0.00 | 0.00 | | 91 |
| Terry Easter – Dave farrington | 0.00 | 0.00 | | 91 |
| Tony Miliam – Johnny Miliam | 0.00 | 0.00 | | 91 |
| Derrek Bowden – Matt Little | 0.00 | 0.00 | | 91 |
| Charles Stewart – Matt Dean | 0.00 | 0.00 | | 91 |
| Shanwn Hammock – Flash Butts | 0.00 | 0.00 | | 91 |
| Mark Nickles – Mike Nickles Jr | 0.00 | 0.00 | | 91 |
| Aaron Falwell – Steven Coleman | 0.00 | 0.00 | | 91 |
| Bryson Peed – Jonathan Jones | 0.00 | 0.00 | | 91 |
| Larry Freeman – Craig Wright | 0.00 | 0.00 | | 91 |
| Bryan Welch – Mark Inman | 0.00 | 0.00 | | 91 |
| Total Entrys | | | $3,120.00 | |
| BONUS $ | | | $1,250.00 | |
| Total Paid At Ramp | | | $3,805.00 | |
| Kerr 2019 Spring Final Fund | | | $485.00 | |
| 2019 CATT Championship Fund | | | $50.00 | |
| 2019 Kerr Spring Final Fund Total | | | $995.00 | |
| 2019 CATT Championship Fund Total | | | $3,170.00 | |