The 2022 CATT Kerr Spring Trail Final is April 24th at Occoneechee State Park! You had to enter at least 1 Kerr Spring Qualifier to be eligible! We have $2,2200.00 in the Kerr Spring Final Fund! Add that to the Final entries and the payout will be very rewarding!
Mark Your Calendar! 2022 CATT Academy Championship May 21-22 at Kerr Lake at the New Nutbush Ramp in the Kerr Lake State Park! A minimum of $10,000.00 1st Place GUARANTEED! You have to enter at least 2 CATT events to be eligible to enter! The Finals also count! Go to the CATT Home Page and tap on Divisions then CATT Academy Championship to view info!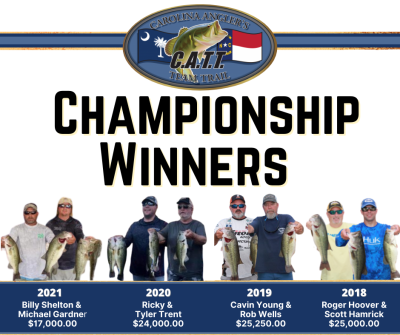 Ricky & Tyler Trent win the 2022 Spring Kerr Lake Points and will fish the Kerr Spring Final Free!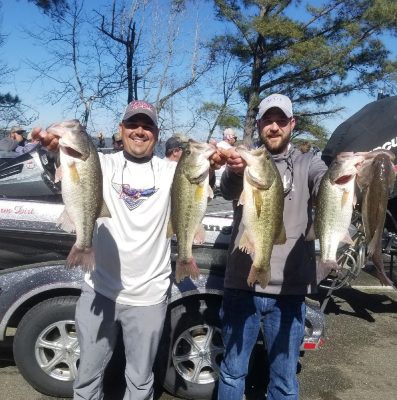 Aaron Falwell & Steven Coleman took the win this past weekend at Kerr Lake with 5 bass weighing 19.07 lbs! All total with the 1st BONUS added in they took home $1,730.00!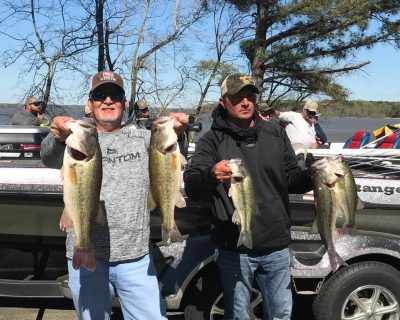 Eddie Fore & Ryan Atkins grabbed 2nd with 5 bass weighing 18.36 lbs worth $1,211.00!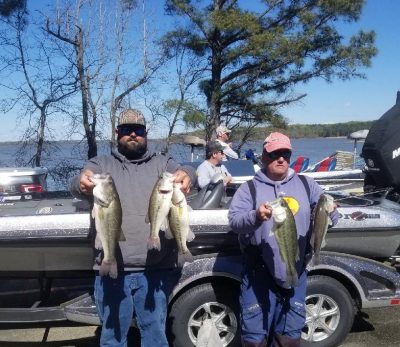 Eric Massey & Lee Allard claimed 3rd with 15.46 lbs! They took home $620.00!
Cavin Youngue 4th Place with 15.39 lbs!
More Pics for this past weekend!!
Team
BF
Weight
Winnings
Points
Aaron Falwell – Steven Coleman
0.00
19.07
$1,730.00
110
Eddie Fore – Ryan Atkins
5.97
18.36
$1,211.00
109
Lee Allard – Eric Massey
4.66
15.46
$620.00
108
Cavin Youngue
4.80
15.39
$260.00
107
Sam Terry – Jacob Lee
0.00
15.05
$165.00
106
Mark Inman – Tim Gardner
0.00
14.92
$130.00
105
Brain Calloway – Marty Warren
4.65
14.68
$120.00
104
David Bullock – Jimmy Henderson
4.45
14.64
$115.00
103
Tyler Scaloway – Ben Dalton
0.00
14.57
$90.00
102
Doug Stallings – Seth Ellis
0.00
14.47
101
Tommy Marrow – Dennis Reedy
0.00
14.46
100
Zach Davenport – Danny Mogg Jr
0.00
14.32
99
Gray Williams – Derrick Currin
4.52
14.14
98
DJ McDaniels – Tony Axe
6.11
13.87
$329.00
97
Justin Rhew – Jonathan Rhew
0.00
13.30
96
Bryson Peed
0.00
12.64
95
Larry Witt – Patton Thompson
0.00
12.62
94
Jack Smith – Alden Patterson
0.00
12.47
93
Nelson Mayton – Chris McDaniel
4.09
12.44
92
Matthew Little – Derek Bowden
0.00
12.41
91
Tyler Trent – Ricky Trent
0.00
12.31
90
Kent Pearson – Bubba Barksdale
3.82
12.05
89
Steve Lucy – Todd Dorton
0.00
11.62
88
Jerry Wyatt – Donnie Bohannon
0.00
11.47
87
Casey Logan – Skeet Dalton
0.00
10.94
86
Bryan Roberts
3.52
10.76
85
David Glenn
0.00
10.62
84
Josh Barns – Jay Rigney
0.00
10.52
83
Joseph Sharpe – Nate Arrington
2.87
10.26
82
Jeremy Kent – Brenan Kent
0.00
10.20
81
Johnny Wilder – Mike Harris
0.00
10.08
80
Todd McCormick – Matt Easter
0.00
9.83
79
David Mathews – Bobby Mathews
0.00
9.57
78
Logan Thornton – Daniel jenkins
0.00
7.25
77
Wayne Andrews – Tim Tait
0.00
0.00
67
Gary Horsley – David Dehart
0.00
0.00
67
Kurt Polythress – Steve Loper
0.00
0.00
67
Bryan Cantrell – Brandon Cantrell
0.00
0.00
67
Kenny Wilson
0.00
0.00
67
Pete Church
0.00
0.00
67
Tim Wiltfong
0.00
0.00
67
Andrew Kerns
0.00
0.00
67
Scott Daily – Tony Stanley
0.00
0.00
67
Carey Pope – Erci Royster
0.00
0.00
67
Brandon Curtis – Tom Wilkerson
0.00
0.00
67
Bobby Overby – Tony Millam
0.00
0.00
67
Randy Waterman – David Farrington
0.00
0.00
67
Total Entrys
$3,760.00
BONUS $
$1,500.00
Total Paid At Ramp
$4,770.00
Kerr 2022 Spring Final Fund
$460.00
2022 CATT Championship/Phantom Fund
$50.00
2022 Kerr Spring Final Fund Total
$2,200.00