Last weekend we wrapped up the Kerr Spring Trail and it was a good one! 50 teams entered with a lot of cash on the line!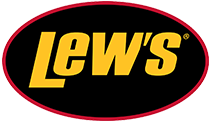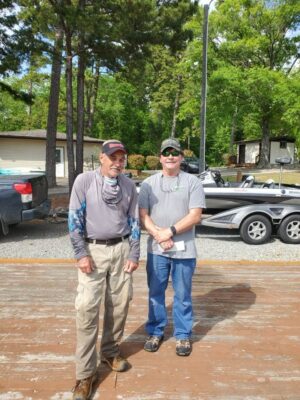 Dave Farrington & Robby Kennon took 1st Place with 5 bass weighing 14.24 lbs! They collected $3,490.00!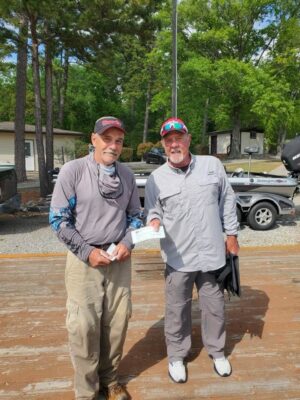 Doug Stallings & Seth Ellis claimed 2nd with 14.20 lbs worth $2,150.00!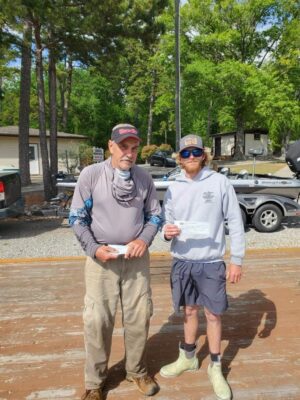 Alden Patterson & Zach Smith 3rd with 13.90 and they earned a $1,310.00 pay day!
| | | | |
| --- | --- | --- | --- |
| Team | BF | Weight | Winnings |
| Dave Farrington – Robby Kennon | 4.39 | 14.24 | $3,490.00 |
| Doug Stallings – Seth Ellis | 0.00 | 14.20 | $2,150.00 |
| Alden Patterson – Zach Smith | 3.97 | 13.90 | $1,310.00 |
| David Bullock – Jimmy Henderson | 3.56 | 13.76 | $600.00 |
| Marty Warren – Bryan Calloway | 0.00 | 13.26 | $500.00 |
| Bryan Welch – Mark Inman | 3.41 | 13.10 | $400.00 |
| Travis Owens – Mark Hatcher | 0.00 | 12.99 | $300.00 |
| Tyler Trent – Ricky Trent | 0.00 | 12.57 | $225.00 |
| Michael Stewart – Buck Clark | 4.23 | 12.50 | $325.00 |
| Matthew Little – Derrick Bowden | 0.00 | 12.33 | $125.00 |
| Kevin Cheatham – Johnny Wilder | 0.00 | 12.29 | |
| Jason Houchins – Danny Houchins | 0.00 | 11.53 | |
| Tom Wilkinson – Brandon Curtis | 0.00 | 11.37 | |
| Daniel Jenkins – Logan Thornton | 0.00 | 11.35 | |
| Eric Christian – Matt Harrison | 0.00 | 11.06 | |
| Chad Hicks – Heath Johnson | 0.00 | 10.94 | |
| Eddie Glascock – Billy Dunn | 0.00 | 10.66 | |
| David Glenn – Jeff Staton | 0.00 | 10.59 | |
| Gary Colwell – Brandon Gray | 0.00 | 10.56 | |
| Randy Waterman – Donnie Avant | 0.00 | 10.36 | |
| Emmitt R Whitby – Monte Aleman | 0.00 | 10.34 | |
| Nelson Mayton – Chris McDaniel | 0.00 | 10.33 | |
| Gregory Lahr – Sherry Lahr | 0.00 | 9.91 | |
| Steve Lucy – Todd Dorton | 0.00 | 9.67 | |
| Billy Orr – John Parson | 0.00 | 9.35 | |
| Dan Jackson – Charlie Gunter | 0.00 | 8.55 | |
| Mark King – Steve Bowling | 0.00 | 8.31 | |
| David Matthews – Bobby Matthews | 0.00 | 8.23 | |
| Robbie Kennon – Chuck Morton | 0.00 | 3.69 | |
| Alex Sayer – Todd McCormick | 0.00 | 0.00 | |
| Eddie Fore | 0.00 | 0.00 | |
| Lonnie Whitfield – Phillip Smith | 0.00 | 0.00 | |
| Terry Freeman – Teddy Freeman | 0.00 | 0.00 | |
| Matt Childress – Brandon Stewart | 0.00 | 0.00 | |
| Kevin Kane – Kelli Krane | 0.00 | 0.00 | |
| Gray Williams – Derrick Currin | 0.00 | 0.00 | |
| Hal Blackwelder – Clift Swann | 0.00 | 0.00 | |
| Kenny Wilson – Lycia Niethammer | 0.00 | 0.00 | |
| Michael Dikun – Jenny Li | 0.00 | 0.00 | |
| Bobby Overby – Tony Milam | 0.00 | 0.00 | |
| Brian Cantrell – Donald Coleman | 0.00 | 0.00 | |
| Mark Major – Ben Major | 0.00 | 0.00 | |
| Roger Clary – Justin Rhew | 0.00 | 0.00 | |
| Mark Jackson – Morris Mustain | 0.00 | 0.00 | |
| Lynn Fox – Seth Ballard | 0.00 | 0.00 | |
| Kevin Hayslett – Tim Nobles | 0.00 | 0.00 | |
| Jay Fogleman – John Pilcher | 0.00 | 0.00 | |
| Aaron Falwell – Steven Coleman | 0.00 | 0.00 | |
| Danny Moss – Zack Davenport | 0.00 | 0.00 | |
| Dennis Reedy – Scott Smith | 0.00 | 0.00 | |