We wrapped up the Kerr 2022 Fall Final December 3rd launching 26 teams out of Occoneechee State Park! Guys we appreciate you fishing with us and look forward to 2023! The 2023 CATT Kerr Spring schedule is posted under the Kerr Division!
Total payback for the 2022 CATT Kerr Trail – $62,815.00!
The 2023 CATT Academy Championship is May 20 -21 at Kerr Lake! We had 208 Teams enter in 2022! Make plans to join us in 2023! Tap on the link for Championship info!
2023 CATT Academy Championship – Carolina Anglers Team Trail (cattteamtrail.com)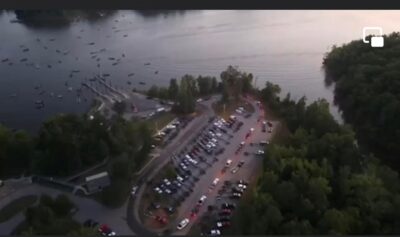 Also check out thebasscast.com to stay up to date on all bass fishing news! Tap on the link to visit their new web site!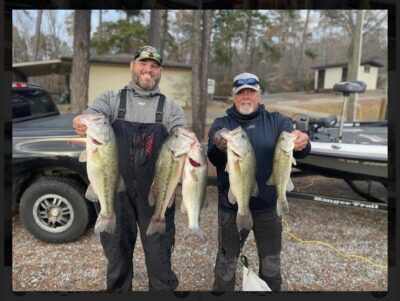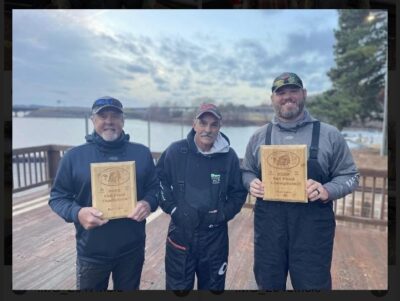 Seth Ellis & Doug Stallings brought in 5 bass weighing 18.94 lbs and included in their bag was the 1st BF at 5.14 lbs! They earned $2,935.00 for their 1st Place finish!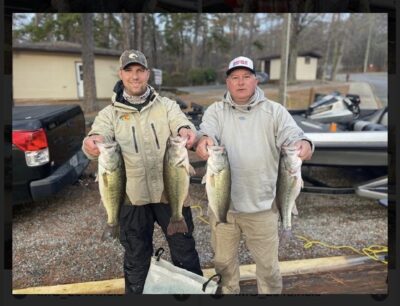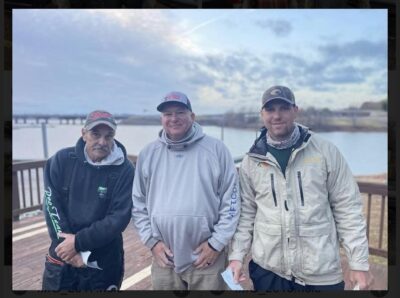 2nd Placed went to Ryan Roller & Gary Colwell with a limit weighing 18.22 lbs and they took home $1,610.00!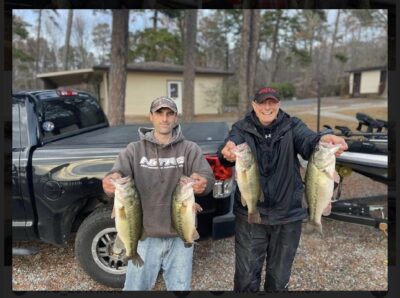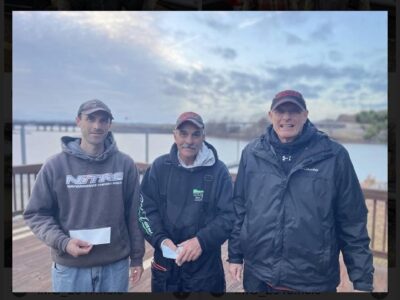 Jeff & Clay Ross took 3rd with another great limit weighing 17.07 lbs worth $1,040.00!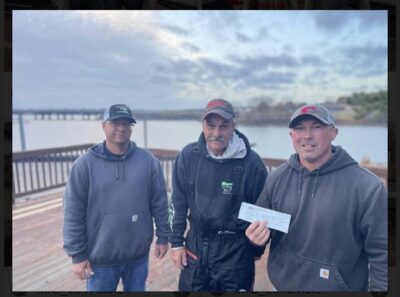 Mike Connely & Jeff Taylor 4th place with a limit weighing 14.89 lbs!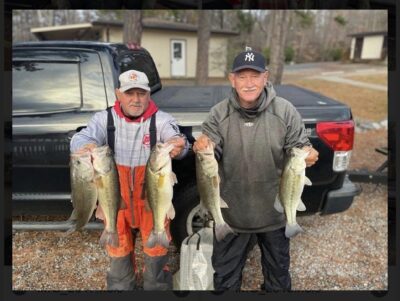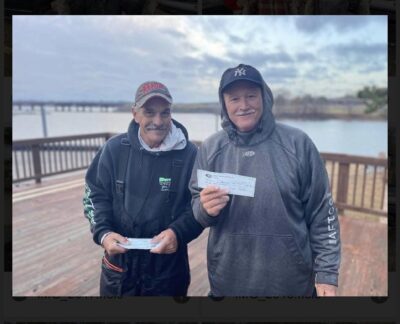 Charlie Reed & Dennie Gilbert finished 5th with 14.64 lbs!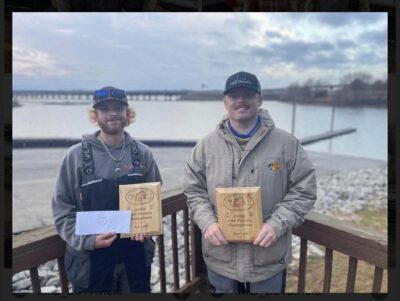 Alden Patterson & Zach Smith 2022 CATT Kerr Lake Fall Pont Champs!
Check out the rest of the pictures for the 2022 CATT Kerr Fall Final!
| | | | |
| --- | --- | --- | --- |
| Team | BF | Weight | Winnings |
| Seth Ellis – Doug Stallings | 5.14 | 18.94 | $2,935.00 |
| Ryan Roller – Gary Colwell | 4.27 | 18.22 | $1,610.00 |
| Jeff Ross – Clay Ross | 3.98 | 17.07 | $1,040.00 |
| Mike Connely – Jeff Taylor | 4.67 | 14.89 | $495.00 |
| Dennie Gilbert – Charlie Reed | 3.76 | 14.64 | $200.00 |
| Tony Tombs – Bryan Calloway | 0.00 | 14.51 | |
| Bryson Peed | 3.61 | 14.15 | |
| Gray Williams – Derrick Currin | 4.30 | 13.94 | |
| Dexter Andrews – Mike Birr | 0.00 | 12.92 | |
| Roger Dolan – Roger Dolan Jr | 3.70 | 12.57 | |
| Tyler Calloway – Ben Dalton | 0.00 | 10.74 | |
| Russell Rigsbee – Shane Robbins | 0.00 | 10.40 | |
| Tim Grein – Richard Cooper | 0.00 | 10.12 | |
| Lonnie Whitfield – Phillip Smith | 0.00 | 9.92 | |
| Dean Dalton – Michael Bradley | 0.00 | 8.87 | |
| Alden Patterson – Zach Smith | 0.00 | 6.27 | |
| Jeff Porter – Brayden Porter | 0.00 | 4.96 | |
| Michael Dikun- Jenny Li | 0.00 | 3.44 | |
| Kurt Poythress – Steve Loper | 0.00 | 0.00 | |
| Andrew Kerns | 0.00 | 0.00 | |
| Wesley Harris – Travis Garrett | 0.00 | 0.00 | |
| Joseph Sharpe – Glenn Eskin | 0.00 | 0.00 | |
| Tom Wilkerson – Brandon Kurtis | 0.00 | 0.00 | |
| Bobby Hinds – David Cole | 0.00 | 0.00 | |
| Dennis Reedy – Tommy Marrow | 0.00 | 0.00 | |
| Randy Waterman – Terry Easter | 0.00 | 0.00 | |
| Total Entrys | | | $3,120.00 |
| Side Pot Paid | | | $1,000.00 |
| Final Fund | | | $2,015.00 |
| Total Paid At Ramp | | | $6,280.00 |
| Total Kerr Payback 2022 | | | $62,815.00 |