Next up on Kerr Lake is the CATT Fall Trail! Starts up September 27! We had big crowds last Fall! Come join us!
We will determine a date for the Kerr Phantom Invitational hopefully this weekend!

The 2020 Academy CATT  Championship will take place on Kerr Lake November 7-8, 2020 and we are guaranteeing $10,000.00 to 1st Place!
Nutbush Ramp Kerr Lake State Park – 115 Jack Wade Farm Road, Henderson, NC
Either NC & VA License are valid. You do not need both.
**2018 & 2019 1st Place Winners Have Taken Home $25,000.00!
Click on Divisions on the CATT Home Page and then Championship for more info!

Donnie Avant & Randy Waterman win the Kerr Spring Final with 5 bass weighing 12.12 lbs! They also took home the 1st Lews BF cash with a 3.98 lbs bass! Great job guys! They took home $2,509.00!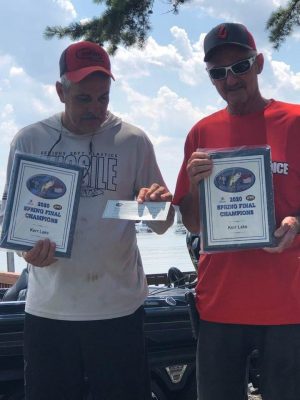 | | | | |
| --- | --- | --- | --- |
| Team | BF | Weight | Winnings |
| Donnie Avant – Randy Waterman  | 3.98 | 12.12 | $2,509.00 |
| Denny Gilbert – Charlie Reed | 2.60 | 12.06 | $1,260.00 |
| Travis Owen – Mark Hatcher | 0.00 | 10.96 | $500.00 |
| Tommy Marrow – Dennis Reedy | 0.00 | 10.73 | $120.00 |
| Billy Dunn – Eddie Glasscock | 0.00 | 10.38 | |
| Matt Poteat – Billy Bagby | 3.86 | 9.84 | $51.00 |
| Derek Bowden – Matt Little | 0.00 | 9.53 | |
| Michael Garner – Billy Shelton | 0.00 | 9.22 | |
| Flash Butts – Shawn Hammock | 0.00 | 8.93 | |
| Brandon Slaughter – Brandon Curtis | 3.43 | 5.20 | |
| Jesse Stanley – Rex Watson | 0.00 | 0.00 | |
| Cory Leonard – Paul Rigsbee | 0.00 | 0.00 | |
| Billy Orr – John Parsons | 0.00 | 0.00 | |
| Thomas Jerrell – Tim Thompson | 0.00 | 0.00 | |
| Wayne Andrews – Andy Sease | 0.00 | 0.00 | |
| Brian Calloway | 0.00 | 0.00 | |
| Chuck Morton – Mike Riggs | 0.00 | 0.00 | |