Next Kerr lake CATT Qualifier is March 27 and is a GOLD! Occoneechee State Park!
Mark your calendar! 2022 CATT Academy Championship is coming up May 21-22 at Kerr Lake! $10,000 1st Place!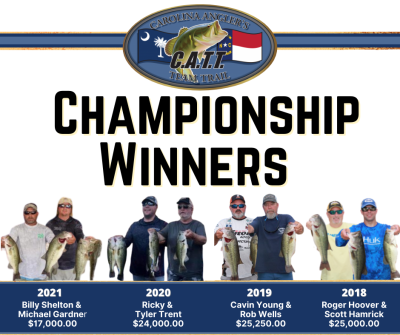 Tap on the Academy Logo for more Championship info!

Mark Hatcher & Travis Owen take 1st Place at Kerr with 5 bass weighing 19.87 lbs! They collected $2,600.00!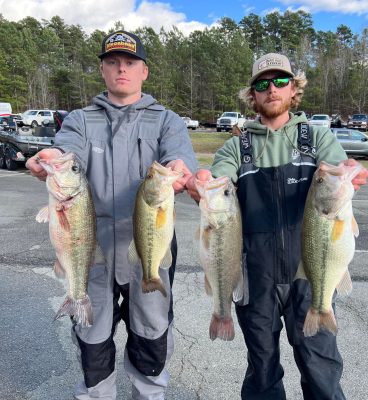 Zack Smith & Alden Patterson finished 2nd with 5 bass weighing 19.16 lbs worth $1,500.00!
Aaron Falwell & Johnathan Kraus claimed 3rd with 17.78 lbs and they took home $1,001.00!
Ryan Akins and Eddie Fore finished 5th with 15.61 lbs!
Michael Stewart – Buck Clark weighed in the Academy BF at 6.64 lbs!

| | | | | |
| --- | --- | --- | --- | --- |
| Team | BF | Weight | Winnings | Points |
| Travis Owen – Mark Hatcher | 5.19 | 19.87 | $2,600.00 | 110 |
| Alden Patterson – Jack Smith | 0.00 | 19.16 | $1,500.00 | 109 |
| Aaron Falwell – Johnathan Kraus | 5.86 | 17.78 | $1,001.00 | 108 |
| Brian Calloway – Marty Warren | 0.00 | 16.51 | $440.00 | 107 |
| Eddie Fore – Ryan Akins | 0.00 | 15.61 | $315.00 | 106 |
| Mathew Little – Derek Bowden | 4.12 | 15.39 | $235.00 | 105 |
| Tim Penhollow – Owen Penhollow | 0.00 | 14.77 | $185.00 | 104 |
| Randy Waterman – Paul Worthington | 0.00 | 14.70 | $145.00 | 103 |
| Steven Griggs – Jimmy Wall | 0.00 | 14.59 | $125.00 | 102 |
| Charle Reed – Dennie Gilbert | 5.55 | 13.78 | | 101 |
| Josh Barnes – Jay Rignay | 0.00 | 13.63 | | 100 |
| Tyler Calloway – Ben Dalton | 0.00 | 13.56 | | 99 |
| Tony Woodard – Boe Grosner | 0.00 | 13.29 | | 98 |
| Eddie Glascock – Billy Dunn | 0.00 | 13.05 | | 97 |
| Ellis Jones – Brian Cantrell | 0.00 | 12.76 | | 96 |
| Aiden Kerlin – Patrick Nichols | 0.00 | 12.63 | | 95 |
| Glenn Long – Vernon Fleming | 0.00 | 12.62 | | 94 |
| Tony Axe – Hunter Axe | 0.00 | 12.03 | | 93 |
| Matt Norris – Kevin Kane | 0.00 | 12.02 | | 92 |
| Steve Lucie – Todd Dorton | 0.00 | 11.51 | | 91 |
| Brandon Curtis – Tom Wilkerson | 0.00 | 11.18 | | 90 |
| Michael Stewart – Buck Clark | 6.64 | 11.10 | $329.00 | 89 |
| Kevin Cheatham – Johnny Wilder | 0.00 | 10.70 | | 88 |
| Jeff Popliau – Mike McDonald | 0.00 | 10.47 | | 87 |
| Hal Blackwelder – Cliff Swan | 0.00 | 10.25 | | 86 |
| Jeff Taylor – Mike Conneley | 0.00 | 10.22 | | 85 |
| Mike Harris | 5.17 | 10.15 | | 84 |
| Tyler Trent – Ricky Trent | 0.00 | 10.11 | | 83 |
| Wesley Harris – Travis Garrett | 0.00 | 9.88 | | 82 |
| Mark Jackson – Josh Wilson | 0.00 | 9.25 | | 81 |
| Justin Rhew – Mike Rhew | 0.00 | 8.73 | | 80 |
| Burke Hutcheson – Dom Smith | 0.00 | 8.52 | | 79 |
| Roger Clary – Jonathna Rhew | 0.00 | 8.44 | | 78 |
| Shawn Hammock – Flash Butts | 5.71 | 8.20 | | 77 |
| Jeff Staton – David Glenn | 0.00 | 5.76 | | 76 |
| Spencer Hutchson – David Cultor | 0.00 | 2.92 | | 75 |
| Wayne Andrews – Tim Tait | 0.00 | 0.00 | | 65 |
| Gray Williams – Derrick Durrin | 0.00 | 0.00 | | 65 |
| David Bullock – Jimmy Henderson | 0.00 | 0.00 | | 65 |
| Kent Pearson – Bubba Barksdale | 0.00 | 0.00 | | 65 |
| Monty Alman – Kevin Alman | 0.00 | 0.00 | | 65 |
| Rodney Sorrell – Gerald Beck | 0.00 | 0.00 | | 65 |
| Paul Smith – Jason Lloyd | 0.00 | 0.00 | | 65 |
| Jacob Lloyd – Judy Lloyd | 0.00 | 0.00 | | 65 |
| Cavin Young – Harold Foster | 0.00 | 0.00 | | 65 |
| Jason Houchins – Danny Houchins | 0.00 | 0.00 | | 65 |
| Total Entrys | | | $5,640.00 | |
| BONUS $ | | | $1,800.00 | |
| Total Paid At Ramp | | | $6,875.00 | |
| Kerr 2022 Spring Final Fund | | | $440.00 | |
| 2022 CATT Championship/Phantom Fund | | | $75.00 | |
| 2022 Kerr Spring Final Fund Total | | | $1,340.00 | |