Next up on Kerr is the Fall Final Dec 5 at Occoneechee!
Randy Waterman & Eddie Fore win the Kerr Fall Points and will fish the Kerr Final Free!
Charlie Reed & Dennie Gilbert finished 1st at Kerr with 5 bass weighing 17.07 lbs taking home $1,874.00!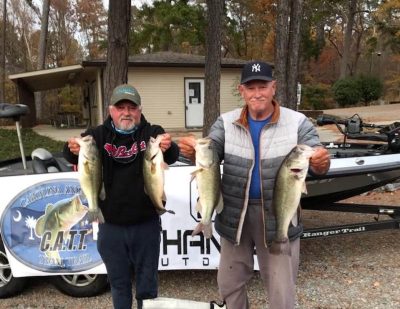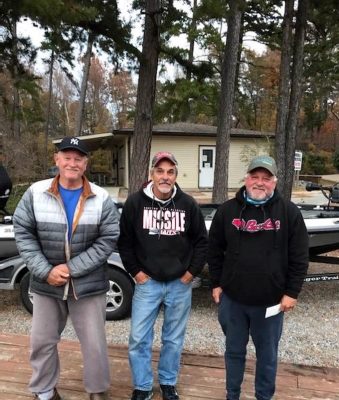 Chuck Morton & Mike Riggs came in 2nd with 16.28 lbs!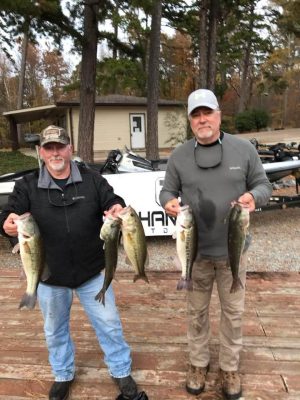 Some nice Kerr bass!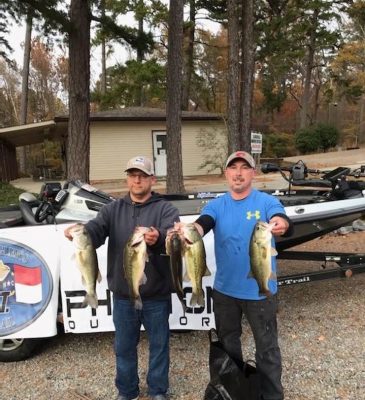 | | | | | |
| --- | --- | --- | --- | --- |
| Team | BF | Weight | Winnings | Points |
| Dennie Gilbert – Charlie Reed | 4.77 | 17.07 | $1,874.00 | 110 |
| Chuck Morton – Mike Riggs | 0.00 | 16.28 | $920.00 | 109 |
| Ryan Roller – Gary Coldwell | 4.44 | 15.82 | $420.00 | 108 |
| Jeff Taylor – Mike Conneley | 3.67 | 15.10 | $200.00 | 107 |
| Tommy Marrow – Dennis Reedy | 0.00 | 12.73 | $150.00 | 106 |
| Randy Waterman – Eddie Fore | 3.71 | 12.46 | | 105 |
| Robbie Keenon – Ross Kennon | 4.25 | 12.17 | | 104 |
| Bobby Overby – Tony Milam | 4.45 | 12.01 | $81.00 | 103 |
| Eric Royster – Casey Pope | 3.64 | 11.98 | | 102 |
| Paul Worthington – Ben Wittington | 0.00 | 11.44 | | 101 |
| Elton Clements – Richard Clements | 2.23 | 8.88 | | 100 |
| Brandon Pritchett | 0.00 | 8.31 | | 99 |
| Kenny Wilson – Lycia Niethammer | 3.80 | 8.25 | | 98 |
| Jeremy Gatewood – Stephen Woolridge | 3.43 | 5.56 | | 97 |
| Jeremy Kent – Brendon Kent | 3.70 | 5.29 | | 96 |
| Wesley Harris – Travis Garrett | 0.00 | 0.00 | | 86 |
| Jesse Stanley – Rex Watson | 0.00 | 0.00 | | 86 |
| Buck Clark – Michael Stewart | 0.00 | 0.00 | | 86 |
| Austin Minton – Austin Burton | 0.00 | 0.00 | | 86 |
| Kevin Kane – Matt North | 0.00 | 0.00 | | 86 |
| Paul Watson – Mellisa Watson | 0.00 | 0.00 | | 86 |
| Zak Davenport | 0.00 | 0.00 | | 86 |
| Jay Fogleman – Doug Stallings | 0.00 | 0.00 | | 86 |
| Tom Wilkinson | 0.00 | 0.00 | | 86 |
| Donald Coleman | 0.00 | 0.00 | | 86 |
| Wayne Andrews – Tim Tate | 0.00 | 0.00 | | 86 |
| Steven Griggs – Tim Parker | 0.00 | 0.00 | | 86 |
| Total Entrys | | | $3,240.00 | |
| BONUS $ | | | $900.00 | |
| Total Paid At Ramp | | | $3,645.00 | |
| Kerr 2021 FALL Final Fund | | | $395.00 | |
| 2022 CATT Championship/Phantom Fund | | | $50.00 | |
| 2021 Kerr FALL Final Fund Total | | | $2,130.00 | |