Next Kerr CATT event is the Fall Final at Occoneechee Park December 3rd!

Kurt Poythress – Steve Loper win Kerr with 5 bass weighing 17.75 lbs! They earned $938.00 with the BF added in!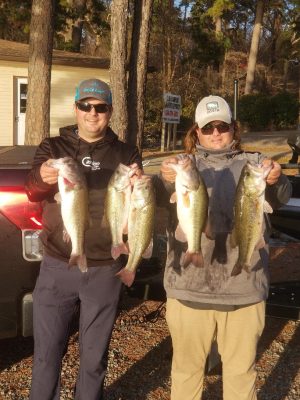 Gray Williams – Derrick Currin took 2nd with 16.77 lbs worth $1,000.00 with the 1st Side Pot $$ added in!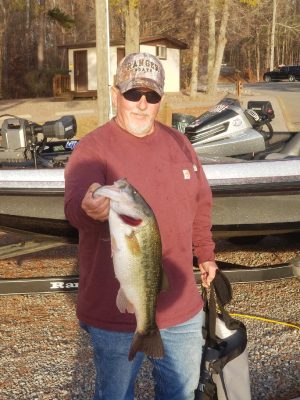 Chuck Morton with a nice un!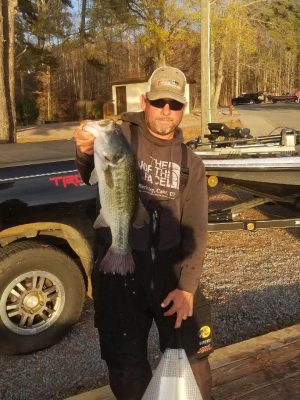 | | | | | |
| --- | --- | --- | --- | --- |
| Team | BF | Weight | Winnings | Points |
| Kurt Poythress – Steve Loper | 4.73 | 17.75 | $938.00 | 110 |
| Gray Williams – Derrick Currin | 0.00 | 16.77 | $1,000.00 | 109 |
| Tyler Trent – Ricky Trent | 4.64 | 14.68 | $862.00 | 108 |
| Durwood Daniels – Tim Wiltfong | 4.22 | 14.40 | $175.00 | 107 |
| Charlie Reed – Dennie Gilbert | 3.97 | 12.93 | $310.00 | 106 |
| Rodney Sorrell – Steven Griggs | 0.00 | 12.73 | $100.00 | 105 |
| Wesley Harris – Travis Garrett | 4.30 | 12.27 | | 104 |
| Mike Connelly – Jeff Taylor | 0.00 | 11.92 | | 103 |
| Tim Grein – Richard Cooper | 0.00 | 11.85 | | 102 |
| Scott Moser – Brian Clark | 0.00 | 11.45 | | 101 |
| Tony Tombs – Bryan Calloway | 0.00 | 11.38 | | 100 |
| Tyler Calloway – Ben Dalton | 0.00 | 11.31 | | 99 |
| Lonnie Whitfield – Phillip Smith | 0.00 | 10.55 | | 98 |
| Randy Waterman – Terry Easter | 0.00 | 10.46 | | 97 |
| Paul Worthington – Jay Ramsey | 0.00 | 10.15 | | 96 |
| Kenny Reynolds – Ryan Reynolds | 0.00 | 9.76 | | 95 |
| Robbie Kennon – Ross Kennon | 0.00 | 9.51 | | 94 |
| Michael Dikun- Jenny Li | 0.00 | 9.46 | | 93 |
| Chuck Morton – Mike Riggs | 4.64 | 8.61 | | 92 |
| Alden Patterson – Zach Smith | 0.00 | 7.90 | | 91 |
| Brandon Pritchett | 0.00 | 5.33 | | 90 |
| Roger Rhodes – Jake Lewis | 0.00 | 0.00 | | 80 |
| Kris Goin – Jason Tinsley | 0.00 | 0.00 | | 80 |
| Jeff Porter – Brayden Porter | 0.00 | 0.00 | | 80 |
| Kenny Wilson | 0.00 | 0.00 | | 80 |
| Rick Clements – Elton Clements | 0.00 | 0.00 | | 80 |
| Brandon Gray – Robert Perkins | 0.00 | 0.00 | | 80 |
| Dean Dalton – Michael Bradley | 0.00 | 0.00 | | 80 |
| Tom Wilkerson – Brandon Kurtis | 0.00 | 0.00 | | 80 |
| Jay Fogleman – Doug Stallings | 0.00 | 0.00 | | 80 |
| Sergio Spitale – Dave Rose | 0.00 | 0.00 | | 80 |
| Dexter Andrews – Mike Birr | 0.00 | 0.00 | | 80 |
| Bobby Hinds – David Cole | 0.00 | 0.00 | | 80 |
| Dennis Reedy – Tommy Marrow | 0.00 | 0.00 | | 80 |
| Total Entrys | | | $2,720.00 | |
| BONUS $ | | | $1,250.00 | |
| Total Paid At Ramp | | | $3,385.00 | |
| Kerr 2022 Fall Final Fund | | | $460.00 | |
| 2023 Fall Kerr Point Champs | | | $125.00 | |
| 2023 CATT Championship/Phantom Fund | | | $50.00 | |
| 2022 Kerr Fall  Fund Total | | | $2,015.00 | |