Sorry for the delay guys…as you can see we have upgraded the website for easier navigation!
81 Teams are qualified to enter the Kerr Fall Final November 24th! 8 am to 4 pm
We had a great crowd for a Fall Qualifier with 51 teams entering! Several are getting qualified for the 2020 CATT Championship on Kerr June 6-7! The past 2 Championships on Kerr 1st Place has taken home $25,000.00! Tell your friends and lets break the 200 boat mark next June!
Eddie Glasscock & Billy Dunn win the Kerr Fall Points and will fish the Final Free Plus blast off #1!
Tyler Trent & Jacob Lloyd took 1st Place with 18.29 lbs! They also weighed in the 2nd BF at 4.87 lbs and took home the 1st BONUS $! All total they packed up and left Occoneechee State Park with 2,263.00 in their pockets! Greta Job!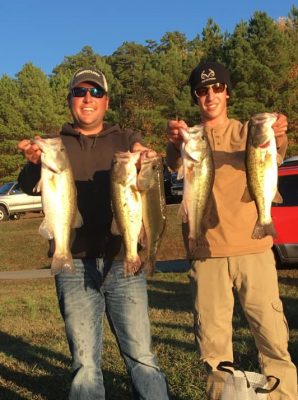 Ryan Reynolds & Kenny Reynolds weighed in 5 Smallmouth weighing up at 17.78 lbs to take 2nd Place and the 2nd BONUS $! They earned $1,070.00!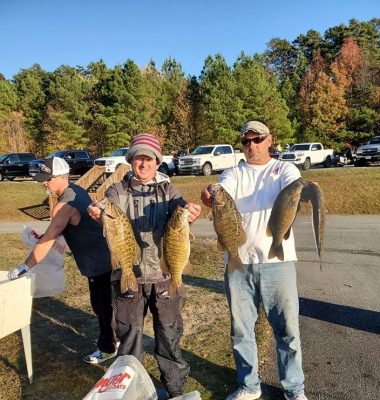 Ryan Reynolds & Kenny Reynolds finished 3rd  and took home the 3rd BONUS $ worth $605.00! They weighed in 15.99 lbs!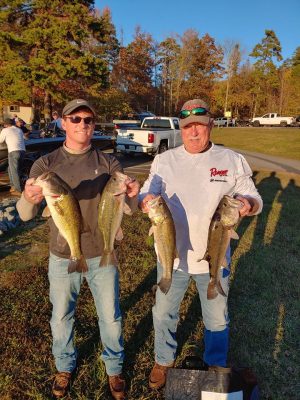 Michael Birr & Dexter Andrews took 4th with 15.13 lbs!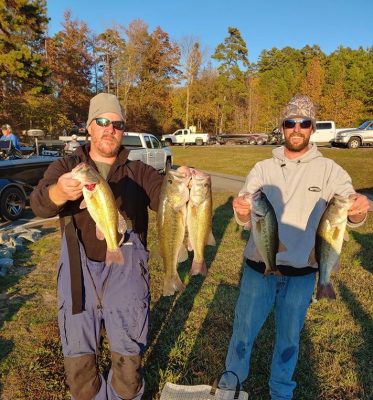 Kevin & Montey Aleman 5th with 14.23 lbs!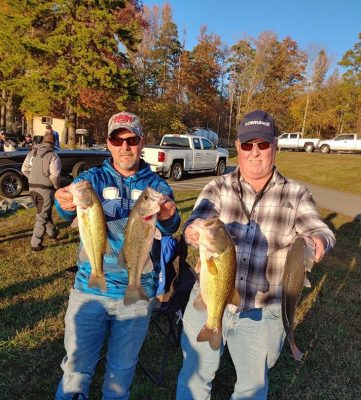 Eddie Glasscock and Billy Dunn 6th Place with 14.15 lbs!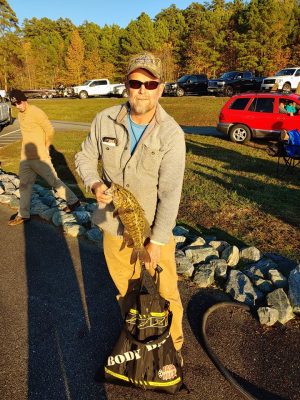 | | | | | |
| --- | --- | --- | --- | --- |
| 51 Teams | BF | Weight | Winnings | Points |
| Tyler Trent- Jacob Lloyd | 4.87 | 18.29 | $2,263.00 | 110 |
| Michael Garner – Billy Shelton | 4.43 | 17.78 | $1,070.00 | 109 |
| Ryan Reynolds – Kenny Reynolds | 0.00 | 15.99 | $605.00 | 108 |
| Michael Birr – Dexter Andrews | 4.42 | 15.13 | $300.00 | 107 |
| Kevin Aleman – Montey Aleman | 0.00 | 14.23 | $200.00 | 106 |
| Eddie Glasscock- Billy Dunn | 0.00 | 14.15 | $150.00 | 105 |
| Wayne Andrews – Andy Semonco | 0.00 | 13.92 | $125.00 | 104 |
| Gary Coldwell – Ryan Roller | 0.00 | 13.83 | $110.00 | 103 |
| Ellis Jones – Brian Cottrell | 0.00 | 12.92 | $100.00 | 102 |
| Bobby Clark – Tommy Hughes | 0.00 | 12.77 | $100.00 | 101 |
| Derrick Currin – Gray Williams | 3.65 | 12.71 | | 100 |
| Robbie Mayton – Kevin Bostic | 3.74 | 12.34 | | 99 |
| Thomas Jarrell – Chad Bowman | 5.20 | 12.29 | $357.00 | 98 |
| Jacob Lee – Tyler Farmer | 2.79 | 12.28 | | 97 |
| Flash Butts – Sean Hammock | 0.00 | 11.92 | | 96 |
| Joey Dawson – Kevin Dawson | 3.41 | 11.73 | | 95 |
| Lonnie Whitfield – Phillip Smith | 0.00 | 11.68 | | 94 |
| Clay Ausely – Ken McNeil | 4.49 | 11.37 | | 93 |
| Jerry Bono – Marty Williams | 0.00 | 11.26 | | 92 |
| Denny Gilbert – Tyler Purcell | 0.00 | 11.24 | | 91 |
| Casey Pope – Eric Royster | 4.66 | 11.03 | | 90 |
| Tim Wiltfong – Ray Griffin | 0.00 | 10.97 | | 89 |
| William Hubbard – Brian Calloway | 0.00 | 10.59 | | 88 |
| Wesley Harris – Travis Garrett | 0.00 | 10.55 | | 87 |
| Chuck Morton – Mike Riggs | 3.76 | 10.48 | | 86 |
| Billy Orr – John Parson | 0.00 | 10.24 | | 85 |
| Scott Moser – Bobby Overby | 0.00 | 9.95 | | 84 |
| Gary Horsley – David Dehart | 0.00 | 9.59 | | 83 |
| Bryson Allen – Peter Carter | 0.00 | 9.55 | | 82 |
| Jeffery Porter – Nathan Reeves | 0.00 | 9.54 | | 81 |
| Eddie Fore – Brian Kirkpatrick | 0.00 | 9.14 | | 80 |
| Tony & Jay Stanley | 0.00 | 9.13 | | 79 |
| Charlie Gunter – Reggie Norfleet | 0.00 | 9.07 | | 78 |
| Donnie Avant – Randy Waterman | 0.00 | 8.93 | | 77 |
| Michael Trivette – Neil Eckburg | 0.00 | 8.24 | | 76 |
| Mark Herndon – Jay Garrett | 0.00 | 8.13 | | 75 |
| David Bullock – Jimmy Henderson | 0.00 | 8.12 | | 74 |
| Rick Clements – Elton Clements | 0.00 | 7.60 | | 73 |
| Derrick Bowden – Matt Little | 0.00 | 7.10 | | 72 |
| Mike Maull – Greg Lahr | 0.00 | 6.65 | | 71 |
| Francis Martin – Jeremy Turner | 0.00 | 6.47 | | 70 |
| Edward Townsend – Dexter Hurley | 0.00 | 6.18 | | 69 |
| Gerald Beck – Rodney Sorrells | 0.00 | 2.96 | | 68 |
| Jake Osbourne – Keith Dutton | 0.00 | 2.62 | | 67 |
| Donnie Coleman – Darell Small | 0.00 | 0.00 | | 66 |
| Matthew Fuhr – Evan Fleming | 0.00 | 0.00 | | 66 |
| Dave Farrington – Barry Hobson | 0.00 | 0.00 | | 66 |
| Bryson Peed – Josh Fletcher | 0.00 | 0.00 | | 66 |
| Kent Pearson – Bubba Barkdale | 0.00 | 0.00 | | 66 |
| Jimmy Wall – Steven Griggs | 0.00 | 0.00 | | 66 |
| Doug Stallings – Seth Ellis | 0.00 | 0.00 | | 66 |
| Total Entrys | | | $4,080.00 | |
| BONUS $ | | | $1,850.00 | |
| Total Paid At Ramp | | | $5,380.00 | |
| Kerr 2019 FALL Final Fund | | | $470.00 | |
| 2020 CATT Championship/Phantom Fund | | | $50.00 | |
| 2019 Kerr FALL Final Fund Total | | | $1,465.00 | |
| 2020 CATT Championship/Phantom Total | | | $1,680.00 | |