**Remember guys you have to enter 3 CATT Qualifiers to be able to enter the June 2-3 CATT Championship on Kerr. $10,000 1st Place! You can make your 3 by having fished any FALL 2017 CATT Trails and by fishing any SPRING CATT Trails—the 3 don't have to in the same Division!
Tyler & Ricky Trent take 1st with a fat bag of Kerr Lake bass weighing up at 18.31 lbs! They weighed in the 2nd BF at 5.45 lbs and took home $1,720.00!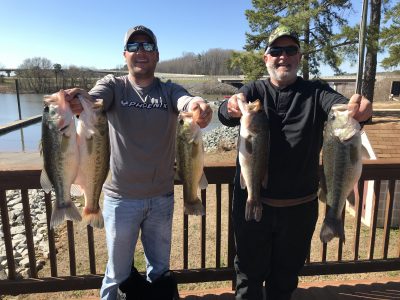 Tyler & Ricky smashed em!
Shawn hammock & JT Palmore took 2nd with another good bag weighing 16.88 lbs and they took home $1,250.00 with the 1st BONUS added in!
3rd went to Marty Williams & Jerry Bono with 14.70 lbs and they collected the 2nd BONUS $. They earned a total of $735.00!
Scott Moser & Tony Milliam came in 4th with 14.54 lbs and took home the 3rd BONUS $. Their day was worth $475.00!
1st BF went to Derrick Bowden & Derrick Little with a 5.61 lb bass worth $280.00!
We paid back a total of 8 places totaling up to $5,340.00 with ONLY 40 team entered!
Next Kerr Qualifier is April 15th at Occoneechee and is a Reg CATT $80 or $90 at the ramp!
| | | | | |
| --- | --- | --- | --- | --- |
|  40 Teams | Big | Total |   |   |
| Team | Fish | Weight | Winnings | Points |
| Ricky Trent – Tyler Trent        2nd BF | 5.45 | 18.31 | $1,720.00 | 110 |
| Shawn Hammock – JT Palmore   1st BONUS $ | 5.31 | 16.88 | $1,250.00 | 109 |
| Marty Williams – Jerry Bono   2nd BONUS $ | 3.77 | 14.70 | $735.00 | 108 |
| Scott Moser – Tony Milliam   3rd BONUS $ | 5.34 | 14.54 | $475.00 | 107 |
| Monte Allemon – Kevin Allemon | 3.38 | 13.99 | $410.00 | 106 |
| Brandon Gray – Todd Massey | 4.33 | 13.69 | $200.00 | 105 |
| Wally Szuba – Tony Woodard | 3.72 | 13.41 | $150.00 | 104 |
| Donnie Avant – Randy Waterman | 3.96 | 13.18 | $120.00 | 103 |
| Brian Calloway – William Hubbard | 4.89 | 12.77 | | 102 |
| Derrick Bowden – Matt Little               1st BF | 5.61 | 12.75 | $280.00 | 101 |
| Denny Gilbert – Charlie Reed | 0.00 | 12.28 | | 100 |
| Paul Rigsbee – Corey Leonard | 4.56 | 11.76 | | 99 |
| Eddie Glascok – Billy Dunn | 0.00 | 11.39 | | 98 |
| Brian Cottrell – Ellis Jones | 0.00 | 11.31 | | 97 |
| Cheeseburger Roberts – Mark Cooper | 0.00 | 11.03 | | 96 |
| Dennis Duncan | 3.87 | 10.66 | | 95 |
| Michael Barr – Dexter Andrews | 4.94 | 10.60 | | 94 |
| Matthew Fuhr – Evan Fleming | 0.00 | 10.55 | | 93 |
| Ray Griffin – Francis Martin | 4.54 | 10.37 | | 92 |
| Eric Royster – Robert Perkins | 0.00 | 9.78 | | 91 |
| Justin Rhew – Roger Clary | 0.00 | 9.30 | | 90 |
| Ryan Roller – Gary Colwell | 3.98 | 8.89 | | 89 |
| Kevin Cheatham – Johnny Wilder | 3.90 | 8.11 | | 88 |
| Darrell Wyatt | 0.00 | 7.88 | | 87 |
| Jeff Crow – Pat Olive | 4.87 | 7.74 | | 86 |
| Sam Terry – Jacob Lee | 0.00 | 7.74 | | 85 |
| Chase Robinson – Robert Matress | 2.91 | 6.22 | | 85 |
| Jeff Edwards – Brandon Slaughter | 0.00 | 5.00 | | 85 |
| Walt Bowen – Joseph Sharpe | 0.00 | 4.88 | | 85 |
| Trip Emerson – Kevin Hyler | 0.00 | 3.35 | | 85 |
| Daniel Jenkins – Jason Kopp | 0.00 | 3.24 | | 85 |
| Mark Winn – Mike Nichols | 0.00 | 0.00 | | 84 |
| Eddie Gordon – Andrew Kerns | 0.00 | 0.00 | | 84 |
| Larry Gunnn- Gordan Colwell | 0.00 | 0.00 | | 84 |
| Ben Dalton – Blake Gilespee | 0.00 | 0.00 | | 84 |
| Terry Easter | 0.00 | 0.00 | | 84 |
| Joey Dawson – Kevin Dawson | 0.00 | 0.00 | | 84 |
| Clint Johnson – Everette Rigsbee | 0.00 | 0.00 | | 84 |
| Scooter Lilly – Powell Kemp | 0.00 | 0.00 | | 84 |
| Shawn Burrnette – Robert Stinger | 0.00 | 0.00 | | 84 |
| Total Entrys |   |   | $4,800.00 | |
| BONUS $ |   |   | $900.00 | |
| Total Paid At Ramp |   |   | $5,340.00 | |
| Kerr 2018 Spring Final Fund |   |   | $300.00 | |
| 2018 CATT Championship Fund |   |   | $50.00 | |
|   |   |   |   | |
| 2018 Kerr Spring Final Fund Total |   |   | $1,800.00 | |
| 2018 CATT Championship Fund Total |   |   | $3,500.00 | |