Next Lake Murray CATT is March 12th at Dreher Island State Park!
Jim Davis & Josh Rennebaum take 1st Place at Murray with a limit of bass weighing 18.79 lbs worth $1,228.00!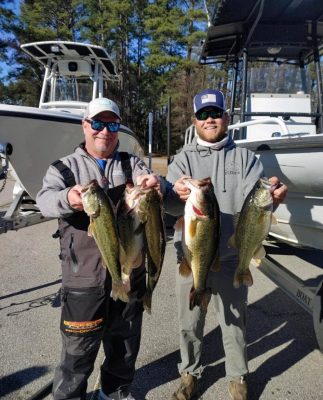 Ronnie Mueller & Michael Royals took 2nd with 17.60 lbs!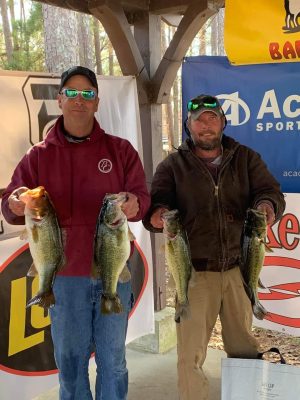 Frankie Scioscia & Lucas Murphy claimed 3rd with 16.21 lbs!

| | | | | |
| --- | --- | --- | --- | --- |
| Team | BF | Weight | Winnings | Points |
| Jim Davis – Josh Rennebaum | 5.41 | 18.79 | $1,228.00 | 110 |
| Ronnie Mueller – Michael Royals | 4.28 | 17.60 | $360.00 | 109 |
| Lucas Murphy – Frankie Scioscia | 3.78 | 16.21 | $250.00 | 108 |
| Steve Garvey – Norman McCord | 0.00 | 15.09 | $130.00 | 107 |
| Scott Farmer – CJ Freeman | 4.44 | 14.97 | $100.00 | 106 |
| Brandon Jeffcoat – Ryan Raley | 5.38 | 14.95 | $87.00 | 105 |
| Wade Amick – Zach Huffstetler | 4.90 | 14.88 | | 104 |
| Austin Johnson – Josh Nix | 3.80 | 14.38 | | 103 |
| Bernie Dreher – Reese Turner | 4.88 | 14.29 | | 102 |
| Meredith Havird | 4.79 | 13.80 | | 101 |
| Jack Story – Brent Story | 0.00 | 13.46 | | 100 |
| Chris Marshall – Ronnie Wilson | 0.00 | 13.33 | | 99 |
| Johnny Mayer – Chris Epting | 0.00 | 12.38 | | 98 |
| Wayne Jeffcoat – Kevn Banks | 0.00 | 12.38 | | 97 |
| William Hastings | 0.00 | 11.50 | | 96 |
| Michael Stribble – Blake Stribble | 4.59 | 11.25 | | 95 |
| Tyson Alvanos – Hampton Anderson | 0.00 | 11.16 | | 94 |
| Dave Franklin – Gunnar Franklin | 0.00 | 10.64 | | 93 |
| Zachary Elliott – Jim Elliott | 5.07 | 10.62 | | 92 |
| Dolan Russell – Matthew Russell | 5.20 | 10.57 | | 91 |
| Jason Ries – Roger McKee | 0.00 | 7.21 | | 90 |
| Trey Locklear – Jackson Locklear | 0.00 | 5.10 | | 89 |
| Tyler MacWhinnie – Tyler Rathbon | 4.52 | 4.52 | | 88 |
| Hunter Jeffcoat – Carson Krell | 0.00 | 4.27 | | 87 |
| Donald Miller | 0.00 | 0.00 | | 77 |
| Tim Richardson | 0.00 | 0.00 | | 77 |
| Ben Lee | 0.00 | 0.00 | | 77 |
| Todd Ledford | 0.00 | 0.00 | | 77 |
| George Berry | 0.00 | 0.00 | | 77 |
| Total Entrys | | | $2,320.00 | |
| BONUS $ | | | $425.00 | |
| Total Paid At Ramp | | | $2,155.00 | |
| Murray 2022 Spring Final Fund | | | $490.00 | |
| 2022 CATT Championship Fund | | | $50.00 | |
| 2022 Murray Spring Final  Total | | | $855.00 | |